26 Views
Best Polaris RZR Light Bars
October 8th, 2021 2:41 PM
Share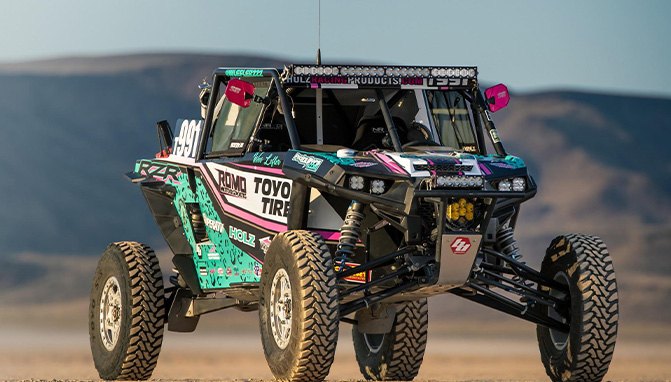 Light up your night with a quality LED light bar
If you're in the market for the best Polaris RZR light bars to improve your off-road, night riding experiences, you've come to the right place.
We here at ATV.com know that the right off-road lights can make all the difference in your pre-dawn and after-dusk adventures, and truth be told, there's never been a better time to shop for Polaris RZR light bars. That's thanks to one of the 20th century's more inconspicuous inventions: the LED, or Light Emitting Diode. LEDs are brighter and more energy efficient than traditional halogen lights, work longer, and offer more reliability to boot. In recent years, LEDs have exploded in popularity, and today, LED light bars for your Polaris RZR are abundant in every conceivable size and at every price point.
We're here to help you narrow the field of Polaris RZR light bars so you can find one that's just right for your needs and budget. Our staff of UTV experts has put together this list of the best LED light bars for the popular Polaris RZR. We're sticking exclusively to LEDs because not only have they come to absolutely dominate the market, but their relatively low power consumption means you can get a lot of light output before you start to strain your RZR's electrical system. While our list is focusing on LED light bars, there are plenty of other options like cube style LED light pods, LED lights that are integrated into mirrors you install on A-pillars and even some light bars that are integrated into your radiator grille or hood scoop, so you have endless options for LED lighting on your rig. Take a look to see what works best for you. We're confident in our list of options because these are the same LEDs we run on our own rigs.
Lead photo courtesy of Romo Motorsports / Taylor Davis Photography
1. Editors Choice: Baja Designs XL Linkable Roof LED Light Bar Kit
When it comes to the best off-road lights, there isn't a better Polaris RZR light bar setup than the Baja Designs XL Linkable Roof kit. Available to fit various Polaris RZR models, the Baja Designs Linkable Roof LightBar allows you to use their incredibly powerful XL Sport Series LED lights to make one of the most powerful light bars on the market. For maximum lighting, you can also mix and match driving/combo lights, high-speed spotlights, wide beam cornering lights and amber fog lights for the best lighting in any conditions. It's for this reason we've ranked it as our staff favorite of all Polaris RZR light bars.
2. Best Money is No Object Light Bar: Baja Designs OnX6+ White 20-Inch Hybrid LED and Laser Light Bar
Yep, your eyes don't deceive you. Baja Designs makes another appearance in our list of best Polaris RZR light bars with this unique hybrid LED/laser setup. If you require illumination at its farthest and brightest possible, the OnX6+ series light bar is one of the best options you can get. This hybrid LED light bar features 4 laser chips and 8 LED chips that project through Baja Designs High Speed Spot optic, to deliver far reaching, smooth blend lighting. What sets this apart from others is the Laser Light, which is capable of "throwing" light up to 350% farther than their traditional OnX6 LED light bars. Their products are definitely more costly than most competitors products, but you definitely get what you pay for.
3. Best Budget Friendly Light Bar: Nilight 52-Inch Triple-Row Curved LED Bar
The only true "budget" option on our list of the best LED light bars for Polaris RZR, this Nilight unit is no slouch, punching well above its weight with a 52-inch-long IP67-rated cast aluminum housing and a stylish curved design. Like the other light bars on this list, it packs a combination of spot and flood beam pattern optics, but it delivers its lighting with a unique three-row LED array. More importantly, it supplies admirable lighting performance and longevity at an astonishingly low price, ringing the bell at just a fraction of what many of its competitors cost.
While this light bar supplies far more brightness than what you'll get out of your stock lighting, ratings support the old adage of "you get what you pay for." Some reviewers complained of the brightness when put up against more expensive and known brands and they also found wind noise to be an issue after installation. If you're ok with these kinds of issues for saving a few hundred bucks, then this is the light bar for you.
4. Runner-Up Budget Light Bar: Rigidhorse 32 Inch Spot/Flood Combo LED Light Bar
As the sport and sport utility UTV market has gotten more popular, so have the accessories for them. This rapid growth has increased the number of companies making parts, and LED light bars is one of the most popular. Rigidhorse might not be a name you're familiar with, but they're staying competitive in the LED light bar market by offering models like this at a serious low price. They claim that this dual-row 300w light bar illuminates the night with 30k lumens of light that is projected through a combination spot/flood lens. With 4.5 out of 5 stars from 49 ratings, it seems to be a decent light bar for the price. Is it the best Polaris RZR light bar? That is for you to decide.
5. Rough Country 30-Inch Chrome Series Single Row CREE LED Light Bar
Somewhere in-between the budget Nilight and the more premium Polaris RZR light bars listed before it, you have this: The Rough Country 30" Chrome Series CREE LED Light Bar. Occupying something of a sweet spot with regard to price and performance, this Rough Country light bar puts out a commendable 12,000 lumens in total, with a single row of efficient CREE LEDs in a durable and stylish cast-aluminum housing. The light bar is IP67-rated, ready to take on the dirt, rain, and mud of aggressive off-roading, and it ships with a 3-year warranty, backed by Rough Country – a respected brand in overlanding equipment.
What Size LED Light Bar Is Right For Me?
The Polaris RZR is fairly wide, as side-by-sides go, measuring 48 inches wide at the low end, all the way up to 72 inches wide at the biggest, depending on the model. Plenty of models within the range will accommodate 60-inch light bars, and you might be wondering: "Why wouldn't I go as large as possible?"
That's certainly one approach, but remember that with every increase in size comes an increase in price, and you never want to be paying for more light than you could ever need. Unless you do a lot of late-night driving in pitch-black conditions, we would say that most 20- to 30-inch Polaris RZR light bars should do the trick – and that's assuming you're not running with any other auxiliary lights.
But aesthetics are another concern; go too small on one of the larger RZR models out there and your light might look a bit "off". We recommend breaking out the old yard stick so that you can measure and tape off near the area where your light bar will be installed to get a better sense of its width compared to the width of your Polaris.
At the end of the day, even most small Polaris RZR light bars will provide sufficient trail illumination for most conditions, but the choice of whether or not to go bigger, for a bit of extra output or for some extra style points, is one between you and your wallet.
Additional Resources
Recent Updates
10/8/2021: Updated product descriptions, replaced low inventory products, ranked products, added additional resources
We are committed to finding, researching, and recommending the best products. We earn commissions from purchases you make using the retail links in our product reviews. Learn more about how this works.
How do you mount these light bars to the roll cage?
Some of the options on our list come with mounts that will clamp onto your OE roll cage for a quick and simple installation. Others, like the Rigid or Baja Designs, require you to purchase additional mounts. The advantage to this is that you aren't necessarily limited to mounting to your roll cage. This may give you an option to mount the light bar to your bumper if you choose. The only light bar on our list that will require some fabrication would be the offering from NiLight just because of it's sheer size. As for wiring, most of these light bar kits will come with wiring harnesses that include a switch and fuse so you can directly wire to your battery but often times RZR owners prefer a more custom look than these have to offer.
Published October 8th, 2021 9:10 AM
Top Brands
Popular Articles