233 Views
Best John Deere Gator Tires
April 7th, 2021 6:03 PM
Share
We're committed to finding, researching, and recommending the best products. We earn commissions from purchases you make using links in our articles. Learn more here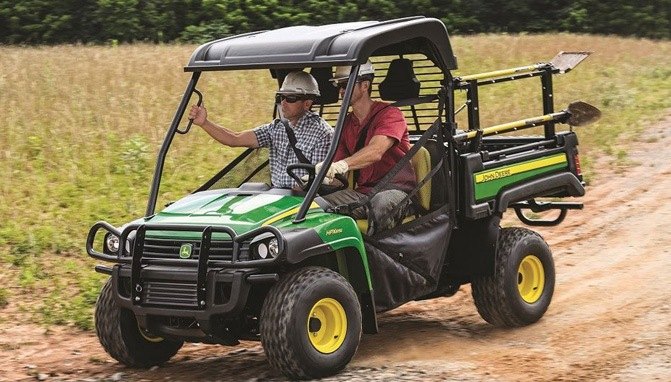 If your Gator needs some new shoes, we've got you covered
The John Deere Gator series of Utility Terrain Vehicles has become a staple in the industry over the past two-and-a-half decades, and that's great news if you find yourself shopping for replacement John Deere Gator tires. The product line has so much clout that it's all but impossible for tire manufacturers to ignore, which means there is an abundance of competitive, high-quality tires for John Deere Gator on the market, spanning a range of price points and terrain specialties.
As you're shopping, it's important to keep in mind that the goals of a Utility UTV tire are generally quite different from those of the average ATV tire. Utility UTVs tend to be heavier and more work-focused, with relatively high payload and tow ratings, so whatever you get, you'll want to be sure that it can support adequate weight. Further, because of their less recreational focus, Utility UTVs seldom need the sort of hardcore, high-speed-performance mud-terrain tires that ATVs and Sport UTVs often do best on.
Whether this is your first time shopping for new John Deere Gator tires, or you're just looking to switch things up this next time around, we've put together this handy guide with our top picks for the best Gator tires on the market.
1. Best All-Terrain Tire: Maxxis Bighorn 2.0 Radial
If your Gator regularly sees rough terrain, give Maxxis's Bighorn 2.0 tires a shot. These radial tires deliver a smoother ride with better shock absorption than bias-ply tires can provide, but their 6-ply construction still delivers plenty of durability and puncture-resistance. The tread design has plenty of void area, making them adept at keeping clean when things get hairy, and the aggressive, non-directional tread blocks are deep – up to 25/32" deep depending on tire size.
2. Best Turf Tire: Hoosier 4-Ply Super Turf
You probably know Hoosier tires from their icon status in the world of drag racing, but did you know they also make multi-terrain tires for mowers, golf carts, UTVs, and the like? These certainly aren't the most hardcore John Deere Gator tires on this list, but they provide plenty of usable off-road traction for tackling the hills on your property, and the tread design has been carefully crafted to minimize damage to your lawn. Contrary to the sort of tires Hoosier is best known for, call this the "practical" option.
3. Best Mud Tire: ITP Mud Lite II
While ITP makes more aggressive mud tires than the Mud Lite II, we figure most John Deere Gators will not be used to tackle the deepest and nastiest mud holes. However, a lot of folks work in fields that can get pretty slick in the spring and fall and a tire with a little extra bite can make a world of difference. The ITP Mud Lite II uses the same basic tread pattern as the original Mud Lite AT, but with a little traction and slightly deeper lugs. The Mud Lite II also features a directional tread that works well in the slop and offers a reasonably smooth ride on hard pack terrain. Tread depth varies from ¾ to 1-1/8 inches deep, depending on tire size, and the tire features a 6-ply rated carcass for added durability
4. Carlisle HD Field Trax
A favorite standby from a proven, trusted manufacturer, the Carlisle HD Field Trax makes for a long-lasting, versatile John Deere Gator tire, with a non-directional, open 12/32" tread pattern that manages to find traction over a wide variety of terrains. They utilize bias-ply construction for superior puncture resistance and load carrying, and Carlisle's rubber compounds are among the most resilient out there.
The last of the John Deere Gator tires on our list are another model from Carlisle – and deservedly so. Similar to the Hoosier Super Turf, the Carlisle Turf Trac R/S was designed with the goal of providing maximum traction with minimal destruction to your lawn, and they're so popular among round-shoulder UTV tires, we might even say no list would be complete without them. They're available in a few different sizes and ply ratings, but for their durability and puncture-resistance, we recommend the 4-ply for your John Deere Gator.
6. Cheapest Tire: Weize 4-Ply ATV/UTV
Our most budget-friendly John Deere Gator tires on the list, these 4-ply ATV/UTV tires from Weize shouldn't be discounted just because of their price. They feature the same split-lug design as plenty of other popular, higher-cost tire designs, which helps deliver traction over a range of terrain types and aids in cornering by twisting and stretching to maintain grip. Reviews for this particular tire model are hard to come by, but some of Weize's other, more recreational ATV tires enjoy wide favorability.
7. SunF G003 All-Terrain Turf
Featuring a busy, complex tread design with a high number of tread blocks per square inch, these heavy 4-ply G003 all-terrain turf tires from SunF are compatible with most terrain types your liable to come across, with extra shoulder knobs designed to minimize the risk of sidewall damage. They won't coddle your lawn quite like the Hoosier Super Turf tires listed above, but what you lose in lawn protection, you gain in outright traction.
Recent Updates
April 7, 2021: Added ITP Mud Lite II to the list and added an FAQ.
We are committed to finding, researching, and recommending the best products. We earn commissions from purchases you make using the retail links in our product reviews. Learn more about how this works.
What size tires fit on the John Deere Gator?
This all depends on which Gator model you have. The stock tires on the TH 6x4 and TS 4x2 are 22.5 inches tall up front and 25 inches tall in the rear, while the TX 4x2 is a bit smaller with 22 front and 24 rear. All of the Gator XUV and RSX models feature 25-inch tall tires front and rear, while the Gator HPX relies on 24-inch tall tires all around. Tire widths and wheel diameters will vary depending on model, so double check before buying anything new. Aaron Brzozowski
Aaron is a freelance writer, videographer and car enthusiast based out of the Detroit area. He has a special affinity for the Porsche 944 series, and once owned a Volvo 240 sedan with a Weber carb in place of the factory EFI system. His work has appeared on AutoGuide, GM Authority, /Drive, and VW Vortex, among other sites.
More by Aaron Brzozowski
Published July 23rd, 2020 12:00 PM
Top Brands
Popular Articles