1 View
John Deere Issues Recall on Gators
October 28th, 2007 1:38 PM
Share
Improperly installed brakes require pose risk
Deere & Co., of Moline, Ill. has recalled about 5,400 of its John Deere Gator Utility Vehicles.
According to the US Consumer Product Safety Commission (CPSC), the front brake calipers in the UTVs might have been installed incorrectly. The problem could cause the vehicle to pull to one side during braking.
The CPSC says this poses an injury hazard to consumers, although no injuries have been reported.
The recall affects the XUV and HPX Gator four-wheeled utility vehicles with a cargo box.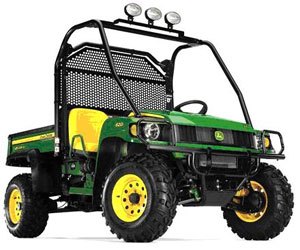 The CPSC says consumers should stop operating the vehicles immediately and contact an authorized John Deere dealer in their area to schedule a free inspection. Repairs, if needed, would be provided at no cost.
Registered owners were sent notification of this recall in the mail.
"Until this inspection is performed, please be aware that in a hard braking situation, the vehicle may have a tendency to pull to one side," the company said in a letter its customers. "Slow down before braking whenever possible to avoid hard braking situations."
The vehicles, which cost between US$8,500 and $10,600, were sold in the United States between June and September 2007. All the vehicles were manufactured in the United States.
Published October 28th, 2007 1:38 PM