1 View
Best ATV LED Light Bar Options to Light Up Your Night
August 17th, 2022 6:18 PM
Share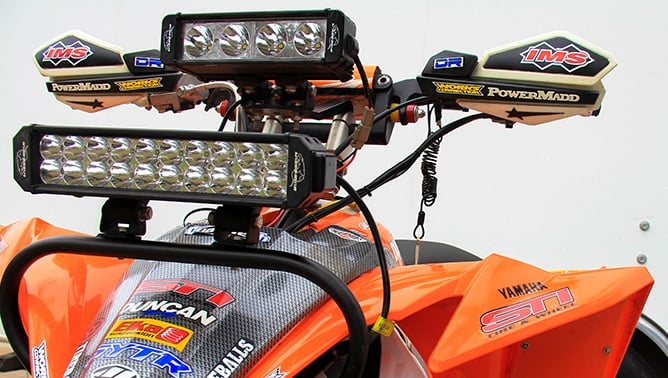 Ride into the night with a new light bar for your ATV
Having the right ATV LED light bar means the fun doesn't have to stop when the sun goes down. We gathered the best ATV LED lights in the business that will allow you to keep playing til the sun comes up.
Navigating through heavy bush, around tight corners and across swampy ponds are nothing that an ATV can't handle. While the stock lighting on most UTVs and ATVs leaves much to be desired, installing a quality ATV LED light bar can make a world of difference if you're out on the trails when the sun goes down.
With so many companies making ATV and UTV light bars, you have the opportunity to select one that is simple to install (universal mounts), assembled with top-of-the-line parts, (i.e., CREE LEDs), and might even come with a wiring harness and switch for a near factory look. A combination of spot and flood optics are ideal, broadening the range of the visible light giving you increased distance and width to see easily into and around corners.
If you like lots of options, you are in luck. The aftermarket is chock full of UTV and ATV LED light bars. To help narrow down your search, here some staff favorites from the best businesses in the industry.
1. Editors Choice - Rigid Industries E-Series LED Light Bars
Rigid Industries makes top of the line ATV LED light bars – the Rigid E-Series is among the best ATV LED lights available today. A great option for ATVs is the 10" E-Series Pro spot/driving light bar that can be mounted with Rigid's universal handlebar mount (sold separately) for easy installation. The 10" E-Series Pro features a combination of spot and flood lights for maximum visibility while riding, and according to Rigid, their hybrid lighting system utilizes a combination of lens and reflector that "captures the maximum amount of light emitted from the LED and projects it exactly where you want it."
To make installation of the E-Series Pro LED light bar simple, Rigid provides a wiring harness that is practically plug-and-play.
Promoted Product: XenonPro LED Headlight Bulbs
Light bars are terrific, but let's not forget: there is plenty you can do to beef up your ATV's existing lighting, like replacing your mediocre factory headlamp bulbs with some good LEDs. In this arena, XenonPro is king, offering drop-in replacement LED bulbs in over 40 of the most common automotive headlamp and fog light sizes so that no matter what you ride, you can probably find a XenonPro headlight conversion kit to fit. Delivering up to 9000 lumens in as many as 7 different colors, XenonPro's LED bulbs allow you to select exactly the right lighting option for your needs, and they throw significantly more illumination at the trail than your typical factory bulb, giving you the confidence you need to keep riding after the sun dips. Just as important, XenonPro LEDs are built to last, with durable heat-sinking solid aluminum casings and built-in turbofans to manage temperatures and give you up to 45,000 hours of service life. With easy drop-in installation and so much illumination on tap, we would be remiss if we didn't point out this stellar alternative option on our list of the best ATV LED light bar options.
2. KC HiLites 334 C-Series 10" LED Light Bar
KC HiLites is well known as one of the original ATV LED light bar manufactures in the industry. In business for over 45 years, KC HiLites has been an industry leader and continues to prove they have what it takes to make some of the best ATV lights available. Their 334 C-Series 10" light bar is everything you need to light the night, and with an output of over 3,300 lumens this compact light bar will put the stock lights on your ATV to shame. It comes in a combo spot and flood light pattern, and features a near plug-and-play wiring harness, and basic mounting hardware to get mounted on your ATV. If you also have a UTV, the 334 C-Series lights are also available in widths from 20-50" wide making it a perfect lighting upgrade.
3. Baja Designs S8 Series LED Light Bars
As one of, if not the premier, LED light bar manufactures in the industry, Baja Designs products are preferred by some of the top racers and recreational riders alike. For ATV enthusiasts that want to ride well into the night, the S8 Series LED light bars are a great option to light the night. Available with light patterns such as spot, wide, or driving combo (wide/spot combination) the 10" S8 utilizes 8 Cree LED lights and puts out over 6,300 lumens of brightness while only drawing 60W and 4Amps of power from your ATVs electrical system. If you ride in wet areas and worry about water getting in and ruining your LED light bar, you don't need to worry with any light bars from Baja Designs. The S8 series LED light bars feature a hard anodized aircraft grade aluminum housing that is waterproof, rain proof and submersible up to 9', making it IP69K rated for water resistance.
One of the best features about the Baja Designs S8 series of LED light bars is that they are fully rebuildable with replaceable lenses and optics, which also give you the ability to change out the color of your lens as well. There's no denying that Baja Designs LED light bars are at the top of the list in quality and craftsmanship, and the price shows but with a 30-day money back guarantee and limited lifetime warranty, we think the products are worth the extra spend.
4. Baja Designs On6X+ 10" Combo LED Light Bar
Ok, you might be wondering why we're listing another Baja Designs light bar when we just had one on our list. Well, Baja Designs has multiple options for LED lighting and their OnX6+ series LED light bars are a step above the S8 series. Where the 10" S8 series LED light bar uses 8 Cree LED lights, the OnX6 uses 6 larger Cree LED lights giving it a maximum output of over 12,400 lumens of light by utilizing Baja Designs trademarked High Speed Spot reflector. The nice thing about the OnX6 is that you have the option of a high beam as well as a low beam (9,200 lumens), but we think you'll likely stick with the high output.
Just like the S8 series, and most other Baja Designs products, the OnX6 LED light bars utilize an aircraft grade hard anodized sealed aluminum housing making it waterproof, rain proof, dust proof, and submersible up to 9' of water giving it the IP69K water resistance rating. Just like the S8 LED light bars, the OnX6 series also feature Baja Designs' 30-customer satisfaction guarantee and limited lifetime warranty.
5. Vision X XPR 6" Halo LED Light Bar
You might have noticed that most of the suggested LED light bars on our list are limited to 10" wide. The reason for this is because if you go any wider, you might run into mounting issues and it's just going to give your ATV an awkward look. Now going smaller in width won't give you mounting issue, and in fact might give you even more mounting options. The 6" XPR Halo LED light bar from Vison X is the perfect size to utilize with a handlebar mount so you can have the ability to see in any direction you turn the bars.
While this 6" LED light bar may seem small, the 3LED lights that are sealed inside an aluminum housing pump out just over 2,200 lumens with a spot light pattern to light up what's in front of you. The minimal 2.5A power draw means that your ATVs electrical system won't even know that it has an LED light bar putting the stock halogen lights to shame, even when on at the same time. The aluminum housing offers two different mounting options to make life easier when you're finding the right place to mount it. Knowing that we can put our aftermarket bolt-on items through some tough conditions, even lights, Vision X offers an extended (Limited Lifetime) warranty on these LED light bars from the date of consumer purchase.
6. Best Budget Option: Wayup 10" Quad Row Spot Flood Combo LED Light Bar
If you're looking for better lighting than your stock lights are capable of but can't see spending hundreds of dollars on some of the other light bars mentioned in this list, you're in luck. There are still plenty of options to choose from at a much more friendly price point, like this 10" combo LED light bar from Wayup. You can see from the image that the reflectors utilized in this LED light bar are vastly different from any others we've listed, but according to Wayup this 10" LED light bar pumps out 15,000 lumens utilizing OSRAM LED chips. Furthermore, the LEDs are housed in a high-grade die-cast aluminum housing and uses a polycarbonate lens that protects the LED chips from outer damage. This housing also provides excellent heat dissipation and is sealed against water and dust with an IP68 rating.
Knowing that there's a significant price difference between this LED light bar and the others that have been featured, know that the performance will not be the same. We're not going to say that they're not better than the stock lights on your ATV, but if you put them side-by-side you'll likely see the difference in the performance of the higher end models vs. this, but when you're on a budget these lights come in clutch.
7. Alternative Light Option: Rigid Industries D-SS Pro LED Light Pods
If you're looking at your ATV while going through this lighting guide and are scratching your head trying to figure out how in the world you could add a light bar, opting to use LED light pods might be a better option. The Rigid Industries D-SS Pro LED light pods measure 3"x4" making them much easier to install in OEM locations if you wanted to replace your stock lights or even to add to your machine with a handlebar mount. The light pods pump out just over 6,300 lumens of light with a minimal 3 amp draw on your electrical system. While the ones featured here are a flood pattern, they are also available in a spot light pattern. A great feature of these light pods is what gives them the SS (side shooter) designation. There are 4 additional LED chips and reflectors that are aimed to the side for a much wider beam and greater night time vision.
Just like the LED light bar at the top of our list, the components of the LED light pods are housed in a high-grade aluminum alloy housing that is both dust and waterproof and utilizes an impact resistant polycarbonate lens. They're available in both white and black housing color options, so you can try to get them to accent your ATV as best as possible.
Why do I need an LED light bar
If you plan on doing any kind of riding at night, upgrading your lighting system by replacing your stock lights or adding more to your ATV is a no-brainer. Most ATVs feature a standard halogen light bulb that gets the job done, but when you're out in the dunes or on the trails you want to see farther and wider than the stock lights can project. By adding an LED light bar you'll get a significant increase distance, width, or both depending on what type of lighting pattern you go with. Additionally, by increasing the amount of light your ATV is able to project, you may also be able to ride at a faster pace since you'll be able to see obstacles and terrain contours much better than before. There's a reason some of the fastest racers on the planet run these types of lighting systems.
Can my ATVs electrical system handle a light bar?
Most modern ATVs that utilize a 12v electrical system with a battery can easily handle the load of a 10" LED light bar. In fact, some of our editors have had 2-3 light bars/pods on an ATV without the need to modify the electrical system. Of course, you want to make sure that you're wiring the lights in properly and not just relying on the stock wiring system to carry the load of multiple light bars. While most LED light bars draw the same or less amperage than the stock lights, if you try to wire too many in on the same circuit you can cause damage to your stock wiring harness.
How do I mount an LED light bar on my ATV?
Mounting an LED light bar can be super easy or extremely difficult depending on which type of ATV you're wanting to mount it to. First you need to know how the LED light bar is set up to be mounted. Some have brackets that mount to the sides of the housing, while others feature a slide track that mount tabs are allowed to slide back and forth allowing for different mounting widths. Once you have this figured out, you can find any number of generic tube mounts that you can secure to your ATVs frame, or you can get a handlebar mount for some of the smaller light bars or pods.
Single row, dual row, or cube LED lights. Which is better to use?
This really depends on mounting location and how much room you must mount an LED light bar or LED light pods. Dual row LED light bars are great because with double the number of LED lights, you'll get double the light that can be produced. While that's not necessarily a bad thing, the dual-row light bars are taller than say a single row meaning that it will require more mounting space. To be honest, there have been huge improvements over the years in that many single row light bars may put out as much light, if not more, than some dual row models. If you're really limited on space, purchasing a set of LED pods or cubes might be your best option.
Am I better off running an LED light bar or HID lights?
While HID (High Intensity Discharge) lights can provide brighter light that covers a larger area, that doesn't make them the ideal fit for most ATV or UTV owners. HID's require time to reach peak brightness and depending which brand/style you opt to go with require a ballast that takes up more space on your machine. LED light bars house everything in one package and can run for more than 20,000 hours, making them some of the longest lasting lights you can get. LEDs also require minimal energy from your electrical system, instantly reach peak brightness and are usually more budget friendly.
Recent Updates
August 17, 2022: Updated product descriptions, swapped out products for current offerings (Vision X XPR LED light bar, Wayup LED light bar, Rigid Industries D-SS Pro LED light pods), updated product links and added more FAQ.
July 14, 2021: Added a Promoted Product to the article
May 13, 2021: Added the Baja Designs On6X light bar and Rigid Radiance light pods.
March 9, 2021: Replaced our Lazer Star product recommendation with a new budget option from Tusk.
We are committed to finding, researching, and recommending the best products. We earn commissions from purchases you make using the retail links in our product reviews. Learn more about how this works.
Published February 25th, 2021 12:00 PM
Top Brands
Popular Articles