253 Views
May 25th, 2021 12:08 PM
Share
We're committed to finding, researching, and recommending the best products. We earn commissions from purchases you make using links in our articles. Learn more here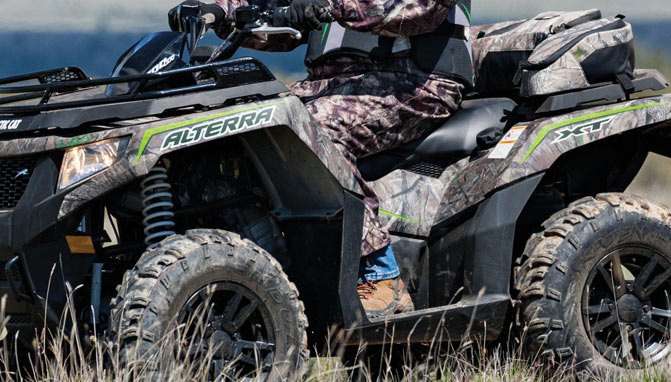 Protect your feet with these ATV and UTV boot options
After a helmet, it's important to wear good, protective footwear when you're off-roading. You want something that fits good, and provides good ankle support. Sorry, those high-top sneakers won't cut it. If you look at what motocross racers wear, those boots have tons of ankle support, and protect the foot, ankle and shins from impacts. There are some great boots available for off-road use and below you'll find our top picks for the best ATV boots.
Table of Contents
1. Editor's Choice: Forma Adventure
What is it about Italian craftsmanship that makes their products so good? Forma boots are no exception, with classic styling and a perfect blend of protection, light weight and comfort. These boots have an aggressive sole for time spent away from the ride. They are comfortable enough to wear hiking, so you won't feel like you're wearing a heavy MX-style boot at all. Water and mud isn't an issue with the waterproof outer shell. Forma does say that if you have a kick starter on your machine, these boots are not the ones for you, as the sole is not designed for that.
2. Best UTV Boots: Wolverine Claw Durashocks
These are the boots I reach for most often when I'm heading out in the UTV or a Utility ATV. They also happen to be my go-to hunting boots when it's not too cold. They are extremely comfortable for all-day wearing (and long hikes, when the mood strikes) and they are waterproof. I've been using my pair for coming on four years now and have no intentions of getting rid of them any time soon. In my mind, these are the best UTV boots going.
3. Best MX-Style Boots: Alpinestars Tech 10
A set of full-size MX boots isn't our favorite choice for riding Utility ATVs or UTVs, but if you like to whip around on a Sport ATV, it's exactly what we want. I don't use them much any more, but the pair of ATV boots I've owned the longest are my Alpinestars Tech 10s. Yes, they are expensive. Yes, they are heavy. But I'm not sure you can find any ATV boots that will give you more protection than these. My pair is over 10 years old now and still fully operational, though the buckles are starting to get a little suspect.
It is worth pointing out that Alpinestars has updated the Tech 10 since I got my pair. The new Tech 10 has a greater range of movement and is more flexible. I also hope you will walk less like a robot than I do when I'm wearing my OG models.
4. Alpinestars Belize Drystar
A discussion about boots really must talk about Alpinestars, right? The Drystar boots have optimal protection built in with panels constructed to allow for freedom of movement. A two-buckle closure system and a wide opening make getting in and out of these boots easy. With a name like Drystar, you'd expect them to be waterproof, and you wouldn't be disappointed. In fact, you wouldn't be disappointed with any part of these boots.
If you want full-size MX-style boots, but don't want to pay for the Tech 10s above, the Fly Racing FR5 may be just what the doctor ordered. Despite a much lower price, these boots are loaded with the safety features you want in an MX-style boot, including a one-piece plastic injected midsole, pivots on the inside and outside of the ankle, rubber heat shield, and aluminum quick-lock buckles. Other features include pre-shaped 3D shin pads and soft interior foam around the ankle and collar.
Recent Updates
April 26, 2021: Added the Wolverine and Alpinestars Tech 10 boots to our list, along with some FAQs.
We are committed to finding, researching, and recommending the best products. We earn commissions from purchases you make using the retail links in our product reviews. Learn more about how this works.
What kind of boots should I get for casual ATV riding?
Realistically, you can get away with a quality pair of hiking boots for casual ATV riding (or UTV driving). We'd suggest you avoid simple rain boots and get a pair you can lace up to give you some support. We'd also lean towards waterproof boots, as ATVs tend to find puddles and mud holes on the regular.
Why are ATV riding boots needed?
Proper ATV-specific boots are not always necessary. If you ride Sport ATVs, a pair of MX-style boots will add some significant protection. While we don't normally wear those big, bulky boots for Utility ATV riding, they can come in handy as they do a great job of protecting your feet and ankles if you ever leave your ATV against your will. At a minimum, getting a pair of boots that goes over the ankles to give you a layer of protection from a stray rock or branch is highly recommended.
How do I break-in ATV riding boots?
This works largely the same way as any other footwear. Start slowly. Maybe wear them around the house or back yard for an hour or so. Then a couple days later go for a ride with them. You'll slowly break in in the boots and get your feet used to them at the same time. Derrek Sigler
Derrek's love for all things ATV started when he was a mere 11 years old, growing up on his family farm. His mom gave him and his sister a choice - get a horse, or a three-wheeler. The sister wanted the horse, and Derrek wanted the ATV. Luckily he won out, and was soon burning up the trails on a Yamaha Tri-Moto 200. By the time he was 14, he had saved enough of his own money by working on the farm and in his folks restaurant to buy a new 4-wheeler. That happened the day he and his mom were driving past the dealership and saw 1987 Banshee. His mom had no idea what he was buying, and he never looked back. He's been riding ever since, and been writing professionally for many years. He has ridden all over North America and been behind the controls of just about every machine out there. And yes, he still has his 1987 Yamaha Banshee.
More by Derrek Sigler
Published July 12th, 2017 3:44 PM
Top Brands
Popular Articles