1.4K Views
Electric ATVs: A Consumer's Guide
August 10th, 2022 5:39 PM
Share
We're committed to finding, researching, and recommending the best products. We earn commissions from purchases you make using links in our articles. Learn more here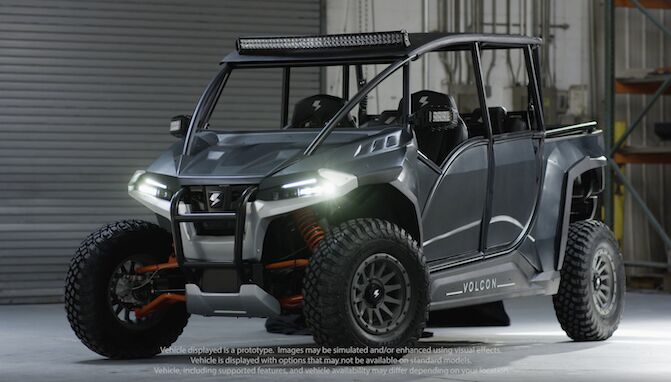 Four manufacturers bring electric ATVs and UTVs to life
As gas prices fluctuate and environmental concerns continue to be pushed to the forefront, we hear more and more about electric ATVs. For most of us, however, electric off-road vehicles are still part of the great unknown. We know they exist, but don't really know much about them.
Over the last decade, electric off-road vehicles have seen a strong increase in demand. While it's hard to compare the performance of EVs to their fossil fuel-powered counterparts, they definitely have their advantages. You likely won't find these machines at the racetrack or winning lengthy desert races, but when it comes to the needs of ranchers or hunters that want a quiet, low-maintenance vehicle, the new electric ATVs and UTVs are hard to beat.
If you're on the fence about purchasing an electric ATV or UTV versus a gas-powered unit, you need to consider the Pros and Cons of the EV models.
Pros
Low maintenance – No tune-ups or fluids to change on a regular basis
Zero fuel costs – Plug in your unit at the end of the day to be charged and ready for the next.
Zero/low noise pollution – Minimize disturbing livestock or wildlife if you're out hunting/scouting.
Cons
Limited range – Even with the largest battery options, many units are limited to around 100 miles of range
Long charge times – When you're out of juice, expect anywhere from 5-8 hours of recharge time before you can head back out.
Limited capabilities – Sure you still have 4WD options, but you're still limited as to where you can operate these.
Limited selection – While demand has been increasing, there hasn't been enough to lead manufacturers to produce as many units as they have that are powered by gas.
Electric ATV owners don't need any of that.
With this said, some well-established manufacturers have been producing some of the best electric ATV and UTV units you can find, while other companies have popped up out of the woodwork to try and get a piece of the EV pie. Some of these companies have decided to look past the working/AG market and tackle the sport-performance segment.
To give you an idea of what's available, we're going to look at a few different electric off-road ATVs and UTVs. To kick it off, we'll start with some of the latest announced UTV models from established and new to the game manufactures.
Polaris RANGER XP Kinetic
It's been just over 10-years since Polaris released the RANGER EV, which was the first ever electric UTV produced by a major manufacture, and the market for quiet UTVs has steadily increased. Now for 2022, Polaris has taken the electric powered RANGER to new levels with the all-new RANGER XP Kinetic. By partnering with Zero Motorcycles, the RANGER XP Kinetic is said to establish the new standard for EV UTV performance, productivity, capability, durability, and performance.
The RANGER XP Kinetics engine delivers 110 HP and 140lb-ft of torque, perfect for hauling and towing heavy loads over any terrain you decide to tackle. Available in two different trim packages, the 3-passenger RANGER XP Kinetic Premium features a 14.9kWh Lithium-Ion battery with an estimated range of up to 45-miles. If that's not enough for you, the RANGER XP Kinetic Ultimate features double the battery capacity offering a run range up to 80-miles. Charging the Lithium-ion batteries can be done in as fast as 5-hours with the factory-installed charging system, or you can get up to a 50% faster charging time with the available accessory onboard charging system.
If you plan to use your EV UTV as a work horse, the RANGER XP Kinetic is more than capable and up to the tasks. The torque of the electric motor easily allows this UTV to tow up to 2,500lbs or haul up to 1,250lbs of payload in the spacious cargo box. The RANGER XP Kinetic drivetrain features both high and low range to optimize the motor performance for the conditions and has three different drive modes. Both models also feature 29" Pro Armor X-Terrain tires that provide excellent traction in any terrain and contributes to the overall ground clearance of 14-inches. Ensuring that riders stay comfortable during any activity, 10-inches of suspension travel provides a plush ride.
Look for the RANGER XP Kinetic Premium models to start at $24,999 while the Ultimate models start at $29,999 at your local Polaris dealer.
Volcon Stag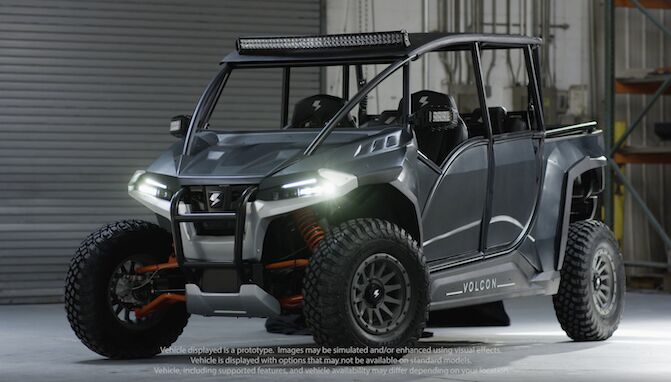 Mainly known for their fat tire off-road electric motorcycles, Volcon has jumped into the ring of electric UTVs with the 4-seat Stag. Designed for a balance of work or play use, the Volcon Stag is styled to machines like the Polaris General where you can have the best of both worlds. A sporty looking and handling unit that, is as good on the trails as it is around the ranch.
For a starting price of $39,999, the Volcon Stag delivers 125 HP and 265ft-lb of torque that is sure to put a smile on your face when you're smashing the skinny pedal to reach the claimed 80 MPH top speed. The 42 Kwh Lithium-ion battery is said to give the Stag a range of over 100 miles when fully charged and can be fully recharged in under 6 hours when used with a Level 2 charging supply. To ensure that you're getting the maximum potential from the drivetrain, the Volcon Stag offers both ECO and Sport modes that alter throttle response and power delivery to suit your needs when behind the wheel. Like many other UTVs, the Stag features an on-demand 4WD system that engages the front wheels when it senses rear wheel traction loss. This system also manages traction and power distribution to the wheels to provide better steering and handling when cornering.
If you're looking to enjoy a day of riding with friends, the 4-seat cabin area provides plenty of comfort without compromising leg room. When it's time to get to work, the rear seats fold down giving the already spacious cargo bed the ability to expand its space to over 26 cu ft. The Stag is strong enough to handle 1,550 lbs of payload, or you can haul up to 2,000 lbs of cargo when towing, proving that it's capable of holding its own when compared to other models in its class.
When looking at state-of-the-art UTVs, you expect a few cool bells and whistles, and the Stag doesn't disappoint. The central digital display provides a full array of information for the driver such as battery status, route planner and even a live camera view. Volcon also has an app that is like Polaris' Ride Command where you can find routes and even keep track of your friends that are using the system as well.
If this has you excited and wanting to consider the purchase of a Volcon Stag, you're gonna have to wait. While they are taking deposits for this sporty looking, multi-purpose UTV Volcon isn't expecting delivery to dealers until summer of 2023. Read more about the Volcon Stag electric lineup of UTVs by clicking here.
American Landmaster
In one of the most recent announcements from a manufacture producing an electric UTV, American Landmaster has thrown a few electric UTV models into the mix. While not as sporty as machines listed above, their units also don't have the price tags to match since its 2WD, 2-seat UTV starts at $12,799 and the 4WD version coming in at $17,499. With these prices, you can also expect them not to see the same run time/distance as some of the more well-known models. Available with two battery options, the base model units have an estimated 45-mile run time, and if you opt to purchase the extended range pack, you can expect to gain an additional 20-miles for the cost of $1,500. Charging takes roughly 5-hours for the standard battery and to top off the larger battery, plan for a full 8-hours of charge time.
Towing seems to be on par with the competition with the 4×4 models capable of pulling 1,500 lbs, but don't be expecting to break any land speed records since the top speed on these UTVs is 30 MPH.
As for upgrades, there are plenty. From heavy duty shocks that increase the bed payload to 700 lbs, upgraded wheels and tires, and power steering, you'd have plenty to choose from but know that these options can easily push these units well over the $30k range. Unlike the Volcon Stag, you don't have to wait til next year to get your hands on one of these machines since American Landmaster expects to have them on showroom floors by September of this year. See more info on the soon to be released UTV lineup from American Landmaster by clicking here.
Polaris Ranger EV
Polaris is one of the biggest names in the ATV industry, so we figured this was the most logical place to start. Polaris has been building ATVs since 1984 and snowmobiles for half a century. It is also at the forefront of the booming side-by-side market with its Ranger lineup. At its 2010 model intro, Polaris surprised most of us media types by unveiling the Ranger EV (MSRP $10,699) – the first electric side-by-side produced by a major manufacturer.
Polaris' Ranger EV is the first all-electric side-by-side from a major manufacturer.
This was a major step for electric vehicles. The electric off-road vehicle industry is still fairly small and manufacturers don't normally have much of a dealer network. Polaris, of course, has dealerships all over North America, so finding parts and getting the Ranger EV serviced is that much easier. That's a lot of peace of mind for consumers.
But what makes the EV tick? It's based around a smaller, two-seat chassis that fits in the back of a pickup truck. It features what Polaris is calling the largest battery pack in the industry (11.5 kilowatts) and Polaris claims it has the longest range of any electric midsize. Its 30 horsepower electric motor has an estimated range of 50 miles and a top speed of 25 mph. According to Polaris, it should take about eight hours to recharge the batteries using a 110V outlet.
The Ranger EV's huge battery pack adds considerable weight, but also works to lower the center of gravity.
Cushioning the ride is a MacPherson Strut front suspension with 8.0 inches of travel and dual A-arm independent rear suspension with 9.0 inches of travel.
Like all electric off-road vehicles, the Ranger EV is virtually silent. Beyond its ultra-quiet motor, this is still very much a Ranger. It comes with a 500-pound Lock & Ride cargo box, 1,200-pound towing capacity and 1,000 pounds of total payload.
You can choose between three drive modes; High for speed, Low for towing and hauling, and Max for maximum range. If you drive around in High mode all the time, your batteries will drain a lot quicker, but the other modes don't offer as much speed and performance.
The eight 12-volt batteries add quite a bit of weight, but it's all at the bottom of the chassis so the center of gravity is very low, so the Ranger EV should be able to hug the turns like few other side-by-sides can. That said, this is a 1,700-pound vehicle (dry weight), while the similarly sized Ranger 400 is 650 pounds lighter (dry). To reduce drag and help prolong battery life, the tires on the Ranger EV don't feature a very aggressive tread, but if you're buying this vehicle you're probably not planning to use it for mud bogging.
For more information, visit PolarisIndustries.com.
Eco Electric ATV (E-Force)
Produced by Ellicottville, NY-based Electric Vehicle Systems (EVS), the Eco Electric ATV (known as the E-Force) claims to be the world's cleanest, quietest, and most efficient ATV ever and boasts three times the torque of a similar sized gas motor.
The 2WD E-Force's 72 volt brushless DC motor is powered by six 12V batteries that pump out a claimed 28 horsepower (10 hp continuous) and a claimed 374 ft-lbs of torque at the wheel. The transmission features forward and reverse drive with regenerative power.
Independent double-wishbone front suspension offers 6.1-inches of travel, while the rear swingarm with dual hydraulic shocks provides 7.0 inches of travel.
Electric ATVs are an attractive option for farmers.
The E-Force (MSRP $7,195), which tips the scales at 824 pounds, has a towing capacity of 1,000 pounds, plus another 165 pounds on the racks (66 pounds front, 99 pounds rear).
According to EVS, the E-Force is designed for a variety of applications, including: agriculture, home and professional utility use, construction, police and local law enforcement, national, regional, and local government security, private and public border patrol and regulation, sportsmen, and campers, public and private parks maintenance, and many others.
"The E-Force can handle rugged terrain, move small planes with a front hitch, and is perfect for Rangers to patrol parks, campgrounds, and large events," says the EVS Website. "Go on an Eco ATV moose tour, foliage ride in fall, or just ride in the woods with friends without disturbing the animals and environment around you."
For more information, visit EcoEATV.com.
Bad Boy Buggies XT
Bad Boy Buggies introduced us to electric ATVs. We did a ride review with Bad Boy Buggies in 2008, but the company has been around since the early part of the century.
In the early years, Bad Boy Buggies were built using E-Z Go golf carts with modified suspension and increased power. Eventually, the company started to design its own chassis and began building the vehicles from the ground up.
Bad Boy Buggies have been at the forefront of the electric side-by-side movement.
Today, Bad Boy Buggies produces four different all-electric side-by-sides, including a four-seater with a stretched chassis and the new XT model. Prices range from $7,295 for the 2WD LT to $11,995 for the new 4WD XT.
Outfitted with camouflage patterns, Bad Boy Buggies are a hit with hunters.
Dual 48 volt DC motors are at the heart of the XT and are powered by eight heavy duty deep cycle six volt batteries. All told, the vehicle produces a claimed 39.4 total horsepower (18.8 front, 20.6 rear) and 160 ft-lbs of torque. Batteries take about eight to 10 hours for a full charge, should last three to five years, and have a claimed range of 16-23 miles.
This full-time 4WD machine features independent MacPherson struts up front and in the rear, while stopping power is provided by discs at each wheel and regenerative braking.
The cargo bed can hold 500 pounds, while the front basket and roof rack can each take on 40 pounds. The XT can tow 800 pounds, while vehicle payload is rated at 1,000 pounds. The XT has a claimed dry weight of 1,669 pounds.
Bad Boy Buggies aggressively targets the hunting community and aims to produce vehicles that get them where they need to go…quietly.
For more information, visit BadBoyBuggies.com
Barefoot Motors
Based out of Ashland, Ore., Barefoot Motors is fairly new to the ATV market, but has been making waves in the industry.
Barefoot's Electric Utility Vehicle (EUV) looks much like a typical gas-powered ATV, but uses the power and torque of electric motor technologies to make a zero emissions vehicle. According to the company, over 90 percent of the EUV's components are sourced in the USA (with over 40% in Oregon). Barefoot Motors prides itself on being the only woman-owned vehicle manufacturing firm in the world.
Barefoot Motors is an Oregon-based electric ATV manufacturer.
The EUV is marketed as a heavy-duty all-terrain work vehicle for agricultural, industrial and land management applications.
The EUV is available in a 2WD and 4WD model.
Available in both a 4WD (MSRP $12,900) and a 2WD (MSRP $11,900) version, a Sepex 80 volt DC motor (two in the 4WD) powered by lithium ion phosphate batteries is at the heart of this beast. The batteries are rated for a minimum of 1,000 charging cycles and can be charged up in about seven hours. The 4WD EUV produces 65 ft-lbs torque and 31.8 horsepower, while the 2WD model offers 50 ft-lbs torque and 22.3 horsepower. Range is purported to be 40 miles, depending on conditions, and max speed is capped at 25 mph.
Suspension is provided by dual A-arms with an adjustable coil over shock up front and a swingarm with adjustable coil over shock in the rear – both offering six inches of travel. The EUV also features dual front and rear hydraulic disc brakes and electrical regenerative braking.
Towing capacity is rated at 1,000 pounds, to go along with 300 pounds of available payload, including front and rear racks and the rider. The 4WD model weighs in at 880 pounds, while the 2WD version comes in at 770 pounds.
For more information on Barefoot Motors electric ATVs, visit BarefootMotors.com.
Recent Updates
08/08/2022: Added info on Polaris RANGER XP Kinetic, Volcon Stag, and American Landmaster electric UTVs Lucas Cooney
I have been working exclusively in digital media since 1997. I started out with TSN.ca, spending nearly nine years creating and editing content on Canada's leading sports website. I left to join VerticalScope, Inc., one of the world's largest online publishers, to start a number of powersports publications. While at VerticalScope, I've helped create and oversee content for a wide variety of different publications, including ATV.com, Off-Road.com, ArcheryTalk.com, Tractor.com, RVGuide.com, and many more.
More by Lucas Cooney
Published April 13th, 2010 10:25 AM
Top Brands
Popular Articles