1 View
Best Polaris General Windshields
June 16th, 2021 1:33 PM
Share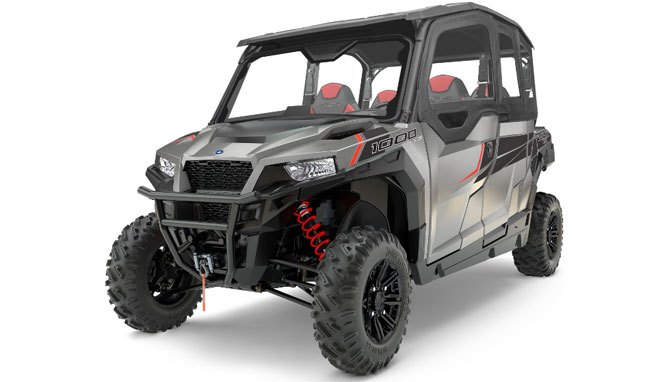 Keep the wind and cold out with a new windshield for your Polaris General
One of the first purchases many UTV owners make is a windshield. Here are the five best windshields available for the Polaris General and General 4.
The Polaris General, General 4 and the new, wider Deluxe XP models are proving to be extremely capable and popular sport-utility UTVs. Part of the reason these machines have taken command of the recreational Side-by-Side market comes from a near perfect blend of comfort, power and versatility. One of the great things about the General is the wide assortment of accessories now available for the machine that let you customize it to suit your tastes.
Windshields are a very popular accessory for UTVs, with everything from lower-cost poly windshields, to half windshields and automotive-quality glass windshields available for those that like to control just how much wind they feel on their face. To help you decide what works best for you, we've put together list of what we think are the five best windshields for all the variations of the Polaris General lineup.
1. Editor's Choice: Polaris Lock & Ride Full Windshield
It's pretty hard to beat a factory accessory option for a Polaris General windshield. After all, they had the most development time to come up with the best fit. Easily one of the best windshields for the General, this version is made of optical grade polycarbonate with a scratch-resistant hard coating. And it's probably the easiest windshield you will ever install, as it uses the Polaris Lock & Ride system. It should also offer a quiet ride, as it has a full seal against the ROPS frame.
2. Seizmik Versa-Vent Vented Polaris General Windshield
One of the best Polaris General windshields we've seen is the Versa-Vent from Seizmik. It's a cool idea in that you can get either a poly or a hard-coated poly windshield that has built in, adjustable vents to allow you to let in just enough air to help cool you down on hot days, or act as defogging vents on days when the outside moisture is conspiring against your vision plans. The whole unit goes in without tools and is sealed for tight fit.
3. Clearly Tough Full Folding Polaris General Windshield
Clearly Tough makes a couple of different Polaris General Windshields, but the one that caught our attention is this full-folding, scratch-resistant design. This windshield is made of 3/16? high impact polycarbonate and features a scratch-resistant hard coat that has been UV treated. Depending on the weather (and the dust) you can choose to have full front coverage or fold it down for a half windshield if that suits your needs better. The windshield installs to your General in minutes with Velcro straps and there is no bulky hardware to block your view. Made in the United States, the Clearly Tough full folding windshield is backed by a five-year warranty against cracking, crazing or yellowing.
4. Best Half Windshield: SuperATV Half Windshield
SuperATV offers a Made-in-USA half windshield that is available in either clear or tinted and in regular or scratch-resistant models. Super ATV uses ¼-inch thick Makrolon polycarbonate, which is designed to be very strong and durable. The best part may be the price, which is outstanding for this level of quality. If you are on a budget, this is one Polaris General windshield worth considering.
5. Best Budget Option: Tusk Polaris General Half Windshield
Speaking of the best Polaris General windshields on a budget, you'd be hard pressed to do better than this half windshield from Tusk. It's far and away the most affordable option on our list, but will still allow air flow to keep the cab clear of dust and fog-inducing moisture while still keeping the cold air from biting your fingers on those chilly mornings. This windshield is made of 3/16? polycarbonate plastic, which is on the thin side for a half windshield, but its a snap to install and gets the job done. For this price point, it's hard to ask for anything more.
6. Best Rear Windshield: SuperATV Rear Panel
While you might not see the benefit of adding a rear windshield, if you install one in the front you are going to wish you did the same in the rear. We'll talk about why later in this article, but if you do decide to a rear panel is for you, a great place to start is this option from SuperATV. Made of 1/4? polycarbonate, this piece is virtually indestructible. It is worth pointing out that it does not come with a scratch-resistant coating, but that is a whole lot more important up front. This unit installs on the factory roll cage and works with both hard and soft top roofs. All installation hardware is included.
There are more expensive options out there, including a vented version from SuperATV, but for our money this simple rear Polaris General windshield is all you need.
How To Install and Remove a Windshield
If you went with a Lock & Ride windshield from Polaris, this job is beyond simple and can be done in a minute or two with no tools. All you have to do is make sure the Lock & Ride handles are pointed down, then you put the windshield in place. Make sure everything is lined up, then turn the Lock & Ride handles so they are secure on the ROPS and you are done. to remove it, just turn the Lock & Ride handles back and lift out the windshield. Check out the video below to see for your self how easy this is.
https://www.youtube.com/watch?v=T-WnX2zVyUU
If you went with an aftermarket company, the installation process is a bit more complicated, but still pretty straightforward. If you have a roof installed, you may have to remove it so you can get the windshield in place, but you can put it right back on after. Also, you will have to install some brackets on your ROPS structure, but you shouldn't have to do any drilling. The you have to line up the brackets with the pre-drilled holes on the windshield and get everything lined up before snugging it all down. That's about it. You can remove the windshield by removing some screws and leave the brackets in place for when you want to put the windshield back again.
Additional Resources
Recent Updates
June 16, 2021: Added the Polaris Lock & Ride full windshield to the list. Also added some info on choosing between a half and full windshield and how to install a windshield.
March 11, 2021: Added Tusk half windshield and SuperATV rear windshield to our list.
We are committed to finding, researching, and recommending the best products. We earn commissions from purchases you make using the retail links in our product reviews. Learn more about how this works.
How do I pick the best Polaris General windshield?
Good question. There are pros and cons to each style of windshield. Poly windshields are less expensive, but unless you get the coated ones, they are prone to scratching and will eventually become cloudy. One dealer told me that every time he sees a customer put a cheaper windshield on their machine, he knows that soon, they'll take it off and either go without, or spend the money they should have in the first place on a better, coated, or glass one. But do the cheaper ones have a place? Sure. If you only use the UTV occasionally, or use it in conditions that aren't dusty or muddy, you actually will be ok for some time. The trick is to no scratch it up. I know an older couple that have a cheaper, uncoated poly windshield on their Polaris Ranger, and it holds up because if it does get dirty, they wash it off quickly.
Do coated polycarbonate windshields last?
Coated poly windshields cost just a little more than uncoated ones, and are much more scratch resistant than uncoated ones. A coated windshield is basically a standard poly sheet that is bonded to a thin layer of a much more dense and harder plastic. These windshields give great performance at a cost much lower than glass.
Are glass UTV windshields worth the price?
The best windshields are made of glass, but the cost can be prohibitive. A true automotive glass windshield often costs hundreds more than a poly option, but you'll have extreme performance, with crystal-clear viewing. Always opt for automotive glass, and by this, I mean, make sure you're getting true auto-quality glass. Automotive glass is also coated to prevent the glass from shattering. That is another downside to a glass windshield. It can crack and chip, just like your truck. Still, having tested the Polaris Lock & Ride Glass windshield on a General 4, it is a great way to go.
Do I need a rear panel if I get a windshield?
In a word - Yep! If you put on a front windshield, you have to add one on the back. Not doing so creates a venturi effect when you're driving. Dust and extra wind will actually get sucked into your machine. You have to take the extra cost into account when planning out your wind-protection plans.
Which type of windshield should I choose, full or half?
A full windshield will offer you more protection from the cold, but if you don't install a rear panel it will leads to lots of swirling air and dust in the cab (the venturi effect we talked above above). A half windshield still gives you some protection from the cold on your hands (cold hands are the WORST), but doesn't cause nearly as much swirling. If you live where it's cold and want four-season protection, we like a full windshield with a rear panel. If you just want to keep the cold wind off your hands and still want some fresh air in the cab, a half windshield is ideal.
Published May 25th, 2020 2:03 PM
Top Brands
Popular Articles