74 Views
Best Polaris General Rock Sliders
June 29th, 2021 4:44 PM
Share
We're committed to finding, researching, and recommending the best products. We earn commissions from purchases you make using links in our articles. Learn more here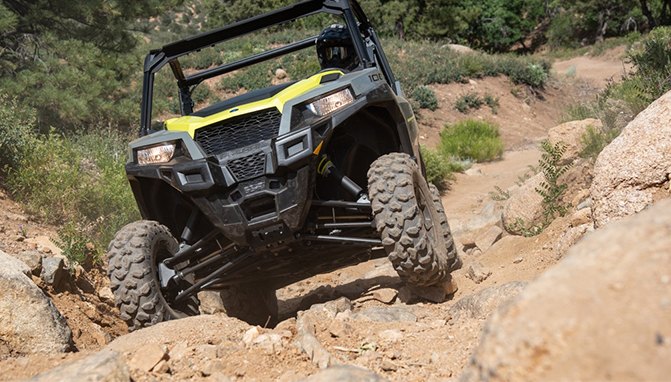 When you install these rock sliders, you'll glide across the rough stuff
Fess up – without a set of Polaris General rock sliders, most of us will be apt to bash a rock or three on the very edges of our side-by-side while navigating a tight and technical trail. This is where a little bit of extra armor comes in handy. Call 'em rock sliders, nerf bars, or tree kickers – the first time their save your bacon you'll call them life savers.
Generally speaking, these are bolt-on accessories designed to absorb an impact if the rocker panel area of your Polaris General suddenly comes into contact with a hard surface. Used correctly, skilled drivers can use them to 'skate' over a series of flat rocks, sliding their way down an off-road obstacle that would have otherwise either folded metal like a bag of chips or left them completely beached. Or both.
1. Editor's Choice: Super ATV HD Nerf Bars
These nifty Polaris General rock sliders, a.k.a. nerf bars, are guaranteed to fit models 2016 to present, so drop that drill and put away the rubber hammer. Deploying a UV resistant (meaning they won't fade to a sad grey any time soon), they have a powder coated finish and are constructed of stout 1.75-inch heavy duty tubing. Like all good products of this ilk, they are designed to guide rocks and trees to the side and out of the way of your Polaris General. Online reviews are positive, and they are available in three different colors. I'd choose red because I am annoying extrovert but there's a solid case to be made that black rock sliders match every UTV color scheme.
2. Best OEM Option: Genuine Polaris Low Profile Rock Sliders
We love aftermarket products that come from the manufacture of a vehicle, and these genuine Polaris General Rock Sliders were close to being our favorite on this list. Made for 2016-2021 General Models (2020 XP models excluded), these tough rock sliders are made from heavy gauge plate steel. What does that mean? It means that you can take on any rock garden without worry that you're going to damage the undercarriage rails and sides of your General's body. Worried about tedious installation and wonky fitment? These Polaris General Rock sliders easily mount to the lower portion of the General utilizing Polaris' patented Lock & Ride technology.
3. Wild Boar Polaris General 1000 Rock Guards
While not as well known of a brand like SuperATV, Wild Boar brings a solid set of Polaris General Rock Sliders to the table. These rock sliders are CNC formed and made in the USA to deliver tough protection for your Polaris General. They're designed to fit all years of the 2-seat General 1000, and feature a black powder coat finish for extra durability against the elements.
4. Genuine Polaris General 4-Seat Extreme Kick-Out Steel Rock Sliders
If we're listing the best Polaris General Rock Sliders, we can't forget about you 4-seat owners. This set of rock sliders are designed by Polaris engineers to fit Polaris General 4 models from 2017-2020 and are made from 1 3/4" diameter, 14 gauge steel tubing, which translates into tough tube protection for your General 4. They're designed with a tight fit to the body as to not impede ground clearance or tight navigation around corner obstacles. Installation is simple since they use Polaris' patented Lock & Ride technology for quick and solid mounting.
5. SuperATV 3" Lift Kit for Polaris General 1000 / General 4
If all else fails and you're still smashing your Polaris General on the rocks and general scenery, perhaps lifting the thing a few inches is the answer. You'll get more clearance, moving your rig up and out of the way from those obstacles the rock sliders are intended to guard against. This lift kit provides a not-insignificant three-inch lift in both the front and rear, permitting owners to run absolutely massive (for a General) 32-inch tires. All metal parts are powder-coated for longevity - and looks if we're being honest - and its easy bolt-on design comes with all the required hardware and instructions. While not Polaris General rock sliders, this is a good alternative although much more involved to install.
Additional Resources
We are committed to finding, researching, and recommending the best products. We earn commissions from purchases you make using the retail links in our product reviews. Learn more about how this works.
What is the difference between rock sliders, nerf bars and Polaris General tree kickers?
Technically, rock sliders will be made of metal and hug the contours of your Polaris General tightly. They might be flat along their bottom edge in an effort to help them slide along rocks and other hard obstacles. Nerf bars are, if common definitions are to be believed, actually round pieces of piping sticking just ever so slightly away from the rig. Taking this at face value, nerf bars have a bigger chance at getting snagged on rocks. Tree kickers can be one of these two but with a protruding bump at the back of a slider to 'kick' a tree away from the rig if you happen to slide up against it with the metal protector.
How do you install Polaris General rock sliders?
Most of them are simple bolt-on affairs, hooking up to the side of your Polaris General UTV with ease. Look for kits that include all the mounting hardware and associated gubbins, since tracking down five different bolts and three different types of nuts is sure to give you a tension headache. Enlist the help of a friend since trying to balance these long and skinny items on your own while attempting to line them up for a straight installation can be a bit irritating.
Why do you need rock sliders?
For the same reasons the goalie wears a mask in hockey, or the quarterback stuffs their uniform full of protective pads. They'd both be able to get the job done, but they would most definitely be worse for wear after the game. Rock sliders protect the strip of body work just under the doors, often called the rocker panel, guarding them against being hit by a hard surface like a rock. If you can imagine slowly traversing a large area like this, there's a decent chance one of the UTV's front wheels will suddenly dip into a hole of some sort, bringing the rest of the UTV with it until everything brings up solid on the flat rock you just drove across. Published June 29th, 2021 12:59 PM
Top Brands
Popular Articles