24 Views
Best Polaris General Roof Options
May 5th, 2021 12:07 PM
Share
We're committed to finding, researching, and recommending the best products. We earn commissions from purchases you make using links in our articles. Learn more here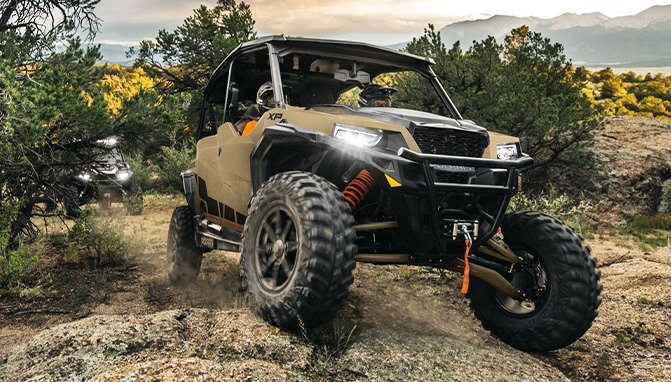 A roof is quite possibly the best accessory you never knew you needed
If you want protection from the elements or flying trail debris, you can't go by installing a good quality Polaris General roof.
For many, a good roof is the last accessory that UTV owners think they need. That is until you're ripping across the rocky desert or splashing through a rolling stream, and suddenly a rock flips up and smacks you in the helmet or mud flings up and soaks you and your passenger. At that moment, you probably wish you had a Polaris General roof for your ride, but alas, you didn't think you needed one. Well, now is the time to upgrade and outfit your ride to ensure you and your passengers are protected on the trail.
A Polaris General roof not only keeps you safe while riding, but it also protects you from the elements, like the hot sun or rain. Riding in 90 degrees isn't always easy, but it sure is better when you have a barrier blocking those hot rays from burning your skin or adding to your glorious jersey tan. On the opposite end of the spectrum, a great day of riding can quickly turn miserable when you're caught in a heavy downpour without the cover of a great Polaris General roof.
It's a possibility that your Polaris General already came with a package that already included a roof installed at the factory, but that doesn't mean you can't upgrade to something better. With companies that offer a Polaris General roof in plastic, aluminum or even clear plexiglass, many of these options may be better than what came from the factory on your UTV. We've put together a list of some of the most popular Polaris General roof options for both 2 and 4-seat options, in a variety of materials and price points to best suit your needs. Take a look and see if your next great upgrade is in our list.
1. Editors Choice - SuperATV Polaris General 1000 Heavy Duty Dark Tinted Roof
An industry leader in UTV parts, SuperATV created a Polaris General Roof featuring a smoke tinted shield made from 1/4" thick polycarbonate material. A tinted roof vs. solid material allows for riders to have a greater scope of vision while riding to watch for additional debris that may come their way. Protection from mud, rocks, sticks, and anything else is provided with this Polaris General XP 1000 roof. Even just being a tinted roof, you're still protected from the sun, heat while it offers just as much, if not more, protection as a solid plastic non see through roof! All hardware and instructions are provided for easy installation with basic hand tools.
2. Best Aluminum Roof - TUSK Racing UTV Profile Aluminum Roof for Polaris General 1000 EPS
Tusk Racing has their hands in manufacturing many UTV related parts and accessories, and they've created yet another well designed, and easy to install piece in this Polaris General roof. This roof is made from .1000" powder coated aluminum sheets that feature a rain gutter, because nobody likes when water pours off the roof and onto your arms. A foam seal provides rattle and vibration-free use when installed with all of the provided hardware. To ensure smooth installation, the roof comes in two pieces to make assembly and placement more manageable.
3. Best Factory Option - Polaris Poly Sport Roof
If you just purchased a new General and simply just want an OEM roof added, then this is the one for you. Made from injection molded Polyethylene, this roof was designed to fit several vehicle models and was created to combat distortion from high or low temperatures. It was also designed by Polaris engineers for a perfect fit with features like rain gutters that divert water away from the cab to keep you and your passenger dry. Rated 5 stars, this is a reliable and durable roof to add to your ride!
4. Polaris General 1000 ABS Plastic Hard Roof
Spike makes a solid Polaris 1000 roof that is easy to install. Delivered as a 2-piece unit (roof and a sealed visor), the Spike UTV roof is made from black ABS plastic with an added UV inhibitor to ensure this roof will last. Designed to fit a 2016-2017 Polaris General 1000, it was made with a custom bend design for fit and durability. You can expect to enjoy this roof as long as you own your Polaris General because of the material it's made of and the provided hardware for installation is black powder coated to last against corrosion.
5. SuperATV Dark Tinted Roof for Polaris General 4 1000
Are you looking for that sunroof feel without the actual sun beating down on you? SuperATV has created the perfect Polaris General roof that does just that! Made for the Polaris General 4 1000, this tinted roof is made from 1/4" polycarbonate and protects you from the elements while giving you an amazing overhead view of the clouds or sunset. Rather than making you feel claustrophobic, like some solid roofs, this tinted roof doesn't make you feel like you're in a cave. It comes with foam gaskets to prevent rubbing and the associated noises that along with that, and it also has rubber seals to keep water out. Supplied with all necessary hardware and instructions for an easy installation that matches the contour of your stock Polaris General 4 cage!
Is plastic or metal better for a UTV roof?
There are many differences to consider when purchasing a roof for your UTV. Both options are considered durable materials that can withstand debris like tree branches or rocks. While a plastic roof is generally more cost effective compared to metal, the plastic roof can be more susceptible to cracking if damaged. A plastic roof does weigh less than a metal roof, and many riders love them because they do not make noise whereas metal roofs often do.
Metal roofs have certain advantages though, as they can be easier to mount a light bar or roof rack to given the more solid material that they are made from. They are stronger than plastic roofs, and while they may dent if damage occurs, they aren't going to crack or split. Simply put, the type of roof you may want to purchase will vary on your budget, type of riding you do, and the degree of protection you want while out riding.
Do the polycarbonate roofs require any kind of special maintenance?
The downfall of some polycarbonate materials is that they can scratch easy or over time become cloudy from UV damage. We suggest you contact the manufacture for any kind of maintenance requirements, but it likely wouldn't hurt if you stored your Polaris General under a good cover to help keep it protected.
Additional Resources
We are committed to finding, researching, and recommending the best products. We earn commissions from purchases you make using the retail links in our product reviews. Learn more about how this works. Published May 4th, 2021 5:20 PM
Top Brands
Popular Articles