1.1K Views
Five of the Best Cheap Four Wheelers
June 30th, 2020 4:50 PM
Share
We're committed to finding, researching, and recommending the best products. We earn commissions from purchases you make using links in our articles. Learn more here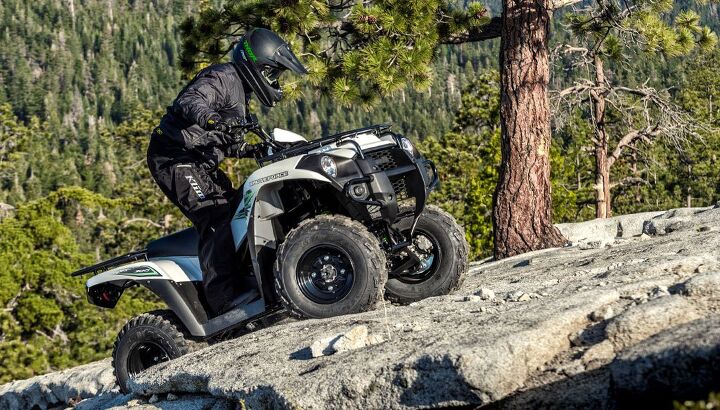 These cheap four wheelers don't skimp on quality
There are a lot of people out in the off-road world that think of ATVs and Side-by-Sides as simply four wheelers. As an introduction to the wonderful world of ATVs, we figured we'd put together a list of five of the best cheap four wheelers that can put someone on the right track to a lifetime of off-road adventure, while saving a few bucks.
As we all know, the prices of new four wheelers has been steadily rising. Don't think of it as an obstacle to fun, though. You can score a sweet deal on one of these machines and you might just end up with the best ATV for the money. So what makes one cheap enough to make this list? As long as it has the basics of four wheels and an engine, and isn't sold off the back of a truck in a parking lot, we considered it. Cheap means lower-priced fun, not lower quality.
Polaris Sportsman 450 H.O.
The Polaris Sportsman 450 H.O. is a lot machine for the money. At $6,249, it is the cheapest adult-sized ATV in the Polaris family and a great deal for a new four wheeler. This ATV comes standard with electronic fuel injection, 10.5 inches of ground clearance, and class-leading 9.5 inches of rear suspension travel. It also offers all-wheel drive, so you can get to where you need to go. Add in eight gallons of sealed storage and a 500cc engine that produces 33 horsepower and you have a utility four wheeler that is ready for most anything you can throw its way.
Yamaha Kodiak 700
Now, you might think that cheap four wheelers mean tiny engines. Not the case with the Yamaha Kodiak 700. For $7,199, you get a 686cc beast that has torque for days. Plus, Yamaha uses the same basic frame and suspension components as the Grizzly, its flagship ATV. The Kodiak is fuel injected, but does lack power steering. While aimed at the utility crowd, the Kodiak is a capable trail machine. If you want some of the creature comforts like EPS or a locking differential, it'll cost you more. If you want simple horsepower and capability, try the Kodiak. Yamaha also makes a Kodiak 450 that is even cheaper, but when you consider the price and performance of the Kodiak 700, it might be the best ATV for the money.
Honda FourTrax Rancher 4×4
The Honda Rancher has a reputation of being one of the best 4 wheeler options available when it comes to reliability. The base Rancher is just $$5,499, but we really prefer the Rancher 4×4. It costs an extra $1,000, but you get four-wheel drive and that is one feature we don't like to give up in an ATV. Honda packs a 420cc engine into the Rancher and it can handle just about any job you can muster up. Plus the layout of the Honda makes it a comfortable and nimble trail machine. It has a manual transmission, so you shift gears with your foot, but that also means no belts to break, and no loss of power to the belt, making this little 420 engine feel like something a lot bigger.
Can-Am Outlander MAX 450 DPS
OK, at $8,099, you may think the Can-Am Outlander MAX 450 DPS doesn't belong on a list of cheap four wheelers, but let's take a look at why we included it. It comes with a 38-horsepower engine that is plenty for a fun torquey ride. And this is a two-up ATV, meaning you can safely and legally ride with a passenger. It also comes with dynamic power steering, which will come in very handy on a heavier two-up ATV. This is a $900 upgrade, but anyone who has ridden double on an ATV knows that having the weight of another person can make steering tough. Your arms and shoulders will thank you for buying an ATV with power steering.
Kawasaki Brute Force 300
At $4,299, the smallest Brute Force from Kawasaki is the cheapest four wheeler on our list. The Kawasaki Brute Force 300 has a 271cc engine, steel racks and Kawasaki's legendary quality. When you just need a simple, two-wheel drive ATV to get the job done and have some fun, the Kawasaki Brute Force 300 fits the bill very nicely. It may be small, but the Brute Force 300 comes with Kawasaki's legendary toughness and is backed up by a 12-month warranty and is on the short list for the best ATV for the money. Derrek Sigler
Derrek's love for all things ATV started when he was a mere 11 years old, growing up on his family farm. His mom gave him and his sister a choice - get a horse, or a three-wheeler. The sister wanted the horse, and Derrek wanted the ATV. Luckily he won out, and was soon burning up the trails on a Yamaha Tri-Moto 200. By the time he was 14, he had saved enough of his own money by working on the farm and in his folks restaurant to buy a new 4-wheeler. That happened the day he and his mom were driving past the dealership and saw 1987 Banshee. His mom had no idea what he was buying, and he never looked back. He's been riding ever since, and been writing professionally for many years. He has ridden all over North America and been behind the controls of just about every machine out there. And yes, he still has his 1987 Yamaha Banshee.
More by Derrek Sigler
Published March 9th, 2020 12:25 PM
Top Brands
Popular Articles