4 Views
Five of the Best Cheap UTVs for 2018
March 15th, 2021 1:42 PM
Share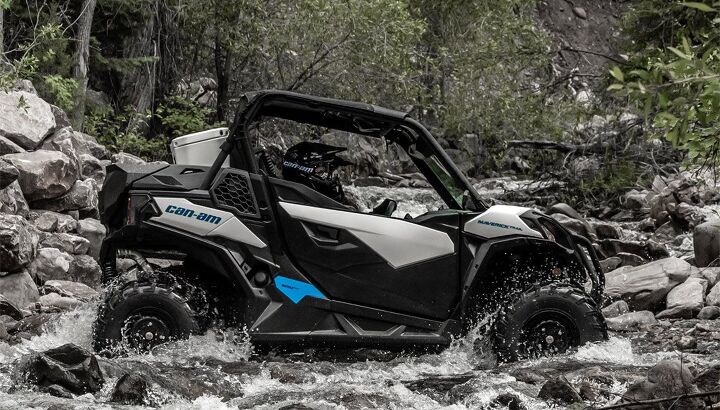 Getting into a new UTV doesn't have to bust your budget. Here are five of the best cheap UTVs that can work and play hard, but are easy on your wallet.
With so many uses for a UTV with everything from farming, hunting, trail riding and more, a lot of people want to own one. The problem is, not everyone can afford a new machine. With some of the newest units costing well over $20,000, it can be hard to justify spending the money. However, there is a solution. Just because you don't have a big budget to play with, doesn't mean you can't get into a new UTV. We've put together a list of some of the best cheap UTVs that are both good quality and easy on the wallet.
The manufacturers have taken notice that while having all the latest and greatest technologies and horsepower available can make for some really cool high-end machines, there is also a market for budget-friendly units. The trick is to make a machine that performs well and is reliable. If someone shells out all they can afford for a machine and it breaks down, they aren't likely to come back to that brand, or even the sport. That's why many of us will caution people to stick with the major players, as reliability can be an issue for some. Here are five of the best cheap UTVs that we've come to know and like.
Kawasaki Mule SX XC – $8,399
Kawasaki's smallest Mule is a simple machine built for working. It is perfect for doing chores around the farm or jobsite. It can also be a fun machine for trail riding, as long as you understand the limitations of the machine going in. It has 3.1 inches of wheel travel in the suspension that can run out of room pretty quickly if you get in over your head. It is powered by a 401cc air-cooled single cylinder engine that, while not the fastest machine around, certainly has plenty of torque. This Mule keeps chugging along! Backed by Kawasaki's three-year warranty, the Mule SX XC is a great machine for someone looking for a basic, smaller-sized UTV that can get the job done and have some fun doing it.
Honda Pioneer 500 – $8,999
The smallest Honda Pioneer is a different take on a UTV and a fun one at that. It lacks the traditional style bed of a UTV, instead opting for a rear rack like an ATV. But this narrow Honda has a 475cc liquid-cooled single cylinder engine that has Honda's five-speed automatic/manual shift transmission that gives you the option to shift via paddle shifters. This makes the little Pioneer a lot of fun to drive. Being a Honda, you know it will last forever and be a rock-solid machine suitable for work and play, making it a no-brainer to be included on our list of the best cheap UTVs.
Polaris Ranger 500 – $8,999
Polaris used to call this the Ranger EXP, but with a swap in engine sizes to a new 500cc ProStar platform, it is now called it the Ranger 500. It is built on Polaris' mid-size Ranger platform with seating for two. It boasts 32 horsepower and 10 inches of ground clearance, along with all the other things you'd expect from a Ranger. Polaris' number one selling line is the Ranger, and with a price like this one carries, you can see why it makes sense to take a serious look at this machine.
Yamaha Wolverine – $10,999
2017 Yamaha Wolverine R-Spec Review + Video
The base model of Yamaha's amazing Wolverine is a great recreational machine for the enthusiast on a budget. It has Yamaha's near bulletproof 708cc single-cylinder engine that produces amazing torque. The Wolverine handles very well and is a perfect trail machine, especially for tighter conditions. Yamaha's legendary Ultramatic CVT handles the transmission duties and most mechanics will say that Yamahas never need belts – something many other machines can't boast.
Can-Am Maverick Trail 800 – $10,999
2018 Can-Am Maverick Trail 1000 Review + Video
The final machine on our list of the best cheap UTVs is the Can-Am Maverick Trail 800 – a 50-inch UTV with design components borrowed from the X3 line. The 800 is powered by a 799cc Rotax V-Twin engine that pumps out 51 horsepower. The Trail is a great handling machine and is a ton of fun to drive. The 800 Trail is the highest performance machine available for less than $11K and it has plenty of juice for the thrill seeker and adventurer alike.
Published April 25th, 2018 3:01 PM
Top Brands
Popular Articles