30 Views
2017 Honda Pioneer 500 Review
August 23rd, 2019 4:21 PM
Share
Fast Facts
Engine: 475cc Single
Ground Clearance: 8.5 in.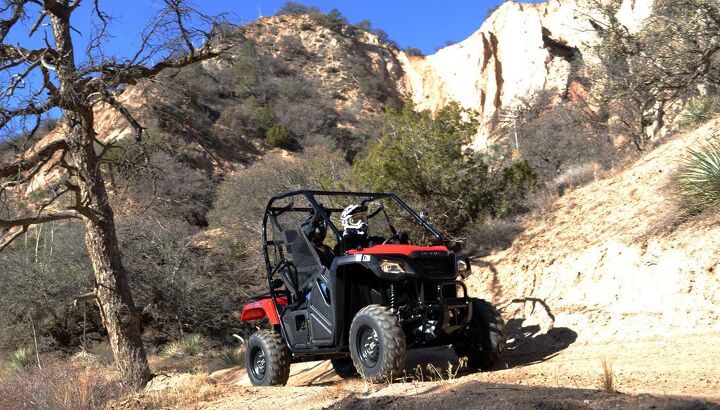 A unique UTV that is both compact and affordable
With the UTV industry firmly entrenched in a horsepower war where bigger is almost always considered better, the diminutive Honda Pioneer 500 is something of a breath of fresh air.
While a bigger, more powerful working UTV can be an enormous help on a jobsite or hunt camp, we shouldn't overlook the advantages of the Pioneer 500. The biggest advantage is price. At $8,999, the Pioneer 500 is $1,500 less than the base Pioneer 700 and more than $5,000 less than the base Pioneer 1000. In terms of UTVs, it's a relative bargain.
For those buyers a little short on space, the smallest Pioneer is just 50 inches wide and 102.6 inches long. This means it can fit comfortably in the back of a full-size pickup truck, so you don't necessarily need to buy a trailer, potentially saving you even more money. Another bonus of the Pioneer 500's small size is that it is completely legal on width-restricted trails. Where ATVs can travel, this UTV can follow.
New Transmission
Switching from manual to automatic transmission is as simple as turning a knob on the right side of the dash.
Originally introduced in the 2015 model year, Honda gave the Pioneer 500 a key transmission upgrade for 2017. While you needed to change gears manually via paddle shifters on the original 500, now you can switch to fully automatic mode at the press of a toggle switch. You can still shift manually through the five gears when you want or even override the automatic shift points on the fly. It's all up to you.
Engine and Suspension
Power for the Pioneer 500 continues to be provided by Honda's trusty 475cc, single cylinder, fuel injected engine. It's far from a powerhouse, but the approximately 29 horsepower produced by the engine is plenty enough to get you moving at a controlled pace until it tops out around 40 mph.
Honda outfitted the Pioneer 500 with dual rate springs on the shocks for 2017.
Honda also made some suspension upgrades for 2017. Front and rear suspension travel remains 5.9 inches, but new dual-rate suspension springs offer up variable spacing of the coils, which is designed to better resist bottoming out the suspension. Honda continues to use a proven double wishbone suspension design front and rear.
A UTV with No Bed?
A UTV without a rack is an odd sight, but it still offers plenty of utility.
To help keep costs down, the Pioneer 500 forgoes a traditional cargo bed in the rear. Instead you'll find a rear rack (450-pound capacity), much like you'd see on an ATV. It's a bit odd looking at first glance. The lack of a cargo bed means you don't have a flat surface or walls to keep things in place. However, you can tie things down to the rack and you are less restricted when it comes to carrying wide loads that wouldn't fit in the cargo bed of other UTVs.
Cockpit
Both driver and passenger are protected in the cockpit of the Pioneer 500 thanks to both half-doors and nets. We are happy to report you don't have to unhook the nets to get in and out, as they open and close with the doors. And don't think about going for a joy ride in the Pioneer 500 without a seatbelt. A driver seatbelt interlock prevents the machine from going faster than 15 mph until the seatbelt is engaged.
Having the nets open with the door makes getting in and out of the Pioneer a snap.
The cockpit itself is, predictably, not exactly roomy. However, we had no trouble finding space for two adults, though you can expect a bit of shoulder rubbing with larger occupants.
The Ride
The little Pioneer that could gets up to speed without much prompting from the go pedal. It's not exactly RZR-like in acceleration, but it still makes for a fun time behind the wheel.
Even though the Pioneer 500 now comes with an auto shifting option, there is something fun about being about to flick the paddle shifters to shift up and down at your leisure. Perhaps the best option is to take advantage of the automatic transmission mode and override the shifting when you think it's appropriate.
Where the Pioneer 500 suffers is in its suspension. Those 5.9 inches of travel just don't seem to be enough for spirited riding over rough terrain. Drivers have to be very mindful of even smallish whoops if they want to avoid bottoming out. Beefier springs or a couple more inches of travel would do wonders for this UTV.
When the trails are smooth, this vehicle shines. Steering is responsive and its small size makes you feel somehow more connected to the ground. It is also able to negotiate its way through narrow areas thanks to its tight turning radius.
While occasional trail rides are fun, we think the Pioneer 500 would do well as a helping hand on a jobsite. The vehicle's ability to get around in tight spaces and easily carry wide loads on the rear cargo rack should come in handy. And it's sub-$9,000 price tag will keep the accountants happy. Lucas Cooney
I have been working exclusively in digital media since 1997. I started out with TSN.ca, spending nearly nine years creating and editing content on Canada's leading sports website. I left to join VerticalScope, Inc., one of the world's largest online publishers, to start a number of powersports publications. While at VerticalScope, I've helped create and oversee content for a wide variety of different publications, including ATV.com, Off-Road.com, ArcheryTalk.com, Tractor.com, RVGuide.com, and many more.
More by Lucas Cooney
Published February 3rd, 2017 11:21 AM
Top Brands
Popular Articles