223 Views
2018 Textron Stampede 900 Pros and Cons
January 19th, 2018 4:04 PM
Share
We're committed to finding, researching, and recommending the best products. We earn commissions from purchases you make using links in our articles. Learn more here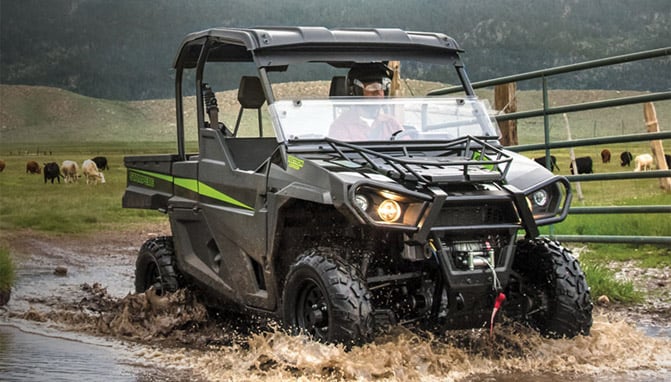 We decided to explore the 2018 Textron Stampede 900 Pros and Cons to highlight some of things we like and don't like about the UTV.
Jumping into the UTV industry with both feet, Textron has made a point of showing the off-road community just what it is made of. Getting started with its first Utility UTV, the Stampede, Textron is well on its way to being neck deep in this community. The Textron Stampede 900 is just one of its offerings and opens the eyes of any consumer searching out new manufacturers. The Stampede 900 boasts an 846cc power plant with a claimed 80 horsepower and it does seem to have some pep in its step.
With a chassis based on many industry staples the utility of Stampede is undeniable. The bed will hold approximately 600 pounds and this bull will tow a claimed 2,000-pound load. Getting moving is as simple as steeping on the gas pedal while a good linear power increase is inevitable. To get an idea what we think about this Utility UTV, read on for our 2018 Textron Stampede 900 Pros and Cons.
Pros
Engine Displacement – Building a Side-by-Side that claims to be a hard worker is simple in theory, but Textron has put its money where its mouth is adding a 846cc fuel injected mill to the Stampede. This powerplant delivers the 80 horsepower with bells on and it is also very smooth to the touch. After a good day of work the fuel tank also gets a break as this engine just sips on the tank.
Framework/Suspension – Utilizing modern framework and chassis geometry, the Stampede is easy to drive. The electronic power steering gives an easy feel to its driver and with 11.25 available inches of ground clearance the rough debris filled trails offer little challenge. Add in the 9.3 and 10.4 inches of wheel travel and you can find great traction as well as soothing suspension to soak up those bigger hits.
That Extra Cab – This one feature was odd at first, yet after much consideration it seems to make great sense. The extra space is covered by the cab roof and makes dropping trail essentials in a reachable as well as secure area a cinch. The space is separate from the regular bed to keep your gear in place. The fact that you have individual doors, one on each side, to access your gear there is also a plus.
Cons
Odd Looking Front Bodywork – Although new product always comes with a little bit of getting used to, it seems the front hood and nose design just do not blend well. The large drop in the hood is semi usable space but there are no tie down points and only really usable with an accessory rack. It could be that the space is dropped out for front end visibility.
No Gated Shifter – We have to admit that the cab is laid out for most any user, however, it seems that a gated shifter could lessen the risk of shifting into any other gear while riding in rough terrain. Especially as close as the shifter is to the steering wheel, a little hand swap could instigate a gearing change without warning.
She's Heavy – When you consider that you may have to haul this machine to the job or the next ride adventure you will need to make sure it is secure. The 1,690-pound curb weight means it is full of fluids and ready to ride, but it also means you need to be aware of its heft on steep inclines or descents. Published January 19th, 2018 2:22 PM
Top Brands
Popular Articles