1 View
Best Kawasaki Mule Batteries
July 27th, 2021 3:51 PM
Share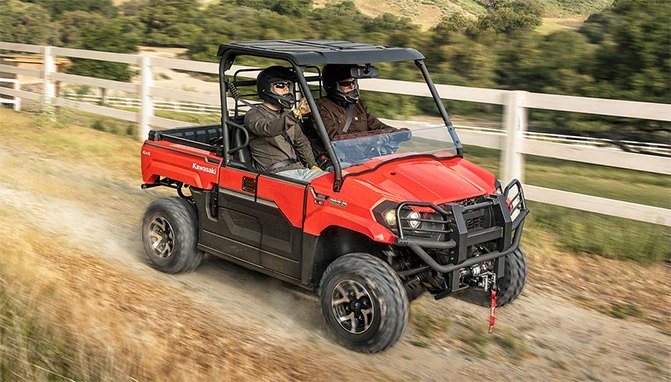 Put new life into that slow cranking Kawasaki Mule with a fresh battery
While it is certainly a workhorse, Kawasaki Mule batteries will eventually need to be replaced. Like most items of this type, their constant power and charging cycles take a toll on its overall health. This means that sooner or later you could be left with a fist full of no-go when it's time to head out and take care of some work.
Replacing a Kawasaki Mule battery might be easier than you think. They are relatively easy to access compared to some other side-by-sides on the market, generally found under a cover in its own compartment on the passenger side. Make sure you pick up a battery with the correct terminals as well, since hastily assembling something out of spare bolts and washers rarely ends well. Take your time when working on this stuff and follow all safety guidelines.
With numerous models of the Mule, there are a number of different Kawasaki Mule batteries that we have found for you to choose from. Some may be smaller or larger than what you have and the terminals might be located in different positions as well, so always make sure you're ordering the correct product before hammering the 'check price' button.
Additional Resources
Become an ATV insider. Get the latest news first by subscribing to our newsletter here.
We are committed to finding, researching, and recommending the best products. We earn commissions from purchases you make using the retail links in our product reviews. Learn more about how this works.
1. Editor's Choice: BikeMaster Lithium-Ion Battery
While it's the most expensive on our list of Kawasaki Mule batteries, the BikeMaster Lithium-Ion (Li-Ion) battery is still a favorite among our staff for the many benefits that Li-Ion batteries are known for. The first and most notable feature of Li-Ion Kawasaki Mule Batteries is their weight, being about 1/3 less than that of a traditional lead-acid battery. Another positive feature of Lithium-Ion batteries is that they provide near constant performance up to the point of complete energy discharge. There is an argument to be made that these types of batteries are also slower to discharge when left to their own devices for several weeks or months, such as when a machine is left in storage or simply hanging around unused as well. For long lasting, consistent power delivery you can't beat this battery, but the biggest downside is the cost, since they're about 3-times as much as a conventional battery. While the link we use will send you to the battery for a 2005-2013 Kawasaki Mule 600, BikeMaster has a variety of other models that you can find to fit your unit.
2. Best Gel Battery Option: Mighty Max Gel-Series Battery for Kawasaki Mule
This maintenance-free battery (as they almost all are) is part of the Might Max high-rate gel series and has 270 cold cranking amps which should be more than enough to wake a Mule in all but the most frigid of conditions. The seller boasts it is a true deep cycle battery which can be mounted in any position, though its factory spot is nice and upright. It'd help anyone looking to relocate the battery from its stock location, though. This battery is said to resist shocks and vibration, plenty of which are usually thrown at a Kawasaki Mule in the run of a day. It is billed as providing long-lasting high performance in a range of high and low temperatures. Note that, like most, terminals and screws are included, but no extra wiring. You're on your own if you managed to mess that up on your Mule.
3. Best OEM Option Replacement: Yuasa Maintenance-Free Batteries
If you're a purist who want's the parts on their Kawasaki Mule to be the exact item that you're replacing, then you'll want to use the Yuasa brand of batteries. If you go to your dealer and look at any electric start motorcycle, UTV or ATV, you'll likely find a Yuasa battery in most. This line of lead acid batteries are totally maintenance free, and are totally sealed and spill-proof. A technology used by Yuasa allows their batteries to hold their specific gravity longer helping the batteries last 3-times as long as conventional batteries. Top that off with a 1 year warranty and you'll see why these batteries are so popular.
4. Caltric AGM Battery for Kawasaki Mule
Here we find what's referred to in the biz as an absorbed glass mat battery. The AGM is a specially designed glass mat intended to wick the electrolyte between its battery plates. Think of it as the wick in a candle drawing wax to the tip or, if you're more crude, the physics phenomenon that permits people to pee up a rope. The battery is said to be maintenance-free, never needing to be refilled with water. No initial charging is required, which is as it should be. If you get a battery that's dead on arrival, we encourage you to have a strong and firm chat with the seller. Having a flat battery was the whole reason you bought a new one in the first place, after all.
5. Weize High Performance ATV Battery
This battery is listed as a sealed lead-acid absorbed glass mat (AGM) rechargeable battery, like the one described a couple of entries higher on this list. Fun fact: the seller of this unit wants everyone to know that AGM and gel batteries both are lead-acid and deploy the same battery chemistry. Maintenance free, sealed, and ready to install, a good quality absorbed glass mat technology is ideal for ATVs and the like. We do question the listed weight for this thing, however; at 4.4 pounds it seems to be wishing it is a lithium-ion battery instead of lead-acid. Nevertheless, taking 10 pounds out of a Kawasaki Mule is akin to removing a cup of water from the Atlantic Ocean - it doesn't really make much of a difference.
6. KMG Battery Compatible with Kawasaki Mule
Spewing out 12 volts, this battery has the right dimensions for certain versions of the Mule and is a sealed maintenance-free unit. Most modern batteries are it should be noted since the days of adding water or electrolytes to an ailing battery are long in the past for most of us. According to the ad, this battery holds its voltage longer and need less charging in standby or storage mode than competitive products. Cold cranking amps aren't that great at only 165cca, but it should do the trick for anyone not living in the Rust Belt. This battery has a spill-proof design and is resistant to shocks and vibration.
What size battery does the Kawasaki Mule need?
For this particular workhorse, you'll need to start with a 12V battery (that much should be blindingly obvious) with about 200 cold cranking amps. From there, look for one which measures about 6 inches wide, the same amount tall, and about half that deep - or some variation thereof. In other words, it should look like a pack of king size cigarettes for Paul Bunyon. Often mentioned but never officially recommended is the fact that other sizes will technically fit with shims, but we will note here that batteries should always be secured tightly in place for safety.
Is a Lithium-ion battery worth it for a Kawasaki Mule?
Vehicle batteries are extremely dense, meaning they are apocalyptically heavy for the amount of space they consume. A standard-sized traditional battery for a Mule will have over 10 pounds of mass. The typical reason for installing a lithium-ion battery is to save weight; in this case, it cuts heft by well over half to about 4 pounds. While the Mule isn't exactly a performance vehicle, every little bit helps. There's an argument they last a bit longer, too.
Additional Resources
Become an ATV insider. Get the latest news first by subscribing to our newsletter here.
We are committed to finding, researching, and recommending the best products. We earn commissions from purchases you make using the retail links in our product reviews. Learn more about how this works.
Published July 27th, 2021 3:46 PM
Top Brands
Popular Articles