42 Views
Maxxis Liberty UTV Tire Review
May 7th, 2020 3:38 PM
Share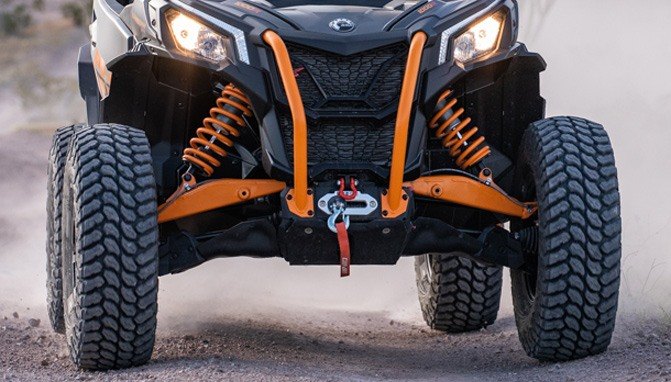 How does this tire perform in the real world?
You've seen Maxxis tires on virtually all factory powersports vehicles. There is good reason for that – Maxxis makes a huge selection of UTV and ATV tires that are durable, affordable, and available at nearly every retailer you can find. This mass availability and good price point are two reasons that people buy them so much. Plus, Maxxis has a wide variety of tread patterns that can be used in any terrain. Maxxis does not rest on its laurels, however, as the company keeps developing new tire compounds and tread patterns on a regular basis. One of its latest is the Maxxis Liberty, which is a purpose-built UTV tire.
This particular tire has a soft compound and a compact tread pattern, giving it a unique flavor of traction. The Maxxis Liberty is found on several sport UTVs from the factory, including the Can-Am Maverick Sport X RC we've been testing. As many of you know, the RC is a purpose-built rock crawler that needs to be able to find grip on slippery and loose terrain, but it also needs a wide contact patch to keep the vehicle stable when the going gets a bit sideways. The Liberty has all of those elements, so how does it perform in the real world?!
First, notice how the Maxxis Liberty has a flat-top profile to the tire. This gives you a large contact patch, and this feature also gives the vehicle greater stability than you would find in a round top tire. From behind the wheel, you can feel this stability in every driving situation. Whether sliding sideways or crawling on an off-camber rock crawl, this tire is going to have a predictable and stable feeling in nearly any situation.
With a compact tread pattern and 8-ply radial construction rating on the Liberty (compared to a more open tread pattern on, say, a Maxxis Bighorn), we realized that this tire is made for longevity, even with a softer overall compound. After 600 miles on these tires, they show very little wear, and that is after running these in sharp rocks and loose terrain for all of those miles. The wear resistance is very good with these, definitely one of the best on the market.
The sidewall is always something you should look at when viewing a tire. While the Maxxis Liberty doesn't have a particularly aggressive sidewall tread pattern, there is plenty of extra rubber on it for protection and a fairly flat pattern that could give you a bit of a boost when the trail is tight and you need sidewall traction to get over an obstacle. For serious rock crawling, I do wish there was a bit more sidewall rubber on this tire, but the smooth-ish surface also functions well for not snagging on various items (rocks, roots, etc…) that stick up out of the trail. So, it's a bit of a toss up on the sidewall of this tire. You're not going to hate it because the protection is very good, but the Liberty doesn't have the most grip, either. Again, this is tailored towards and all-terrain setup.
The bead of the Maxxis Liberty UTV tire seats very well around your chosen rim, given the fact that it is a deep well that functions as a good protector for the rim. Some tires have less protection around the bead, but the Liberty has plenty of protection so that it helps prevent the possibility of snagging a rock, root, or other object on the trail. We never had a problem on the trail, and the tire hasn't lost a single pound of air during our testing. The seal is very good.
As far as traction is concerned, the Maxxis Liberty still retains good, but not exceptional, forward bite. Credit the softer compound for retaining all of the forward traction that you could possibly get out of a compact tread pattern like this. It does grip well when you need it to. If you're like me and like to slide out the back end sometimes, this tire has the ability to be broken loose. The best part is this tire is a very predictable handler – slides are very precise and there isn't a moment where it "catches" unexpectedly. If you're going to be riding on mountain trails, desert roads, rock trails, and more areas like that, this Liberty is going to be a good fit for you. Especially when we consider it's predictable handling traits, great longevity when it comes to tread wear, and puncture resistance. Again, with tightly spaced lugs on this tire, the chance that you're going to get a puncture through the top of the tire are slim.
However, with that compact tread pattern, the Liberty isn't going to be great in the mud terrain, just as you would expect. The Maxxis Liberty doesn't clear out the tread when mud gets caked in there. If you're going to be riding in the mud, you're going to want to go with either a purpose-driven mud tire, or a more open tread pattern, like the Bighorn.
When it comes to looking for that perfect UTV tire, you need to first think about several things, including what type of terrain you ride in. Just like an automotive tire, you should select a UTV tire that matches your intended riding terrain, at least most of it. You should also keep in mind things like ply ratings, sidewall construction, overall tread pattern, and if the tire has a deep rim well (inset surface where the tire and the wheel meet) so you get good bead protection in harsh terrains. One of the last things to look for is DOT approval, which the Liberty does have.
When it comes time to purchase a new set of tires, we have had great experiences with the Maxxis Liberty. It offers very good traction in a variety of terrains, excellent longevity, and varied sizes to fit almost any UTV setup. It truly is a great all-around tire, made for almost all of the terrains you're going to ride on.
Be safe out there, and we'll see you on the trail!
Maxxis Liberty Sizes
| | | | | |
| --- | --- | --- | --- | --- |
| Size | Overall Diameter | Position | Ply Rating | Load Rating |
| 30X10.00R14 | 30.4″ | Front, Rear | 8 | 551 lbs |
| 32X10.00R14 | 32″ | Front, Rear | 8 | 615 lbs |
| 28X10.00R14 | 28.5″ | Rear | 8 | 480 lbs |
| 29X9.50R15 | 29.7″ | Front, Rear | 8 | 495 lbs |
| 32X10.00R15 | 32.4″ | Rear | 8 | 617 lbs |
| 29X9.50R16 | 29″ | Front, Rear | 8 | 481 lbs |
| 32X10.00R18 | 32″ | Front, Rear | 8 | 615 lbs |
We are committed to finding, researching, and recommending the best products. We earn commissions from purchases you make using the retail links in our product reviews. Learn more about how this works.
Published May 7th, 2020 3:38 PM
Top Brands
Popular Articles