1 View
Best ATV Spreader Options
March 18th, 2021 10:09 AM
Share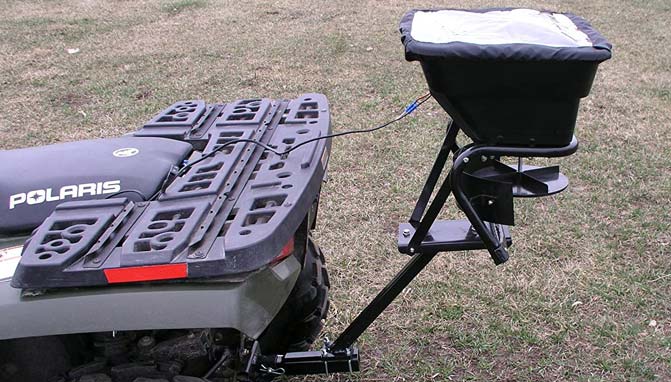 It's never been easier to distribute seed, fertilizer or salt
Instantly expand your ATV's bag of tricks with an ATV spreader, allowing you to spread seed, salt, and other media with your quad.
ATVs are great for recreation, but if you're one of those owners who actually uses their ATV to get work done around your property, an ATV spreader should be somewhere on your list of must-haves.
An ATV spreader is just what it sounds like: a broadcast spreader for spreading seed, fertilizer, ice melt, and other media outdoors, which attaches to the back of your ATV for quick, easy distribution. It's just like the sort of wheeled manual push spreaders you might get from the home improvement store, except that instead of a push handle, it has a mount that interfaces with your ATV's tow hitch or utility rack. The basic design is otherwise pretty much the same: a hopper funnels material to a spinning impeller disc that uses centrifugal force to chuck the material out in every direction from the spreader. How quickly material is funneled to the disc is controlled manually, so you're not just dumping buckets of seed in one small patch of yard – unless you want to.
It sounds like a niche market, but there are actually a lot of reliable, well-built ATV spreaders available today, from numerous manufacturers across a range of price points. To help you navigate the options and find the right ATV spreader for your needs, we've put together this handy buyer's guide with some of the best options out there.
1. Editor's Choice: Field Tuff AS-80ATV12 Receiver-Mount ATV Spreader
Delivering a good mix of practicality, capacity, and features, the Field Tuff AS-80ATV12 is a hitch receiver-mount ATV spreader with an 80-pound capacity and a 12-volt DC motor to power the impeller disc, powered by your ATV's battery via an included wiring harness. The spreader features a 12-foot broadcast diameter for efficient distribution, and the controls can all be reached easily from your seat, for easy on-the-go operation. It even comes with a rain cover to keep your grass seed, grain, or fertilizer nice and dry. If there are any marks against the Field Tuff AS-80ATV12, the price tag is probably top of the list; it's not the cheapest ATV spreader around. But for the money, you do get a 1-year limited warranty, and that counts for a lot.
2. Best Tow-Behind Spreader: Agri-Fab 45-0463 Broadcast Spreader
If you need an ATV spreader capacity well beyond 80 pounds, you may find you have to turn to a wheeled tow-behind design – like this 130-pound unit from Agri-Fab. Instead of sapping energy from your ATV's electrical system in order to spin the impeller disc, it relies on the turning of the wheels, with a fully enclosed gearbox with tapered gears to transform your ATV's towing action into spreading power. Better still, it can hold and distribute up to 130 pounds of material in one go, meaning fewer stops to refill the hopper. This ATV seed spreader features a broadcast diameter of 10 to 12 feet. Coupled with the 130-pound capacity, that's enough to deliver approximately half an acre of coverage in one go.
3. Chapin International 8620B Tow-Behind Spreader With Auto-Stop
Want even more capacity? Step up to the Chapin International 8620B tow-behind ATV spreader, with 150 pounds of capacity and a slew of awesome features that make short work out of any seed or fertilizer spreading job. This spreader uses a gearbox attached to the axle to spin the impeller disc, sparing your ATV's electrical system from having to power it, and features auto-stop technology so that the impeller automatically stops spreading the moment you bring your vehicle to a halt. That means no more leaning back and fussing with manual controls every time you pause – a feature that, frankly, we think every ATV fertilizer spreader should have. With that, plus its 11 incremental feed speed settings and durable construction with a powder-coated steel frame, this Chapin spreader punches above its price tag.
4. Buyers Products ATVS100 ATV All-Purpose Broadcast Spreader
Our most recommended option for folks with a suitable utility rack installed, the Buyers Products ATVS100 ATV spreader is sized and priced just right, with a 100-pound capacity hopper and a price tag well below much of the competition. But don't take that relatively small price tag to be a proxy for quality; it's one of the most highly-rated units we've come across. Featuring a well-protected 12-volt motor to spin the impeller disc, a durable poly hopper, a rain cover, and simple, intuitive manual control, just about the only thing that doesn't come with this ATV seed spreader is a complimentary bag of grass seed.
If for nothing else, this Moultrie ATV seed spreader is worth a good look because it packs a near-universal ATV mounting bracket and a unique quick-release system that makes it easy to take off and put on between seeding jobs. In case that's not enough to woo you, the spreader also features a heavy-duty 12-volt motor to power the impeller disc, an easy-off lid, and up to 100 pounds of capacity for easy, efficient spreading. It's even got an abrasion-resistant deflector shield to keep your seed (mostly) where it's supposed to be. Just be advised that, according to some customers, Moultrie's assembly instructions are lacking and you might do well to purchase stronger hardware than what's included.
Which ATV spreader is right for me?
Which ATV spreader is best for your purposes will depend on multiple factors – how large your property is, what the spreader's primary function will be, whether your ATV has a hitch receiver installed, etc. Generally speaking, if you're planning to spread over half an acre or more, you'll be better off with a wheeled receiver-mounted tow-behind ATV spreader, as that will allow you to get something with a bit more hopper capacity, meaning you'll spend less time stopping to refill. If you're working over a smaller area, either a hanging receiver-mounted or utility rack-mounted ATV spreader will do. Which style you choose should be based on what's easiest to mount on your vehicle.
Can I use one of these as an ATV salt spreader?
By and large, spreading rock salt is not a recommended function for spreaders like the ones featured in this article. That's mostly due to the salt's larger particle size, which can easily plug up the small outlet at the bottom of the hopper, but salt's corrosive properties are partly to blame, as well. If you plan on using your ATV spreader for spreading salt or ice melt over your walk or driveway during the winter, pay special close attention to the recommendations made by the manufacturer.
Published March 18th, 2021 10:08 AM
Top Brands
Popular Articles