557 Views
Five of the Best UTVs for Farmers
April 16th, 2020 11:36 AM
Share
We're committed to finding, researching, and recommending the best products. We earn commissions from purchases you make using links in our articles. Learn more here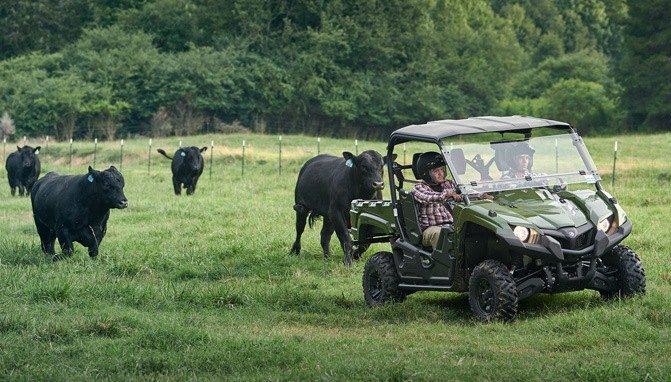 Farmers have long known that a good UTV is an invaluable tool. Here are five of the best UTVs for farmers that will surely help them get the job done.
Tough, powerful and dependable working UTVs
When it comes to farming, things are pretty serious. Farmers have no time for messing around, so equipment better work like it should and be dependable. With all the technologies coming out for sport and recreation UTVs, farmers are more interested in things like cargo capacity, engine reliability and towing performance – things the manufacturers are paying attention to with the latest utility UTVs. Here are five of the best UTVs for farmers on the market today.
Can-Am Defender Pro
The Can-Am Defender Pro is fantastic option for farmers. It is powered by an 82-horsepower 976cc Rotax V-Twin and has locking four-wheel drive. It can tow 2,500 pounds and boasts a 1,700-pound payload capacity. Built on the larger Defender MAX chassis, the Defender Pro models feature a massive 6' by 4.5' cargo box that can be quickly converted into a flatbed for carrying larger items. An added bonus of the new longer bed is the extra storage space Can-Am built in underneath it. This is a pass-through storage area that boasts 80 gallons of space that can be accessed from both the driver or passenger side. And with its longer 115.5-inch wheelbase, stability on the trail and off is even better. Put I tall together, and the Can-Am Defender Pro is easily one of the five best UTVs for farmers available today.
Kawasaki Mule Pro-FXT EPS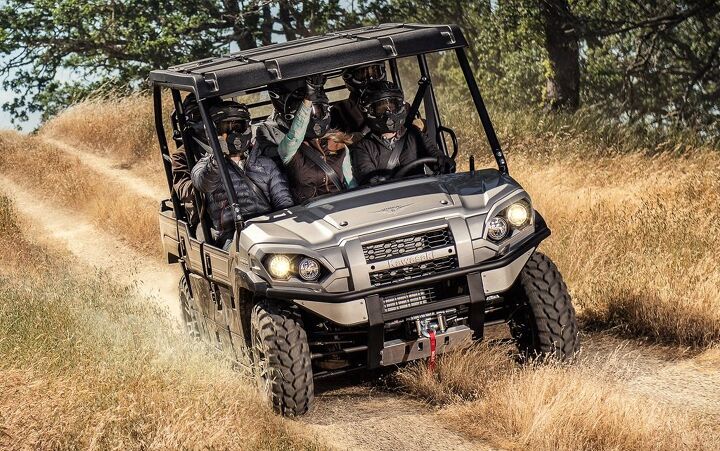 Any amount of research will show that there are a lot of people who really like the Kawasaki Mule Pro-FXT, or the FX model. The Mule Pro-FXT has Kawasaki's trans cab configuration that lets you switch easily from a three-person cab with a longer bed, to a six-seat capacity machine with a smaller cargo bed. That bed will hold 350 pounds of cargo when in the six-person setup, and 1,000 pounds when used as a three-person machine. It will tow 2,000 pounds on the 2-inch receiver. Power comes from an 812cc three-cylinder engine from Chery. The Mule Pro-FXT is a big, beefy machine with four-wheel drive, locking differentials and a serious get-the-job-done attitude – not to mention an industry-leading three-year warranty. That warranty alone makes this machine worthy of being on our list of the best UTVs for farmers.
Yamaha Viking EPS
When you talk about dependability, a trait farmers very much appreciate, Yamaha is without a doubt one of the industry leaders. The Viking has proven to be a dependable, stable utility machine. It hasn't seen many updates over the past few years, but when it ain't broke… Powered by a 686cc single-cylinder engine that makes tons of low-end torque, the Viking has enough power to get the job done. The real star is the Yamaha Ultramatic CVT transmission. It is as solid as they come. You never hear of a Yamaha breaking a belt. The steel cargo bed can handle 600 pounds of stuff and comes with a thick rubber mat to keep things where you put them. The Viking will tow another 1,500 pounds, too. Get the Viking with EPS for your own comfort. It'll make it easier to steer should you need to engage the differential lock when in four-wheel drive. It now comes with a three-year limited warranty, too.
Polaris Ranger 1000
While it may not be the flagship of the Polairs Ranger family, the Polaris Ranger 1000 offers something its flagship brother can't – affordability. Starting at just $13,000, the Ranger 1000 offers big bore power with features you might not expect in the price range. Polaris tweaked the engine in the Ranger 1000 to offer more usable low-end grunt, which is ideal for towing and hauling heavy loads – something farmers are all-to familiar with. This machine can tow up to 2500 pounds and carry another 1000 pounds in the cargo bed. Other features include a more rigid chassis, more comfortable seats, and a total of 18.4 gallons of interior storage space, which includes a massive glovebox and 3.4-gallon lower dash bin. When it comes to value, the Ranger 1000 has earned its spot on our list of the best UTVs for farmers.
John Deere Gator XUV835M with HVAC
When you work outdoors, duty calls even when Mother Nature is not cooperating. Here's where a machine like the John Deere Gator XUV835M with HVAC comes in really handy. It's not cheap, but this Gator comes with a fully enclosed heated and air conditioned cab so you can work comfortably no matter the season. An 812cc three-cylinder engine provides 54 horsepower and features include seating for three, tilt steering, adjustable seats, fully opening front window, 2000 pounds of towing capacity, 1000 pounds of cargo box capacity, and independent double A-arm front and rear suspension. Derrek Sigler
Derrek's love for all things ATV started when he was a mere 11 years old, growing up on his family farm. His mom gave him and his sister a choice - get a horse, or a three-wheeler. The sister wanted the horse, and Derrek wanted the ATV. Luckily he won out, and was soon burning up the trails on a Yamaha Tri-Moto 200. By the time he was 14, he had saved enough of his own money by working on the farm and in his folks restaurant to buy a new 4-wheeler. That happened the day he and his mom were driving past the dealership and saw 1987 Banshee. His mom had no idea what he was buying, and he never looked back. He's been riding ever since, and been writing professionally for many years. He has ridden all over North America and been behind the controls of just about every machine out there. And yes, he still has his 1987 Yamaha Banshee.
More by Derrek Sigler
Published December 16th, 2019 3:05 PM
Top Brands
Popular Articles