219 Views
2008 Polaris Sportsman 500 EFI Review
June 17th, 2015 4:23 PM
Share
We're committed to finding, researching, and recommending the best products. We earn commissions from purchases you make using links in our articles. Learn more here
Latest of the big-bore 4-strokers continues the innovation
Polaris ignited the big-bore ATV wars in the mid-1990s with the release of the Sportsman 500. At the time, the long-travel independent rear suspension, big-bore (for the time) 4-stroke engine, full floorboards and other features were revolutionary. The success of this initial 500 began a tidal wave of ATVs with large displacement mills and automatic transmissions that is still cresting throughout the industry. Polaris continues its tradition of innovation with its Sportsman 500 EFI.
Polaris successfully integrated fuel injection into the tried-and-true Fuji 500 HO powerplant in the 2006 model year. The 500 mill still provides good power, and any mechanical issues should have been eliminated long ago. Polaris wrings out every last drop from the 500 in the powerband. Low-end and mid-range are both good but not spectacular. On the top end, this Polaris pulls away from the Honda Rubicon and the Arctic Cat 500 Auto, under a comparison test. I was not able to analyze cold starting, but the fuel injection seemed flawless at all speeds. Polaris is due to redesign its engines for this class—the question is not if, but when, we will see it happen. For now, the 500 EFI is still a solid package and provides plenty of power for all types of trail riding and utility usage.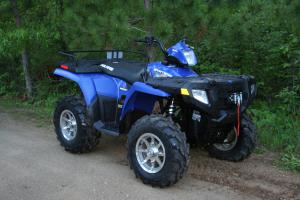 Riders in mountain regions demand strong, stable engine-braking for descending hills. Since the late 1990s, Polaris has offered an EBS clutch system that works well but provides engine-braking only to the rear 2 wheels. Polaris' ADC (Active Descent Control) system adds front wheel braking to the binder action provided by the EBS system. ADC requires 4 electrical signals to operate. The Throttle Position Sensor must be in the home position (off-throttle), the All Wheel Drive Switch must be on, vehicle speed must be less than 15 MPH and the transmission must be in a forward or reverse drive gear. The AWD switch power sends power to a coil located on the input-shaft end of the front bevel-drive housing and an Electronic Control module controls the ground side of the coil. When the conditions are met, the coil is energized and magnetically engages a cam plate. The cam system then drives pistons that in turn generate hydraulic pressure against a set of clutches located on both sides of the front bevel drive output. When the clutches are engaged, braking power is applied to both front wheels. The rolling hills of a local National Forest provided good testing grounds for the new system. Simply switching the AWD switch off and on when descending hills provides a way to gauge the effectiveness of ADC.
In operation, the ADC is smooth and notably adds to the braking provided by EBS, with the added confidence that the slow-down is being put to all 4 wheels, not just the rear 2. The ADC engagement is not overly aggressive, yet it will pull the ATV down to a complete stop on most grades if no throttle is applied. The sound and feel of ADC is different than that of engine braking on a standard transmission. Once or twice I thought I could hear the hydraulic clutch engaging in the front differential, but otherwise it is silent. The engine-braking system I tested worked as claimed, but time will tell if it is reliable in the long run. Although there seemed to be no major problems with the 2007 version of the system, ADC does add both mechanical and electrical complexity. With its design efforts in this area, Polaris has obviously acknowledged that some riders wanted more downhill handling capability than what had been provided in the past.
Polaris' unique all-wheel-drive system has always offered great traction. The over-running Sprag clutches are still enabled by flipping the switch on the throttle control, which energizes a coil to magnetically engage the roller clutch plate and roller assemblies. The front hubs then lock in place within less than one rotation of rear tire slippage. The traction provided by this system continues to be first rate, and the 500 pulls very well through mud and up hills. The Polaris PXT tires have an aggressive, deep tread that augments the AWD very well.
Suspension performance is where the Sportsman 500 EFI really shines. The Sportsman gobbles up bumps like a bear scarfs down blueberries. Both front and rear suspensions delivered outstanding isolation from trail chatter right out of the crate with no adjustment necessary. I switched back and forth with a couple of other brands' models to ensure that my impressions were not exaggerated. They weren't. Polaris, led by legendary suspension designer Jeff Bennett, has 'The Ride' down pat and for a stock set-up it was outstanding. Even an elderly person or someone with a bad back could ride this quad and keep a dusty, dirty smile on their face when riding other ATVs might leave them grimacing with pain.
One feature that has always had a Dr. Jekyll and Mr. Hyde personality is Polaris' composite rack design. It is likely that ATV buffs will have a mixed opinion on them. The racks look edgy and very stylish on the showroom floor. They also have rails for both accessory attachment and tie-down points. On the downside, due to the multitude of individual surfaces, Polaris' composite racks continue to be very difficult to clean up after a mud run. Functionally, the new composite racks are an improvement over the old 'Gen 4' Sportsman versions because of the tie down rails. In addition, the clamshell feature provides 'watertight' storage for small items or even some extra clothing. The clamshells were sometimes hard to close, which left me a little nervous about their waterproof capability. Some riders will never be convinced that composite racks are better than steel tube racks, but this is a matter of personal taste.
An analog/digital speedometer with an LCD chock full of information has been standard for a number of years on Polaris ATVs. In addition to having a tachometer, there is a low system voltage warning that can save a rider from having battery problems. The rear taillight assemblies include reverse driving lamps. This nice feature begs the question—Why hasn't this been done before? The headlights are very well designed both for light output and beam pattern and are as good as anything currently available in stock form on an ATV. An automotive-style key-start switch is standard, as is Polaris' signature single-lever braking system. For accessories, Polaris offers several rack bags, its Glacier plow kit and their own winch. A track kit that is unique to Polaris can be used to convert the Sportsman for 4-season use.
Polaris has delivered a 500cc Sportsman with good power and a great ride. While the riding I did definitely put the bike through its paces, I was not able to test the bike long-term to report on its durability. Trail riders should be very happy with the performance of this model. In addition, with the ADC system the team from Roseau, Minnesota should now entice more riders in mountainous states.
Related reading:
2008 Polaris Ranger RZR
2008 Polaris Sportsman 800 EFI Published December 10th, 2007 3:37 PM
Top Brands
Popular Articles