1 View
2008 Polaris Sportsman 500 EFI X2 Review
June 17th, 2015 4:22 PM
Share
A versatile ATV that could satisfy just about anyone
As we rode the latest 2008 Polaris Sportsman 500 EFI X2 through rain-swollen trails on a wet day in central Minnesota, we couldn't help but admire how far Polaris ATVs have come since the first 1980s prototypes. Like the first 1986 Trail Boss production models, the 2008 X2 shares features that changed ATV industry.
Until Polaris came along, ATVs sported motocross type foot-shift transmissions and foot pegs. Not only was Polaris' first Trail Boss a new product for the Minnesota-based company, it was a new concept for the ATV industry.
Two decades ago Polaris fought to get attention for its unique vision of ATVing, cajoling ATV writers to ride its product. The vehicle made the rounds of farm shows and sports shows. While it was a 'different' ATV, history would list the 1986 Polaris Trail Boss as a groundbreaking vehicle. Instead of foot pegs, the Trail Boss featured floorboards with ample room for farmers wearing work boots. The engine was a proven reliable 250cc 2-stroke that Polaris used in its snowmobiles and Textron used in EZ-Go golf carts. It was a versatile motor that worked well with Polaris' constantly variable transmission. This offshoot of a snowmobile drive system was dubbed the PVT – Polaris Variable Transmission.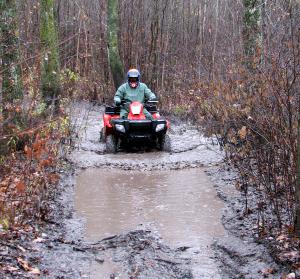 Extreme water-swollen trails won't stop the X2 when it comes to playing in the rain.
Now as I slogged and splashed along the trail, the X2's PVT shifted unnoticeably and smoothly as engine revs picked up or dropped off. Today's PVT evolved from a snowmobile design that, while simple in design, proved frustratingly difficult to convert to ATVing needs.
Snowmobiles To ATVs
Jan Hedlund, a longtime Polaris employee who worked on the original prototypes in the 1980s, recalls that while a snowmobile drive can be open to satisfy cooling, an ATV drive must be sealed to keep out water, dirt and dust.
"We knew right from the start it was going to be a challenge to make our drivetrain work," Hedlund remembers. "It was try this, try that, try a number of things and what ended up coming out of it was a cooling system where you fan air into a sealed system and end up using some of the air to cool the engine."
The PVT has evolved to handle more power and torque as today's X2 engine is more powerful and requires liquid-cooling. The Polaris-built single cylinder motor measures 499cc and uses a 39mm throttle body and computerized fuel mapping to provide responsive power from flat farm road to mountain getaway camp site. The X2 500 EFI powertrain proved efficient, as we rolled through muddy trails into and out of axle-deep puddles. But even the X2s wide body and mudguards couldn't keep some water from splashing up at us. But, hey, in a driving rain on water-soaked terrain, we weren't expecting to stay dry anyway!
Sure-Footed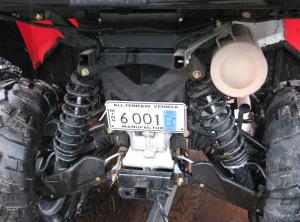 Angling the X2's shocks behind the sway bar setup provides both greater carrying capacity and a stable ride.
Our guide for the day and fellow test pilot, Les Pinz, helped cut the trail we explored. His version of an 'adventure' trail includes sharp uphill sections that wind tightly through the Minnesota forest. The downhills test an ATVs brakes and engine braking with steep descents punctuated by switchbacks and tight radius turns on sections barely inches wider than the Polaris X2's width. Nimble steering and sure-footed traction trump speed and power. The terrain let us test Polaris' Active Descent Control (ADC) and Engine Braking System (EBS). This ATV manufacturer claims the two systems "…work together to electronically monitor and control engine braking to give you optimum control and smooth even descents." It's not marketing hype. The X2 system works.
Hauling its own 830 pounds of claimed dry weight and the additional weight of its rider, the X2 seemed competent but occasionally taxed on the most severe uphill sections. Because our test trail was tight and did not allow us to attack some uphill sections with a running start, we could sense the PVT shifting down low as we would plod up those sections. Add in the traction-robbing muck and this ATV got a true test of endurance. On our test trail in truly adverse conditions, the X2 was quite at home.
While we have ridden this area many times before, we had never seen it this tough. It was an adventure. And, like little boys whose moms are always yelling at them, we splashed and played in the mud and water until we were soaked through and through and so thoroughly chilled that we finally decided to head home.
Extreme Versatility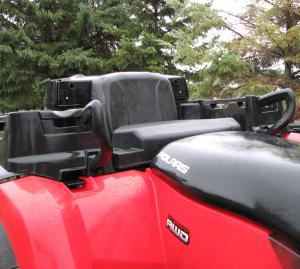 With the passenger seat folded into the dump box you maximize X2's utility.
We found ourselves very much at home aboard the Sportsman X2 500 EFI. This model is extremely versatile. There is a plasticized dump box that can handle up to 400-pounds of feed, camping gear, fencing, potting soil, or whatever. In that configuration it accommodates only the driver. However, it can literally transform from solo to two-up capacity in seconds. There's a fully functional passenger seat that can be folded into the rear dump box or positioned for a second rider. Large and readily accessible passenger grips are integrated into the dump box.
The simple fact is that the X2 is extremely versatile. Making it even more so are Polaris-engineered accessories like the winch, a windshield, an array of 'lock & ride' cargo accessories and even a drive-up, attach and drive away Glacier II plow system.
Changing The ATV
Polaris changed ATVing with its 1986 Trail Boss to such a degree that you don't think twice when you stand tall with boots comfortably positioned on the X2's wide and secure footboards. Polaris pretty much invented the concept. Every top sport utility ATV now offers that feature. As you head down the trail, you push in the throttle and let the drive system pick the gear ratio. Polaris brought that feature to ATVing, too. As you pick your way over logs or rocks, remember that Polaris' Trail Boss came with ride-smoothing long travel suspension – front and rear. The X2's MacPherson strut front suspension gives you up to 8.2-inches of jounce-control. There's another 8.75-inches of travel at the rear.
The X2's independent rear suspension comes with a sway bar for stability. Although similar to the standard Sportsman rear setup, the X2 is different. You'll note that the rear shocks' mounts are angled and positioned behind the sway bar linkage. This is to accommodate the dump box and second rider's added weight. The end result is a slightly different feel versus the standard Sportsman 500 EFI. We thought the X2 ride was a bit plusher, but that will be a matter of opinion.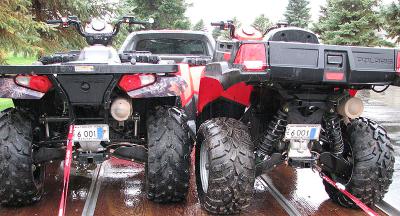 Note how the X2 shocks mount differently than the standard Sportsman shock at left.
Single Lever Innovation
If you come off another brand of ATV or come to ATVing directly from dirt bikes or street motorcycles, you might need to adjust a bit to Polaris' single lever hydraulic braking system. Mounted on the left side of the handlebar, the single braking lever engages all the discs. There is no right handlebar brake lever. But there is a foot-operated lever located in the rear floorboard to activate an auxiliary rear brake. Coming off a motorcycle, we were used to dual brake levers, but quickly acclimated ourselves to the 'Polaris Way.' Had we been long-term Polaris ATV riders, this wouldn't be a problem as it was Polaris that pioneered the single lever, all-wheel braking system in the 1980s. This innovation came along at the same time as Polaris' On Demand All Wheel Drive system.
Uniquely Polaris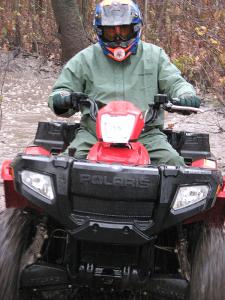 ATV guide and test rider Les Pinz pushes the Polaris hard through a mud pool.
A standard feature on the X2 500 EFI, On Demand AWD was another unique-to-Polaris feature that has since further evolved to include the addition of a VersaTrac Turf Mode. If you don't want to tear up your lawn or turf, switch into VersaTrac mode to unlock the rear differential and gain reduced steering effort, plus easier and tighter turning.
From its pioneering of innovations like floorboards, PVT, single lever braking, On Demand all-wheel drive, and long travel MacPherson suspension, Polaris has gone from being a uniquely-equipped niche player to a segment leading manufacturer of ATVs as well as UTVs.
When it comes to ATVs what was once unique is now commonplace. The 2008 Polaris Sportsman X2 500 EFI continues the evolution of Polaris-pioneered features in an extremely versatile ATV that you can use around the farm or the estate, but also to explore trails or enjoy ATV outings with a friend. Polaris' X2 500 EFI makes a great deal of sense. It has great ride and handling characteristics, has 11-inches of ground clearance, and can tow up to 1225-pounds. The X2 is as close as you'll find to being that all-around ATV that actually is all things to all ATVers.
Polaris Sportsman X2 500 EFI
Engine
Liquid-cooled, four-stroke single
Displacement
499cc
Fuel injection
39mm Throttle Body/EFI
Starting
Electric with recoil backup
Transmission
Polaris PVT w/ High-Low range, Park and Reverse
Final drive
On Demand All Wheel Drive w/ VersaTrac Mode
Front suspension / Travel
MacPherson Strut / 8.2 in
Rear suspension / Travel
Independent Rear / 8.75 in
Front tires
25×8-12 — Stamped steel wheels
Rear tires
25×11-10— Stamped steel wheels
Front brakes
Single Lever Hydraulic Disc
Rear brakes
Hydraulic Rear Foot Brake
Length
93.0 in
Width
48.0 in
Height
48.0 in
Seat height
34.0 in
Wheelbase
57.0 in
Ground clearance
11.0 in
Front/rear rack capacity
90 lb Front/ 400 lb Rear
Dry weight
830 lbs
Fuel capacity
6.0 gal.
Colors
Sage Green, Indy Red
MSRP
US$7,999
Published May 30th, 2008 11:01 AM