290 Views
Best Polaris Ranger Doors
June 15th, 2021 4:39 PM
Share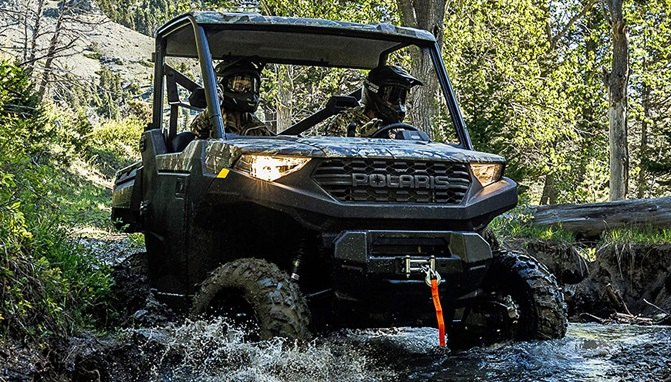 Adding some protection to the best-selling UTV
There is no denying the popularity of the Polaris Ranger UTV. It might be the best selling UTV in the industry and with that kind of popularity, there are an endless supply of accessories available for it. Everything from windshields to roofs to bumpers to storage…and a whole lot more. A popular add-on for many Ranger owners are a set of doors to replace the standard side netting restraints that come stock on most models. In this article we are going to look at the best Polaris Ranger doors and their features.
1. Editor's Choice: Polaris Lock & Ride Zip Window Ranger Doors
We'll get started with the most expensive Polaris Ranger doors on our list, but it's worth pointing out that they come directly from Polaris. This is a door kit that mounts directly into the space provided on the Ranger.
Because these doors are made by Polaris, you know they will fit easily and installation is simple thanks to the Lock & Ride mounting system. Polaris boasts that they seal tight to the frame, so they should be quiet and keep most of the noise outside. Aside from price, all of these features make these our choice as the best Polaris Ranger Doors available.
2. Best Polaris Ranger Crew Doors: Dragonfire Racing Black HiBoy Doors
For next level protection, check out the DragonFire Racing ReadyForce Black HiBoy Polaris Ranger Crew doors. These doors are built around a reinforced steel frame with aluminum skin that is shaped to flow with the body lines on your Ranger. The doors have a two-point anchor system, which DragonFire says helps make them the toughest on the market. Each door opens and closes with an automotive-style latch. As well, a rubberized tube backing and lock-down hinges mean less rattling and noise when you drive.
3. Best Soft Door: Seizmik Framed Door Kit
We've seen all kinds of door kits. One of the trickier style doors are the fabric ones, as they don't have the shape to hold up for very long. As a staff choice for one of the best Polaris Ranger doors, the Seizmik door kit is different, because there is a steel frame giving the door it's shape, and solid latches as well. From a distance, you'd think the doors were solid. The fabric is heavyweight, PVC-coated polyester that sheds water, cleans easily and holds up to abuse. Seizmik used 3D scanning technology to make sure the Polaris Ranger doors fit flush. This door kit fits using the stock connections, so there is no drilling or modifying the ROPS or body work to get the doors to work on your Ranger.
4. Most Unique: SuperATV Full Cab Vented Doors for Polaris Ranger
Not only do we consider these some of the best Polaris Ranger doors, but we also feel that they are the most unique. The full length 1/4-inch, lightly tinted, hard coated door skin that allows the best view of any full door on our list. This door skin is attached to a carbon steel frame that provides superior strength and features a rubber seal for a rattle free finish and will work with an OEM roof, and front or rear windshield. A great addition to any full size Polaris Ranger to keep you comfortable and protected from the elements.
5. Honorable Mention: SuperATV Heavy Duty Aluminum Half Doors
SuperATV also has a contender in our list of best Polaris Ranger Doors with a different take on the metal half-door idea. These Polaris Ranger half doors use a steel frame with a bolted-on aluminum outer door to reduce weight. SuperATV also designed the door for comfort, too. The latches are designed to not slam into your knees, or bother you while driving. The upper part of the half door is designed to give you a little extra room for your arms and shoulders, while still looking streamlined and sleek. The latches are actually pretty cool because they swing the door out like the doors on your truck, while most door systems swing the door from the rear of the cab, or suicide style.
6. Best Budget Restraint: Polaris Replacement Net Doors
Sometimes things happen and the OEM net doors get damaged, or in extreme cases, get torn off the machine. It happens. Now this might be a great time to upgrade to one of the other doors mentioned above, but the budget doesn't always allow for that. Trust us, we get it. You still need to have some form of containment to keep you inside the machine, so you can simply opt to replace the stock net doors. The most common cause of damage to the stock net comes from not getting the metal frame tab into its slot on the floor and then snagging it on something along the trail. Replacements are a cheaper alternative to having nothing. And something is better than nothing.
How To Install Polaris Ranger Doors
Once you pick up a set of Polaris Ranger doors, you need to figure out how to install them. Your Polaris dealer can take of this part for you, but this can certainly be done by yourself in your garage.
You will get a set of install instructions and they will make your life a whole lot easier if you follow them. To give you an idea what you are in for, check out these step-by-step instructions that come with the SuperATV Polaris Ranger half doors we featured above. There are also a handful of videos available o YouTube that show you a basic door install. We've included one below for your reference.
https://www.youtube.com/watch?v=R7tigUEwz3k
Additional Resources
Recent Updates
June 21, 2021: Added the Dragonfire Racing HiBoy doors to the list and added some info on how to install a set of doors.
March 8, 2021: Changed ranking, updated keywords and added new item to list.
We are committed to finding, researching, and recommending the best products. We earn commissions from purchases you make using the retail links in our product reviews. Learn more about how this works.
What kind of Polaris Ranger doors do I need?
That's a good question and you probably already know the answer. If you're looking for doors to keep the cold and snow out in a northern climate, full doors of some kind are for you. Composite or poly type doors are going to give you the most protection, but the cost is going to be high. Half doors are nicer than the nets, and give you more protection from the elements, but they do limit you if you want to fully enclose the cab down the road. Adding Polaris Ranger doors is not a cheap option, but the added protection can be a major advantage.
If I'm looking to enclose the cab including the doors, what is the best option?
There are two kinds of cab enclosures - soft and hard. Soft enclosures are make of fabric materials that make up the roof, and sometimes the rear panel. The doors will often be a zip-up blend of fabric and clear plastic. Hard cabs are almost always resin or plastic with solid doors, latches and even roll up windows. You can even get options with power windows! The hard cab will cost you, often to the tune of thousands of dollars, but if you are going to be using your machine in cold weather, it'll be worth it. Soft cabs are nice and more economical, but know going in that if you use your machine a lot, the soft cab will not always last as long as you hope, especially in harsher climates. Derrek Sigler
Derrek's love for all things ATV started when he was a mere 11 years old, growing up on his family farm. His mom gave him and his sister a choice - get a horse, or a three-wheeler. The sister wanted the horse, and Derrek wanted the ATV. Luckily he won out, and was soon burning up the trails on a Yamaha Tri-Moto 200. By the time he was 14, he had saved enough of his own money by working on the farm and in his folks restaurant to buy a new 4-wheeler. That happened the day he and his mom were driving past the dealership and saw 1987 Banshee. His mom had no idea what he was buying, and he never looked back. He's been riding ever since, and been writing professionally for many years. He has ridden all over North America and been behind the controls of just about every machine out there. And yes, he still has his 1987 Yamaha Banshee.
More by Derrek Sigler
Published April 8th, 2020 10:26 AM
Top Brands
Popular Articles