77 Views
Best Polaris Ranger Storage Box Options
August 24th, 2021 5:48 PM
Share
We're committed to finding, researching, and recommending the best products. We earn commissions from purchases you make using links in our articles. Learn more here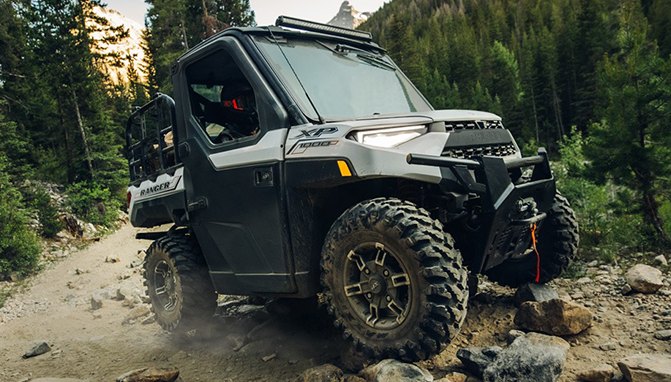 Keep your gear safe and secure with these Polaris RANGER storage options.
If you own an off-road workhorse, chances are pretty good you'll eventually be in the market for a Polaris Ranger storage box. An engineer for a major side-by-side manufacturer once told us that one of the main customer complaints – by far – is the lack of factory storage in a mass-market side-by-side rig.
This goes double for the types of machines which work for a living, such as the Polaris Ranger. These rigs need as much interior storage space as they can get, since they are often pressed into service for everything from hunting to construction. We've assembled a rogue's gallery of storage options, not all of which are suitable for every single purpose you might imagine. In other words, don't put your freshly caught salmon in the overhead map bag, ok?
1. Editor's Choice: Kemimoto Waterproof Bed Cargo Box - left side
Yes, it is important to note the directionality mentioned in the name of this product. Intended to sit in the Ranger's bed area, this type of storage box tucks up in the cargo area's corner with a portion of it resting on top of the box side wall. This particular model is intended for the left (driver's) side of your rig, but a mirror-image variant is available for the other side, as well. It can hold 45L (about 1.6 cu.ft) of stuff in a leak-resistant space that is covered by a heavy duty lid. Using the quick mount pegs built into Ranger, this box should stay put when you're wheeling or hammering over rough terrain as part of your day's work. Keep your stuff clean and dry, even on a wet or snowy day.
2. Best Under Seat Storage: Polaris Dual Bin Under Seat Storage Box
Intended for you fancy-pants owners who are holding the keys to a four-door Ranger Crew, this cargo box is designed by Polaris, meaning it's from the same minds who built your machine in the first place. This suggests it'll fit better than OJ's glove, with no drilling or hammering required. Unlike other under seat boxes, this one has a robust lid, with a top tray-like bin resting in the main area for small items like wiring or a measuring tape. Note that it isn't a wholly sealed box, so items may get wet if you push your Ranger through a good dunking in the water. The lid is lockable, however, meaning its contents will be relatively safe from opportunistic thieves who are simply opening boxes on a construction or job site.
3. Best Under Seat Storage Alternate: A&UTV PRO Under Seat Storage Bin Box
If all you need is a bin in which to throw items so they don't get lost, this cheap lidless option might be just up your alley (or off-road trail). Providing an extra storage space under the seat of a Polaris Ranger, this space-saving and easy-to-install storage box keeps items contained and - mostly - away from the elements. Constructed with injected polypropylene (read: hard plastic) this compartment is securely attached under the Ranger seat. It measures over 20 inches at its deepest, and just over two feet wide at its open top. For any rig that didn't come with this type of storage from the factory, it makes great use of what would otherwise simply be wasted space.
4. Most Secure Bed Storage: QuadBoss Utility Box for Polaris Ranger
If you're bent on making your workhorse side-by-side into something resembling a small pickup truck, this Polaris Ranger toolbox looks very similar to the automotive-grade unit installed in the bed of your Silverado or F-150. Lightweight and durable, the Utility Box is constructed from aluminum diamond plate, allowing it to take a beating and keep its contents protected. The one-piece tub is designed to support heavy loads, absorb tool drops, and ward off water leakage. In addition, the foam-filled lid creates a solid structure to prevent bending or warping and ensures easy opening or closing from either side of your Polaris Ranger. While expensive, reviews from real-world customers are overwhelmingly positive, putting an exclamation point on the old saw that 'you get what you pay for' - at least when it comes to off-road cargo boxes.
5. Best Overhead Storage: Tusk Overhead Storage & Map Bag
Remember the one we told you in which to not toss your freshly caught salmon? Yeah, this is the one. Aquatic life excepted, this fabric-type bag is of a near-universal fitment, meaning it'll likely fit other machines after you trade or sell your Polaris Ranger. Mounted to the overhead portion of the rollover protection system, this storage and map bag is a dandy place in which to store important items that need to be close at hand. Think paperwork, documents, permits, and the like - stuff for which you'd rather not be fumbling when the game warden suddenly descends out of nowhere.
How big are Polaris Ranger storage boxes?
Depends on what one you buy. Thanks to the inherent small cabin space within the typical side-by-side (and the Ranger is no different), even add-on boxes such as the ones on this list aren't going to be enormous. If the storage box you've selected adds even just a couple of cubic feet to the interior of your rig, it's a good day.
How do you install a Polaris Ranger storage box?
Ninety-nine and bunch more nines percent of these plastic or metal storage boxes are designed to be installed using existing anchor points in your Ranger. This means you shouldn't have to bust out the drill or hammer when it comes time to bolt the thing to your rig. It is worth noting that there should be some form of robust installation involving bolts or clasps of some type, however; the lack of such means the storage box (and its contents) are at risk of flying off into the weeds every time you hit a bump in the trail.
Additional Resources
Become an ATV insider. Get the latest news first by subscribing to our newsletter here.
We are committed to finding, researching, and recommending the best products. We earn commissions from purchases you make using the retail links in our product reviews. Learn more about how this works. Published August 24th, 2021 5:48 PM
Top Brands
Popular Articles