94 Views
Best Polaris Ranger Roof Options
April 8th, 2021 9:54 AM
Share
We're committed to finding, researching, and recommending the best products. We earn commissions from purchases you make using links in our articles. Learn more here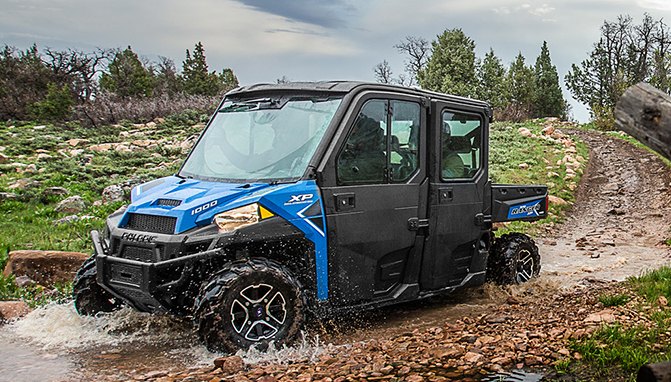 Get covered from sun, mud and anything else with a new roof
Whether you're working on your property, blasting through thick mud holes or cruising down the trails, you know how invaluable a good Polaris RANGER roof is.
Those of us who've taken the plunge and purchased a side-by-side know just how fun it can be dunking these machines things in puddles at speed. While it makes for great pictures and is a ton of fun, there's a solid chance that all everyone will end up soaked to the bone. Here's where a roof can help. Even if you're wheeling in an area like the American southwest that rarely sees rain, a roof can come in mighty handy for offering a bit of shade both while under way and during a rest stop. The installation of a roof can turn your Polaris Ranger into the perfect spot for ducking out of the hot midday sun.
Those of us up in the Rust Belt will appreciate the thing for keeping snow out of the passenger compartment should the unit be left outside overnight. Also, there's nothing wrong with wanting a Polaris Ranger roof for the simple reason that it looks good.
Regardless of where you live or ride, our staff of UTV experts has found some of the best Polaris Ranger roof options to keep you covered from the elements. Whether you've got a single-row Ranger or a Ranger Crew capable of holding up to 6 passengers, we're sure to have an option that you'll appreciate. Note: While the words 'poly' or 'composite' generally denote plastic in this particular type of product, rest assured it'll be a durable material that can stand up to weather and debris that you most commonly deal with. We just want to make you aware of what you're potentially buying.
Now find your favorite roof so you can go hit those puddles!
1. Most Affordable 2-Seat Option - Canvas Roof
Some customers don't need a snazzy roof with lights and speakers, nor do they even require a poly or metal construction. If all you seek is a space out of the sun, this affordable canvas Polaris Ranger roof might be just the ticket. It offers shelter and protection from the elements without breaking the bank.
It has a durable and lightweight polyester construction, meaning owners can probably stow it away in a corner of their garage when not in use without taking up too much space. Personal experience dictates that owners of these canvas roof units need to make sure they are firmly installed and fairly taut, lest they flap around at speed like a flag in the breeze. That constant aural assault can get old very quickly.
2. Best Multi-Purpose Roof - Rough Country Roof with Cargo Tray
If you're looking for a Polaris Ranger roof that above and beyond the duties of protecting your cab area, look no further. This Rough Country Polaris Ranger roof is molded to provide additional cargo for those long haul days on the trail. Its molded cargo tray areas permit riders to easily secure their additional cargo, giving a practical way to haul gear while saving space in the cab or bed.
It is a two-piece roof, so make sure you read the installation instructions to prevent any unwanted water intrusion from the seam going up the middle. It also has a bit of an angry look thanks to those cargo spaces, almost like a set of furrowed eyebrows on a stern headmaster. Kinda cool, if you ask us.
3. Polaris Poly Crew Premium Roof - Pursuit Camo
Back with another OEM offering, we find this Polaris Ranger Crew roof, this time decked out in the Pursuit Camo livery. This makes for a great addition to the machine hunters take into the duck blind just before first light to help keep the dew off your seats.
This roof is said to install quickly, fitting perfectly on the OEM cage for precise sealed coverage. As an added bonus, Polaris says it can be installed easily with no tools required and removed just as quickly for open-air comfort. This particular option includes a roof liner which might sound like a flippant and needless addition but actually provides an extra dose of handy insulation. It also features integrated mounts for an audio system, allowing you to turn a simple Polaris RANGER roof into a customized sound system.
4. Polaris Poly 2-Seat Sport Roof with Lock & Ride Technology
We're kicking off this list with a product straight from the Polaris catalog. After all, they're the people who built the machine so they should be best equipped to craft a roof that fits to a tee. This is a poly roof that plays well with the brand's Lock & Ride series of add-ons, a group of items that include storage boxes and the like that Polaris will be more than happy to sell you.
This roof fits the single-row model of Ranger, though a two-row (Crew) option is also available. And, no, you can't simply but two of these cheaper ones and try to make them fit your Crew. Get the proper one, okay? In his own experience, your author can testify that roof units from Polaris seal well and require no more maintenance than the occasional dousing with warm soapy water.
5. SuperATV Midsize Plastic Roof
No stranger to the UTV market, SuperATV has a great Polaris Ranger roof offering to bring to the table. Made from a durable 6mm heavy duty plastic, this roof features raised ridges to keep water away from passengers, heavy foam gaskets to ensure a rattle free ride, and a unique contour to ensure a quality fit on your Ranger cage.
Designed for the Polaris Ranger Midsize models this UTV roof fits Ranger Midsize 570, 500, and EV models, but we suggest to verify fitment for your particular machine.
We are committed to finding, researching, and recommending the best products. We earn commissions from purchases you make using the retail links in our product reviews. Learn more about how this works.
How do I install a Polaris Ranger roof?
At risk of sounding saucy - by reading the instructions, of course. More helpfully, a UTV roof is generally installed directly onto the unit's cage, utilizing built in mounting points and a variety of attachments. Most of the roof options here don't require tools for installation or removal, a great feature if you're away from the shop or have failed to pack the correct hand tools while you're on the go.
Should the Polaris Ranger roof be installed before or after a windshield?
There are two schools of thought on this, though the general advice is to install a windshield prior to adding a roof if you're installing both at the same time - a sentiment with which your author agrees. This is largely due to the fact that many roof units have a bit of overhang designed into them for eye protection and, to be honest, a design flourish. This can get in the way of installing a windshield. However, this doesn't mean you need to have a windshield if you have a roof, and vice versa.
Anything else I should know about adding a UTV roof?
There's no argument that these handy units protect you from the sun and other weather events. They also help keep the contents of your cab, especially expensive aftermarket add-ons like audio systems or heaters, safe from those very same elements - rain, mud, and anything else that might find its way in through the top of your UTV - especially if you're prone to plunging through puddles. Published April 6th, 2021 5:25 PM
Top Brands
Popular Articles