195 Views
2012 Polaris RZR XP 900 Review: Long Term Test
June 17th, 2015 4:58 PM
Share
We're committed to finding, researching, and recommending the best products. We earn commissions from purchases you make using links in our articles. Learn more here
This wild ride passes the test of time
During the last few months we have had some great adventures in our 2012 Polaris RZR XP 900. This machine has a bloodline that has essentially set a precedent for the remaining manufacturers in our industry. The 50-inch RZR made its way into the world of off road and from that point everything else is compared to it. Yes there are many manufacturers that have built competitive machines to gain a piece of the SXS market share, but up to this point Polaris has ruled the class.
We had an opportunity to ride the RZR XP 900 at its press introduction in Arizona about two years ago. We came away very impressed, but were eager to get a model in our garage.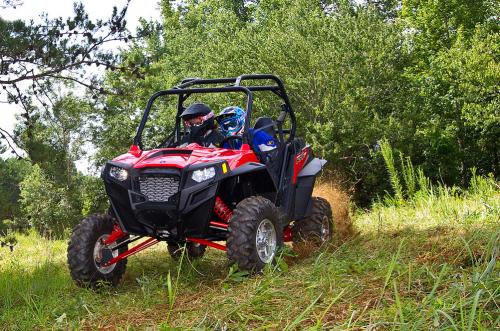 We were eager to see how the RZR XP 900 performed in the tighter confines of Georgia and Tennessee.
What stood out early to us was the super quick response from the new ProStar 900 engine platform. Most sport-specific UTVs have plenty of horsepower, but the immediate response and seat of the pants feel of this engine just seems to give us more of a smile. After toying around with the idea of a project we decided to just leave the machine bone stock and just drive it like it was.
The FOX Podium 2.0 shocks adeptly handle 13.5 inches of travel up front and 14.0 in the rear.
Polaris gave the XP 900 a massive amount of wheel travel in the front and rear suspension – far and away the most in the industry at the time of its launch. The front of this ride swings at a massive 13.5 inches and the rear is sweeping up and down at 14.0 inches. What this means is that tacking even very rough terrain is still quite enjoyable and not as jarring as you'd expect. It seems to us that the XP 900 lives life a lot better at higher speeds in rougher terrain and that was ok with us because we have a place there as well. With several months to tweak on our FOX Podium 2.0 shocks we have become extremely satisfied with the performance they have to offer. In the hills of Northern Georgia and Tennessee it was a bit harder to find places to ride than it would be out west, but we were determined to get our trail rage on and we found a few spots that fit.
One out of the box ride spot in particular gave us freedom to stretch the legs on this machine – Prentice Cooper OHV in southern Tennessee. By the end of our ride at Prentice Cooper, we had our ride dialed. The FOX shocks combined with the engineering in the suspension arms both front and rear soak up bumps and g-outs like a bounty paper towel soaks up water! And if you consider that the machine has a centerline ground clearance of 13.0 inches as well, you will be crawling over larger obstacles with ease.
The ProStar 900 engine might be our favorite in the industry.
Getting a good grasp on the power of the Polaris RZR XP 900 is a totally different subject. Explosive out of the chute acceleration gives the driver and co-pilot a seat of the pants feeling like no other. The engine revs like a NASCAR motor and there is little to no hesitation from foot movement to ground shredding response. This ProStar 875cc, dual overhead cam, four-stroke mill builds power and torque that keeps us on our toes each time we twist the key.
The transmission in the XP 900 has to be solid steel as it kept begging for more abuse and never so much as quivered. We figured that at least once we would have to replace a belt and possibly need to change an axle, but this was not the case. Looking at the trailing arms and radius rods at the press intro and then again during our long term testing, we also figured we would easily knock one of those off. It didn't happen. That's not to say it couldn't happen, but our XP 900 never protested – despite the abuse we heaped on it.
We were far from gentle with the XP 900 and it stoutly stood up to everything we threw at it.
We have talked so much on the XP 900 being a race car and some say that's all it is, but we can tell you it is a very capable machine for trail riding as well. Keeping in mind that the trails have to be at least 64 wide, we still loved just cruising around the mountains in the machine. It was kind of like having the coolest sleeper in the trail. We knew what we had and could prove a point to any unsuspecting challenge at a moment's notice.
Whether you want to go for a relaxing cruise or raise some hell, the Polaris RZR XP 900 will serve you well.
The seating in the RZR is adequate, but there were times when we dreamed of all-encompassing suspension seats to hold us while our chariot rocketed around tight corners. Tilt steering also made it easier to get in and out of the ride while allowing the shorter driver a full adjustment for precise control. Power steering would have been a great add on in the tight technical rockslides. Seeing that the RZR 4 XP 900 and the limited edition RZR XP 900 both have this option, we are guessing it can be fitted easily enough. Overall, we felt safe in the cockpit and our ride was very comfortable. Published January 23rd, 2013 1:15 PM
Top Brands
Popular Articles