47 Views
2013 Polaris RZR XP 900 H.O. Jagged X Edition Review
June 17th, 2015 4:57 PM
Share
We're committed to finding, researching, and recommending the best products. We earn commissions from purchases you make using links in our articles. Learn more here
We take this Limited Edition RZR to the desert
Since Can-Am upped the ante in the bid for sport side-by-side class supremacy with the release of the Maverick back in September, anyone keeping score has been waiting anxiously to see what Polaris would release to combat the new 101- horsepower brute.
It's been rumored that Polaris has a deep inventory of vehicles just waiting in the wings and suspicions about a new model were confirmed in December when Polaris announced the new limited edition RZR XP 900 H.O. Jagged X Edition. As this is a limited edition machine, we crossed our fingers and hoped we could land a hard-to-find demo unit for testing. The generous folks at Polaris granted our wish and we excitedly picked up a brand spanking new black and blue Jagged X RZR from Carter Powersports in Las Vegas, Nev.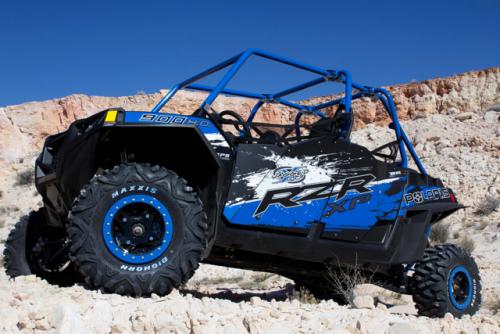 We were stoked to get a RZR XP 900 H.O. Jagged X Edition. The rugged desert around Las Vegas provided an excellent proving grounds.
Geographically, there could be no better place to test the new Jagged X RZR than the rugged terrain of the southwestern United States. Polaris certainly didn't have trail riders in mind when it retained the same wide 64-inch stance of the original RZR XP 900 in addition to the stretched out 107.4-inch wheelbase of the RZR XP 4 900. The longer wheelbase, coupled with the added benefit of the Walker Evans Racing 2.5-inch rear shocks, means this UTV is designed for eating desert terrain alive.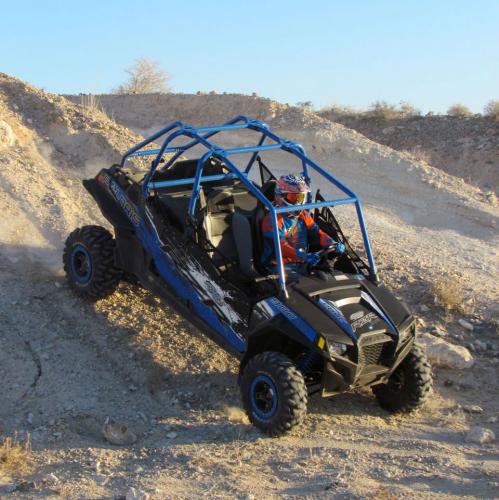 The RZR's long wheelbase is ideal for tackling the gnarly desert terrain.
We loaded up the trailer and hauled the newest RZR to the Logandale Trails System just outside of Las Vegas. Logandale is an excellent place to test just about any off-road vehicle because of the wide variety of terrain that makes up the 200+ miles of trails. You have everything from small dunes to sandy and hard-packed trails, desert washes and, of course, rock sections that will leave you praying that the roll cage is really up to par. (Fortunately for us we didn't have to find out, which is nice because it would have been a bummer to scuff up that beautiful blue paint.)
Off The Beaten Path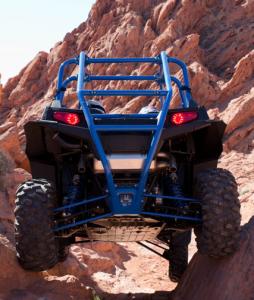 We had no trouble finding sure-footed traction in the rocks.
We wasted no time testing out the rock crawling capabilities of the RZR XP 900 H.O. Jagged X Edition. Rock crawling is a unique test for any vehicle and because you can find yourself in a jam quickly, tight steering and throttle control are extremely important. It's very easy for the terrain to rip the steering wheel out of your hand, but this was a non issue for us thanks to the electronic power steering (EPS). We were able to remain in complete control at all times and make even the finest adjustments while navigating some very rough terrain. Although we rubbed the belly few times, the longer wheelbase made creeping over boulders and one particularly narrow obstacle a breeze.
Our trail guide was driving a standard RZR XP 900 and on one particularly gnarly section he found himself teetering with his left front tire two-three feet off the ground. After watching him pull through, we were a little apprehensive, but the RZR XP 900 H.O. Jagged X edition walked right through without any issue at all. The longer wheel base kept us planted and allowed us to avoid the teetering effect that the shorter model had experienced.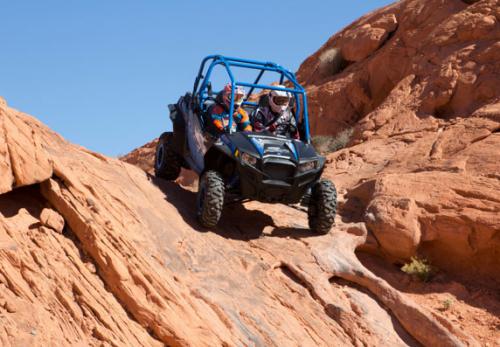 The landscape around the Logandale Trails System was beautiful and challenging.
The throttle was a little touchier at low speeds than we prefer and had about an inch of play in it before it would actually engage. This might be something that can be adjusted and it certainly didn't ruin our day, but instant throttle response, especially for rock crawling when throttle control is so important, would have made things a little smoother.
Show And Go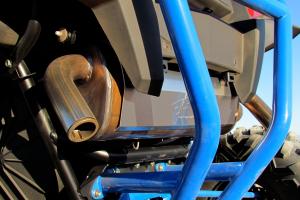 The stainless SLP exhaust looks nice and emits a grin-inducing rumble.
Without a doubt, the RZR XP 900 H.O. Jagged X Edition is one of, if not the most, aggressive and stylish looking side-by-sides on the market. The dark color scheme is just plain mean and the Voodoo Blue of the roll cage, factory beadlock rings and Jagged X graphics make the whole package just pop.
The trick looking stainless SLP Exhaust systems also gives the machine a more custom look and a beefy race ready sound over the more traditional stock exhaust found on most production UTVs. We found the dual outlet exhaust to be the perfect complement to the high output 94-horsepower ProStar motor.
The added power of the High Output motor, also available now as a power-up package for the RZR XP 900, was probably the most anticipated aspect of this unit all together. Because we're reviewing we have to be honest and say that we were a little disappointed. The additional six horsepower brings the performance of the RZR XP 900 H.O. Jagged X edition much close to the original XP 900, however it wasn't quite what we were hoping for.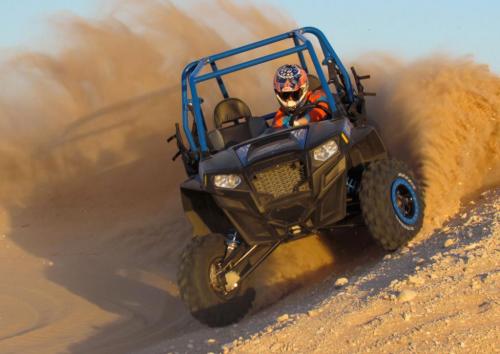 Though plenty powerful, the RZR XP 900 H.O. Jagged X Edition wasn't quite as quick as the base RZR XP 900.
For comparison's sake we took turns running the same section in both the RZR XP 900 H.O. Jagged X Edition and a stock RZR XP 900 and the shorter RZR XP 900 was definitely quicker. It wasn't a night and day difference and definitely not a deal killer, especially when you consider all the other goodies included on this machine, but we were hoping for a little more of the "put you back in your seat" type of horsepower. In the sand it didn't climb as well as the two-seat version and we pretty much had to have it in 4WD if there was any sort of dune or incline. In 2WD the front end had a tendency to push, but locking the unit in 4WD made carving dunes a blast.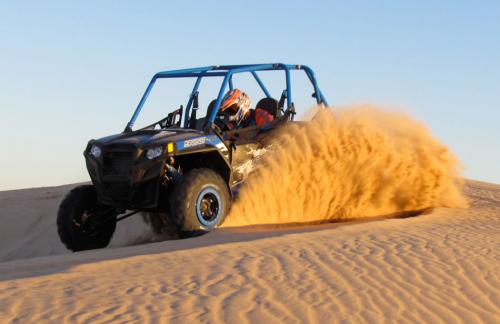 Locked in 4WD, the RZR is an adept dune carver.
Suspension And Handling
It's tough to find any complaints with the superb Walker Evans Racing shocks.
While the original RZR XP 900 may have made it through our little test section quicker, the Jagged X Edition definitely made the ride more enjoyable. The EPS coupled with the longer wheel base allowed us to power through whooped out turns without ever feeling out of control. We could literally hold the pedal to the floor and continue accelerating through turns.
The Walker Evans Racing 2.0 front shocks were a little soft up front at first, but with a few clicks to the compression settings they stiffened up to our liking. We hit both hard packed and sandy whoop sections without every G-ing out. Several times, when a washout would appear out of nowhere, we slammed on the brakes expecting that tailbone-jarring feeling when you bottom out the suspension, but the Walker Evans Racing suspension soaked it up every time.
Since its release in December, we've heard feedback from a few folks that the RZR XP 900 H.O. Jagged X Edition has a tendency to get a little squirly. We experienced the same thing, but honestly we felt it was more of a positive than a negative. We found that you could break the back end loose almost effortlessly, even in 4WD. Steering was incredibly predictable and almost effortless thanks to the EPS, even coming out of a power slide.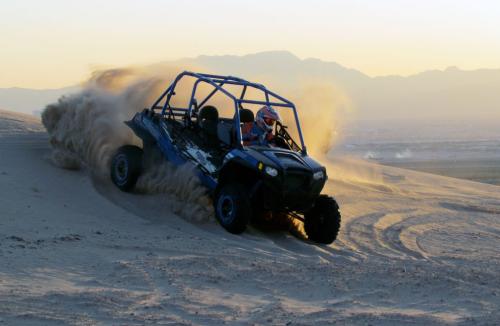 We loved how the Jagged X RZR felt coming out of a power slide. Steering on this unit is top notch.
Creature Comforts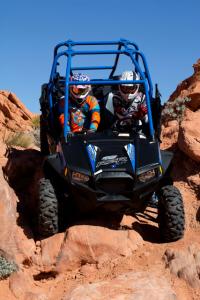 The Jagged X RZR's PRP seats are amazingly comfortable.
In its initial release, Polaris shared that its goal was to equip this particular model with the most popular modifications straight from the factory. In addition to electronic power steering, one of the most noticeable and comfortable add-ons were the PRP seats.
Although Polaris didn't include a five-point harness system, the seats are ready to receive it and after spending some time in these almost luxurious seats, you'll probably never want to go back to a standard factory installed seat. The added adjustability for the driver was another huge plus.
While doors do little in terms of performance they are often one of the first changes made by racers and weekend warriors alike. The trick aluminum doors feature the best, most functional latching system we've ever seen. A lot of doors don't line up well and require you to slam them to get them to latch, but these doors opened and closed almost seamlessly.
Part style, part functionality are the trick-looking Walker Evans Racing beadlock wheels. At first we thought they might have been just an imitation since the Maxxis Big Horn Tires didn't actually come mounted on the beadlock itself. We wonder if it has to do with a liability issue and seeming too race ready; however. it doesn't take much to dismount and remount them to make use of the beadlock.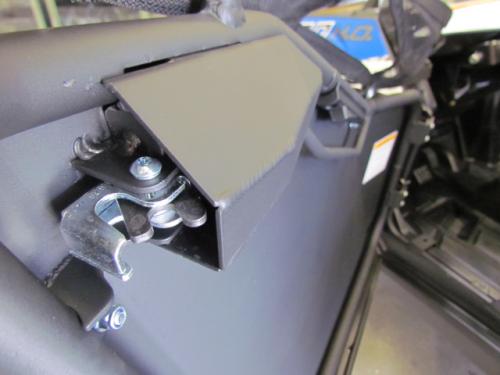 It may seem insignificant, but the latching system on the doors is the best we've ever seen.
In place of the rear passenger seat are two sturdy, weather-sealed storage boxes. The dual 2.5-cubic-foot storage boxes use the stock seat mounting locations and are easily removable.
Overall Impression
As more and more manufacturers are getting into the side-by-side game, it seems there is less of an "industry standard" as more of the features being offered are unique to each individual user. The high performance racer might prefer the quick acceleration and weight savings of the original XP 900, while the longer wheelbase and comfort items like PRP seats and EPS might suit another rider very differently. It's what makes Polaris' approach of building a machine for every rider so successful – an approach other manufacturers are starting to pay close attention to.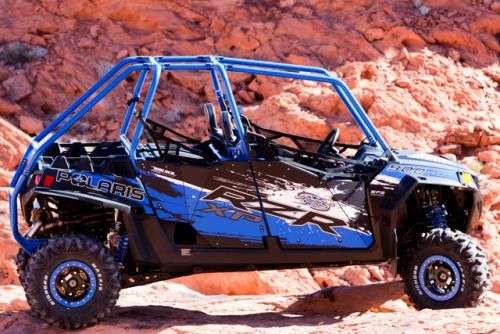 Seth Fargher
Growing up in Oregon, most of Seth's involvement in the powersports world was limited to what he saw in magazines and videos. Following a brief stint in the corporate world, Seth took a flying leap (literally) and moved to California to pursue a career in freestyle motocross. Though short lived, the opportunity immersed him in the industry and is now a well-established off-road writer.
More by Seth Fargher
Published March 7th, 2013 10:36 AM
Top Brands
Popular Articles