1 View
Dealer Expo Spotlight: Cycle Country Hook-A-Lift
February 14th, 2010 5:05 PM
Share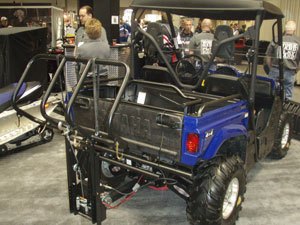 If you've seen Cycle Country's products before, you'll know the Hook-A-Lift isn't exactly a new product. However, what is new is a prototype for a rear Hook-A-Lift for side-by-sides.
We saw this prototype at the Dealer Expo and thought it was worth bringing to your attention. Because it's still a prototype we don't have much information yet, but we do know that the rear Hook-A-Lift connects to a two-inch receiver hitch and has a 275-pound capacity.
It seems like it would make loading up the back of your side-by-side a much easier task. Cycle Country has hunting applications in mind, but just working around the property and loading up a pile of logs or moving some rocks would be a lot more appealing with an accessory like this.
For more information of Cycle Country products, visit http://www.cyclecountry.com.
Published February 14th, 2010 5:05 PM