1 View
Don't Try This at Home: Muddy Crash [video]
March 4th, 2010 10:46 AM
Share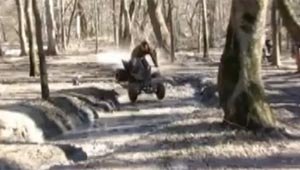 Sometimes you come across a video and you just don't know what to say. This is one of those times, but I'll do my best to string a few words together before the video – available after the jump.
It all starts out well enough. A group of friends is riding ATVs and one of them decides to either jump over or jump into a mud pit on his ATV. Of course, our hero is wearing ideal protection, highlighted by a hoodie and a ball cap. Clearly he's thought this through.
As you might expect, things don't go quite according to plan and the rider flies over the handlebars and into the murky depths. He's pulled out relatively unscathed and manages to find his beloved cap. It's only after the jump (awesome slow-mo replay included) that we learn the pilot broke his collarbone a few weeks prior playing football. Hopefully this accident won't affect his ability to continue his work as a neurosurgeon.
Get the Flash Player to see this player.
Published March 1st, 2010 4:41 PM