1 View
2013 Polaris Ranger 800 EFI Mid-Size Review
June 17th, 2015 5:02 PM
Share
This compact utility UTV is a sleeper out on the trail
When Polaris introduced its new Ranger XP 900 last summer, it immediately became one of the biggest and baddest Utility UTVs available. It's a versatile machine that just about anybody would love to own. Unfortunately, it comes at a cost – $12,999 to be precise.
If you can't afford the nearly $13,000 to buy the Ranger XP 900, all is not lost. During the XP 900 introduction, Polaris also unveiled a new mid-size UTV that may be just what you need. More compact that its big brother but with impressive power on tap, the new Raner 800 EFI Mid-Size is a capable workhorse with the power-to-weight ratio to let it rip out on the trail. For $2,500 less than the XP 900, it's also a machine more of us can afford to own.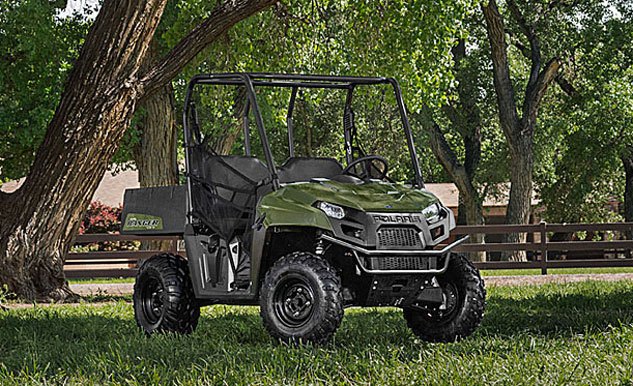 New for 2013 is the Polaris Ranger 800 EFI Mid-Size.
The Technical Stuff
The Ranger 800 EFI Mid-Size uses a very similar chassis to the Ranger 400 and 500. We have tested the 400 in the past and felt its solid handling and adequate power made it a fun small bore workhorse. The 800 features the same 72-inch wheelbase as the other middleweights, but is 1.5 inches wider at 58 inches.
COMPARE: Read our review of the Polaris Ranger XP 900
Like the other mid-size Rangers, the 800 features eight inches of suspension travel up front, nine out back, with 10 inches of ground clearance. The front suspension features MacPherson Struts. The IRS consists of dual A-arms and shocks, with a sway bar helping keep the back end riding level.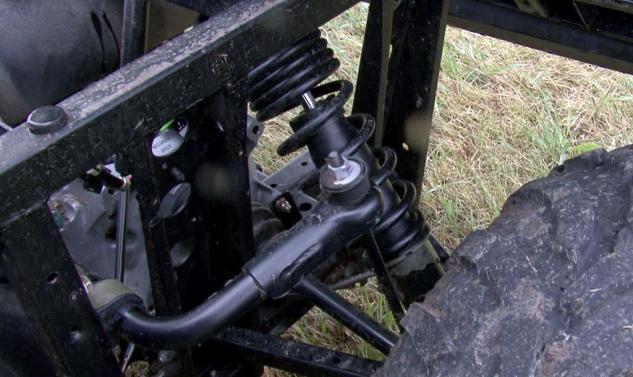 Independent rear suspension on the 800 Mid-Size provides nine inches of travel and 10 inches of ground clearance.
The Ranger 400 weighs 1,050 pounds and is powered by an engine claimed to produce 29hp. At 1,085 pounds, the Ranger 800 weighs just 35 pounds more and its 760cc inline Twin cylinder engine is claimed to put out 50 hp! As a comparison, the Ranger XP 900 tips the scales at 1,360 pounds and offers up 62 horsepower.
The transmission features high and low ranges, plus neutral, reverse and park. Polaris outfitted the Ranger 800 Mid-Size with its proven two-wheel/all-wheel-drive, which can either operate in full time two-wheel drive, or in all-wheel-drive, engaging the front wheels only when the system detects the rear wheels beginning to slip. It provides lighter steering most of the time, and more traction when needed.
Unfortunately, engine braking and Active Descent Control were left out of the 800 Mid-Size package, although low range and a little throttle will help control your speed on long descents. Hydraulic disc brakes at all four corners provide stopping power and contact with the ground is handled by 25-inch tires mounted on basic stamped steel wheels.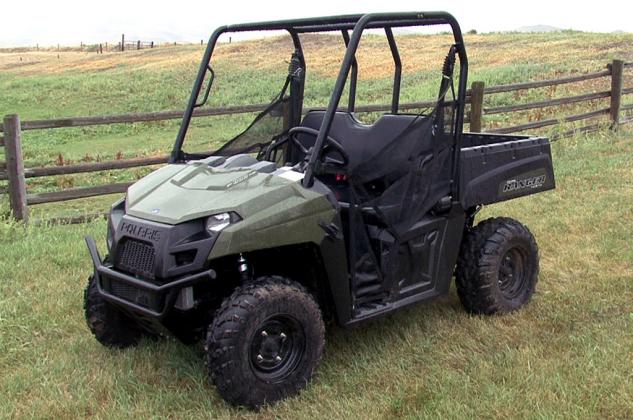 The interior feels very Utility-focused.
In the cockpit, the Ranger feels a bit more Utility than Sport with its bench seat. The gear selector lever also looks somewhat utilitarian, which is acceptable for this machine. Tilt steering is nice, and the combination digital and analog instrument display is easy to read.
COMPETITION: Read our review of the Yamaha Rhino 700 SE Tactical Black
To help get the work done, the Polaris Lock & Ride-equipped bed can haul a 1,000-pound payload, while the two-inch receiver can tow up to 1,250 pounds.
Ride Time
Thanks to is light weight and powerful engine, the Ranger 800 Mid-Size is a little ripper. We felt it was quicker out of the hole then the larger XP 900. On the trail the 800 is smooth and manageable while offering ample power for attacking hills and ripping out of turns. Crawling along at slower speeds, the engine and transmission remain responsive and manageable, which will help it when it comes to working, hunting or exploring.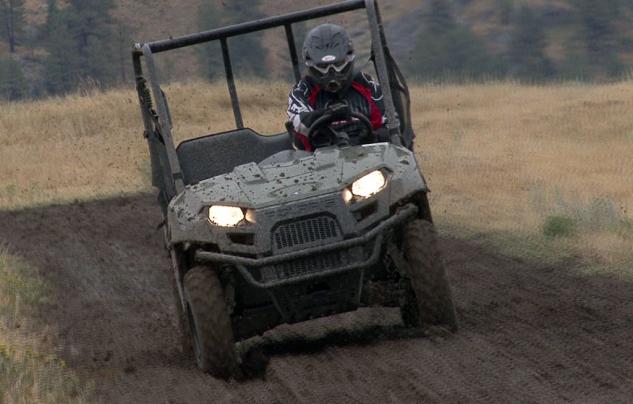 When you pack a powerful engine into a small chassis you get great on-trail performance.
Not having engine braking isn't a huge detriment to this machine, as the brakes offer good power and feel. You could easily lock all four wheels up in the slippery mud. Negotiating through the wet terrain was simple; Leave it in two-wheel-drive if you want to slide out of turns, or flip it into all-wheel-drive and the front wheels will help pull you through turns, up hills or provide assistance any time the rear wheels start spinning.
Handling on the 800 is stable; there is a hint of body roll driving hard into turns, but nothing unsettling. At moderate speeds and on side hills the machine feels planted. Steering feels pretty accurate with just a hint of under-steer. This may aid a bit in the machine's predictable feeling on smooth high-speed trails. Ranger models seem to take a little more movement of the steering wheel to make the same turn as some competitive models, but steering effort and bump feedback are both fairly light without the added expense of EPS – a $1,000 option on the XP 900.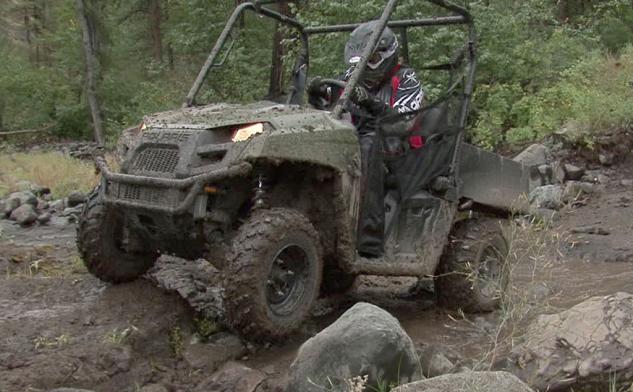 Though it won't float over large obstacles like the Ranger XP 900, the 800 Mid-Size offers predictable and smooth suspension performance.
Suspension action is plush at both ends, with a slightly firmer feeling up front when traversing square-edge hits. On fast gravel roads and rough wooded trails, the Ranger's suspension keeps things predictable and smooth. It's plush enough for all-day work and play, although it's not quite as supple as the Ranger XP 900, which seemingly lets you float over rough sections.
The suspension, light weight and abundant horsepower allow you to have a little more fun then you might expect from a working/hunting-focused machine. Just don't get too carried away in the whoops – this is a Ranger… not a RZR.
COMPETITION: Read our review of the Kawasaki Teryx 750
After spending some time in the Ranger XP 900, we found the interior of the 800 Mid-Size notably plainer and a bit less comfortable. As well, the 800's seat isn't as nicely padded and driver and passenger don't have much extra legroom. The interior isn't really objectionable – just don't ride your buddy's XP 900 and you won't feel left out.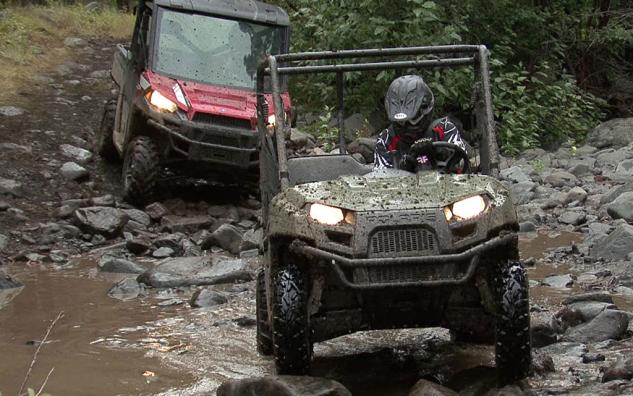 Compared to the full-size Ranger XP 900, the interior feels a little more cramped and less refined – understandable considering its price point.
Conclusion
For getting work done, the pieces are all play. The Ranger 800 Mid-Size can be easily transported to wherever you are working, camping or hunting since it fits in the bed of a full-size pickup truck. When you get there, the extra performance of the 800 will help you work or play harder.
With a base price of $10,499, the Ranger 800 is $1,000 less expensive then the base model Rhino 700 and $500 less then the base model Kawasaki Teryx 750 or Arctic Cat Prowler 700. The 800's price lacks the wow factor that the 400 delivers ($8,299), but it's still a class leader when it comes to price. The Ranger gives up a little attention to detail in order to bring big bore UTV performance within financial reach of more consumers. It's hard to argue with that.a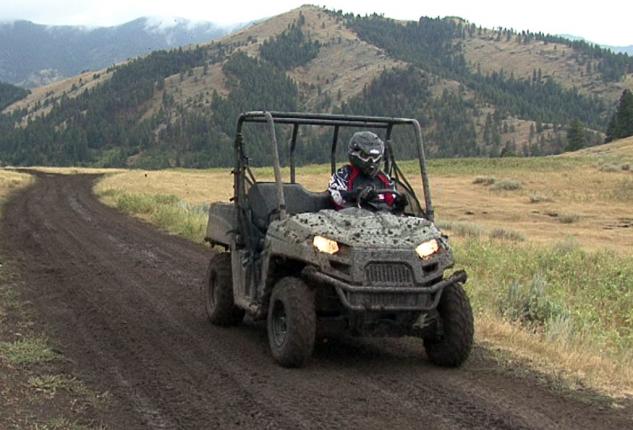 If you want big bore performance in a package small enough to fit in the back of your truck, the Polaris Ranger 800 EFI Mid-Size may be just what you need.
Published July 17th, 2013 10:53 AM
Top Brands
Popular Articles