246 Views
UTV Review: Can-Am Maverick X3 DS Turbo RR
September 28th, 2022 9:01 AM
Share
We're committed to finding, researching, and recommending the best products. We earn commissions from purchases you make using links in our articles. Learn more here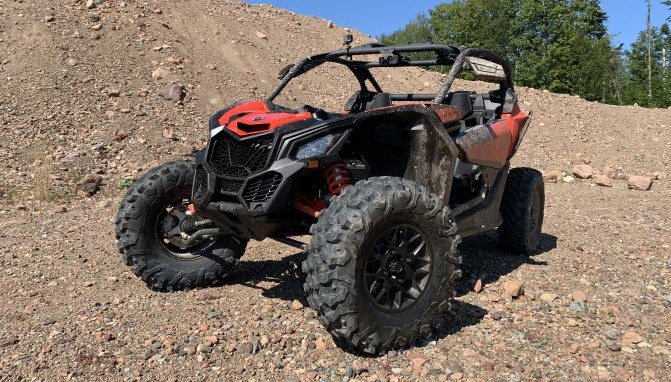 Not many years ago, UTVs and side-by-sides were the domain of farms and oilfields. Built like donkeys, most of those rigs got the job done slowly and methodically – and those of us who were around back then know these workhorses were often equally hard-looking as a stubborn donkey, too.
Heading into 2023, much has changed.
Consider this Can-Am Maverick X3 DS Turbo RR, a machine whose performance credentials are nearly as long as its official name. Can-Am was the first to break the 200-horsepower barrier in the side-by-side segment, doing so last year by stuffing their Maverick X3 with a 900cc turbocharged Rotax triple whose Freedom Whistle was cranked to eleven.
Shoving this much power up the nose of a lightweight UTV is not unlike putting an entire ghost pepper chili into a boiled egg: the effects are tremendous and immediate. A simple flex of the driver's big toe is enough to send the Maverick hurtling towards the horizon at incredible speed, lifting the 30-inch Maxxis Carnivore front tires as if they were feathers and not the dozens of pounds they are. All this mania is accompanied by the intoxicating sound of whistling turbo flutter if one lifts off the accelerator pedal ever so briefly, an effect magnified when – erm – turning rapidly in a circle.
Can-Am and Fox tag-teamed for the suspenders on this beast, creating a quartet of Fox 2.5 Podium QS3 piggyback shocks which can be adjusted to one of three settings: firm, medium, and couch potato. Seriously. The latter is pillowy soft, causing no shortage of body lean when cornering quickly on hard surfaces and the surprisingly easy ability to rotate the machine on fast loose gravel. Look up the term "lift-off throttle oversteer" on Wikipedia and you're likely to find a picture of this Maverick with its suspension in the softest setting hurtling around a bend at speed.
Of course, this setting is prime for desert running, where soft landings are a must and the need exists to iron out washboard surfaces. A full 20 inches of suspension travel plays well with this trait. The rest of us can click the dial (click all four, actually, since they need to be moved individually at each corner) to medium or firm. The difference in stability between soft and firm when whipping around the same loose gravel corner at the same speed is marked, so check the QS3 compression settings before heading out unless you fancy being surprised. Brakes are typical for the powersports industry in that drivers need to stomp on them for best results.
We've pontificated at length on this site about the brand's new pDrive transmission, so we'll spare you the details of how it manages to use rollers instead of ramps on its pulley to significantly reduce friction. The upshot is faster acceleration and deceleration compared to a non-pDrive machine, with the forward-looking estimates of better reliability and less maintenance. We can't speak to those long-term assertions but can say the Turbo RR engine spools up to power incredibly quickly and the readouts for belt temp never once strayed into troublesome territory – even with the extended use of a lead foot.
Complaints? Interior fit and finish is best described as 'solid if not outstanding' and, as with most Can-Am products these days, the competition comprehensively outplays it in the arena of on-board electronics. Despite its price tag, our tester was denuded of any audio gear whatsoever, nor did it have anywhere to charge a smart device save for an old-school 12V socket inconveniently and dangerously placed at the base of the windshield (or where the windshield would be if there was one) in a spot where a device could be easily damaged.
Yes, those sentences may make us sound like spoiled brats but the fact is that today's riders take devices with them not just for entertainment but as a matter of safety. Even outside cell service areas, comms tools like the latest iPhone can utilize the world's satellite network in case of an emergency – but can't do so if they're stone dead. That's why this writer takes the time to install a two-way radio such as one from the Midland's Micromobile series in rigs like this. Call it lingering paranoia from a childhood spent in rural areas or simply good forward thinking, a two-way radio will work when you need it. My preference leans towards radios like the MXT575 which have all their functions on the mic and a long cord reaching back to the base unit that I tend to mount somewhere near the battery where it won't get wet. It's easy and affordable insurance against being stranded with no communications.
Elsewhere in the Maverick X3's interior, look for a shift lever which is bound to nip your fingers when heaving it into park and a set of seats which are truly all-day comfortable. Can-Am has long been the king of storage in your author's eyes, managing to carve out deep and wide storage bins where other brands would permit wasted space. The steering wheel is just the right size for offering up a sporty-feeling tiller, wrapped with a material that does attract dust but is easy to clean. That statement goes for the rest of the interior as well, though it wouldn't kill the company to add a few extra drain plugs in the floorboards. All the same, most Mavericks will spend the majority of their time on sand so perhaps Can-Am has a point by not including them.
The *deep breath* Can-Am Maverick X3 DS Turbo RR *exhales* is an unabashed weapon of a UTV, packing a deep well of power which snarls and a suspension which can easily keep pace. With a mouth to match its trousers, this is an incredibly entertaining machine which knows its role and does it very well.
Photos: Matthew Guy Published September 26th, 2022 9:28 AM
Top Brands
Popular Articles