1 View
2015 Can-Am Maverick X Ds Turbo Review + Video
August 17th, 2015 2:59 PM
Share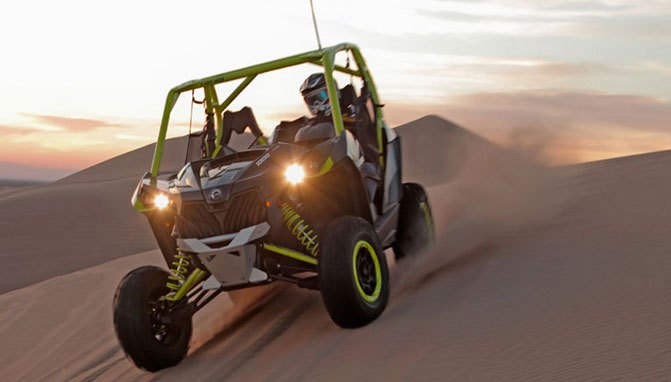 Turbocharged UTV is a game changer
Finally a power statement from an OEM that you can feel in the seat of your pants! The Can-Am Maverick X ds Turbo delivers power and excitement in spades.
For the past few years we have strapped on our helmet and squeezed the throttle on many machines making some big claims when it comes to increased power. Even though the dyno chart says it's there, sometimes it's hard to notice it in the driver's seat. This past week we spent some solid seat time in the Can-Am Maverick X ds Turbo that left us simply out of control and in some cases led us to throttle back to regain actual control. This thing cooks!
Get the Flash Player to see this player.
When BRP first unveiled its newest Can-Am Maverick, we were shocked to find the little surprise hidden just behind the seats under a visible intercooler. The first factory turbocharged machine is here and man it is impressive with a 121-horsepower claim that is a no-lag, tire-twisting beast.
We were chomping at the bit to get behind the wheel of the turbocharged Maverick X ds.
When we arrived at our hotel with other members of the off-road media in San Diego, the talk was in the air about the most powerful Side-by-Side our market has seen. What would it drive like? How could you get that power to be usable and not just explode under the foot? Would there be any usual turbo lag and disappointing bottom end droop to confuse the media into suspecting it was just another turbo disappointment? Some even asked "if it is good, what does this really mean for the future of factory produced machines?" We headed to the Imperial Sand Dunes, otherwise known as Glamis, the next day to the get the answers.
COMPARISON: Read our review of the 2014 Polaris RZR XP 1000
Taking a brief walk around the machine, it looks largely like just another Maverick 1000. However, BRP made some tweaks to this already successful platform to improve suspension and handling.
Beefy FOX 2.5 RC2 HPG piggyback shocks dole out 15 inches of travel up front and 16 inches in the back.
BRP redesigned the front double A-arms to give the Maverick X ds Turbo 15 inches of usable travel. For the back end the Torsional Trailing Arms also got some tweaking as travel was increased to 16 inches. When you think about what kind of shock absorbers would work well with this kind of projected acceleration and speed, you had to figure bigger would be better. BRP agreed and added on the FOX 2.5 RC2 HPG Piggyback shocks to settle the car in the rough terrain. These particular shocks have both High and Low speed compression adjustments, as well as rebound and preload, to give the owner what they need in ride comfort no matter what speed they choose to drive. The Chassis of this Turbocharged Maverick is a solid four inches longer than previous models, which contributes to the character of the handling as well.
BRP lengthened the chassis of the Maverick by four inches to help with the handling of the 121-horsepower UTV.
Getting to the excitement end of this machine, we found the 976cc fuel injected engine to be the hot topic. As stated above, the thoughts of a Turbo machine were kind of overshadowed by thoughts of past aftermarket turbo add-ons. The power of traditional turbos is usually slow to ramp up, but does fight back once the spool up is in progress. BRP engineers, however, should be commended as the Maverick X ds suffers from no turbo lag and the throttle responds extremely well from dead stop. This can be a combination of fuel mapping as well as boost pressures, which are variable from 0-8 psi on this machine. But whatever it took to get there, it will make the gear head in you very happy.
This is a look at the difference maker – the Maverick's turbocharger.
A secondary concern might be the clutch and belt that transfer the power to the ground. BRP did its homework and turned in a solid platform for 10 percent more power as well as 40 percent more torque for those rear wheels. With heat in a CVT being a concern, BRP also gave the box 68% more air to keep the stress level down inside that CVT cover. We tapped the throttle to the floor and climbed up the face of many long, steep dunes at Glamis without one inclination of a problem in the driveline.
COMPARISON: 2015 Can-Am Maverick X ds Turbo vs. Polaris RZR XP 1000 EPS
The Maverick comes with 28-inch Maxxis Big Horn 2.0 tires mounted on beadlock wheels, but even this well-regarded tire was no match for the turbo as we repeatedly spun them as the power just kept coming. Some editors were able to find a set of paddle tires to mount up on the beast during our testing and we can only imagine what the power felt like when it was really getting to the ground.
BRP wrapped 28-inch Maxxis Bighorn 2.0 tires around its beadlock wheels.
We don't spend a lot of time in the dunes, but we do appreciate the fact that this is yet another form of riding which gets drivers excited to make it to the weekend. Having experienced Glamis on both ATVs and Side-by-Sides, it did give us a better perspective on why this powerful machine was developed. Glamis is home to massive sand hills and getting enough power to get to the top is important. Nothing could be more nerve racking to a dune rookie then to have to turn out of a climb on a vertical face because the engine pushing you along just doesn't have the guts to huck you over the top. The turbo powered Maverick will save you that unfortunate feeling.
We found the Maverick X ds Turbo had plenty of go-juice to handle anything Glamis had to offer.
Our Maverick X ds only needed some shock tuning to really fit our taste and that is why BRP used a respected shock company like FOX. Our suspension started off soft in the factory settings, so after a quick chat these guys were on hand to click away on the shocks after each run. We figured about 10 70 mph runs through the rutted sand roads we had the suspension coming to us each pass we made with still enough comfort for long rides through the winding sand mountains.
Once we dialed in our suspension, the Maverick X ds Turbo hammered the whoops of Glamis beautifully.
Our trip to the sands of Glamis was made fun and enjoyable with an awesome new product in the Can-Am Maverick X ds Turbo and a great company that has really taken a step into a new world of power for this Side-by-Side industry. We can't wait to see what comes next.
Published October 27th, 2014 4:58 PM
Top Brands
Popular Articles