9 Views
2016 Polaris RZR XP Turbo EPS vs. Can-Am Maverick X ds Turbo
December 9th, 2015 12:12 PM
Share
We're committed to finding, researching, and recommending the best products. We earn commissions from purchases you make using links in our articles. Learn more here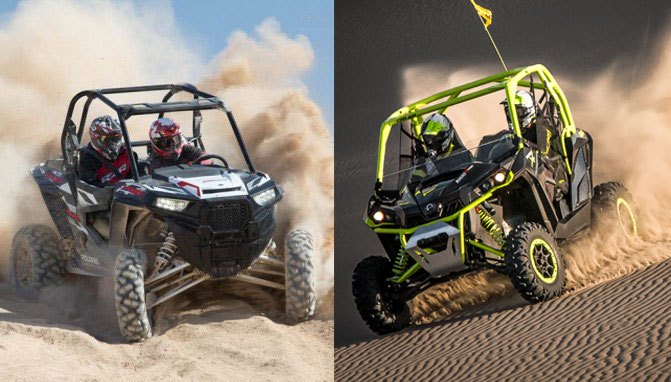 King of the Turbos
While some areas of the powersports industry seemed to have taken a dive in recent years, one segment that is experiencing no such decline is the Sport UTV segment. We've watched expectantly over the last several years as OEMs inched closer and closer to that 100 hp milestone only to see the bar reset and broken time and time again. Now it seems almost too good to be true as each new model brings with it advancements in not only horsepower but in innovation, design and technology.
We thought we'd take a minute to compare the two current UTV Sport class heavyweights and see how they stack up in an all out numbers comparison. Numbers can certainly be misleading, but they provide a great baseline for consumers to evaluate which vehicle makes the most sense for them.
Now is really a great time to be a UTV enthusiast and both the Polaris RZR XP Turbo EPS and Can-Am Maverick X ds Turbo offer significant performance and technology advancements over other vehicles on the market. While the RZR XP Turbo stands out in areas like horsepower and suspension travel, the Maverick X ds offers a few crucial blows of its own that make it a viable option.
Turbo Powered Sport UTV Specs Comparison
Can Am X ds Turbo Maverick




Polaris RZR XP Turbo
Price
$22,999
$24,999
Engine
976cc Fuel Injected In-Line Twin
925cc Fuel Injected V-Twin
Horsepower
131
144
Transmission
Quick Response System (QRS) CVT with high airflow, L/H/N/R/P
Automatic PVT P/R/N/L/H
Engine Braking
Yes
No
Wheelbase
88.0 in
90.0 in
Overall Dimensions (LxWxH)
117.3" x 64" x 74.2"
119" x 64" x 73.75"
Dry Weight
1,399 lbs
1,495 lbs
Front Tires
28 x 9 x 14 Maxxis Bighorn 2.0
29 x 9 x 14 Maxxis Bighorn
Rear Tires
28 x 11 x 14 Maxxis Bighorn 2.0
29 x 11 x 14 Maxxis Bighorn
Ground Clearance
13.0 in
13.5 in
Fuel Capacity
10.0 gal
9.5 gal
Front Suspension and Travel
Dual A-Arm 15"
Dual A-Arm w/Anti-Sway bar 16"
Rear Suspension and Travel
Torsional Trailing Arm Independent Rear Suspension (TTA) w/swaybar 16"
Trailing Arm w/ Anti-Sway Bar 18"
Front Shocks
FOX 2.5" PODIUM RC2 Piggyback w/Dual speed compression, rebound and dual rate spring preload adjustments
FOX 2.5" PODIUM Internal Bypass Shocks w/compression adjustment
Rear Shocks
FOX 2.5" PODIUM RC2 Piggyback with dual speed compression, rebound, dual rate spring preload adjustments and spring crossover, bottom out control
FOX 3.0" PODIUM Internal Bypass Shocks w/ compression adjustment
Front Brakes
Dual 220 mm ventilated disc brakes with hydraulic twin-piston calipers
Hydraulic Disc with Triple Bore Calipers
Rear Brakes
Dual 214 mm ventilated disc brakes with hydraulic single-piston calipers
Hydraulic Disc with Dual Bore Calipers
Lighting
240-W from four 60-W projectors with tail/brake lights
White LED, High/Low & Red LED Tail/Brake Lights
Instrumentation
Multifunction Analog/Digital display: Speedometer, tachometer, odometer, trip & hour meters, fuel indicator, gear indicator, spurred mode, ECO mode, seat belt, 2WD/4WD indicator, diagnostics, clock and auto shut off
Digital Display: Speedometer, tachometer, odometer, tripmeter, tachometer, coolant temperature, volt meter, hour meter, service indicator, clock, gear indicator, fuel gauge, hi-temp light, seatbelt reminder light and a DC Outlet
Driveline/Differential
Selectable 2WD/4WD with Visco-Lok QE auto-locking front differential
High Performance True On-Demand AWD/2WD
Bed Capacity
200 lbs
300 lbs
Power Steering
Tri-Mode Dynamic Power Steering (DPS)
Yes
Payload Capacity
N/A
740 lbs
Seating Capacity
2
2
For starters, the big news everyone is oohing and ahhing over is the incredible 144 horsepower, 925cc powerplant found in the new RZR XP Turbo EPS. Despite being more than 50cc smaller in displacement than the Maverick X ds Turbo, the redesigned engine in the RZR XP Turbo puts out an additional 13 ponies. History would suggest we can expect to see a revamped Maverick in the coming months that will likely raise the bar yet again, but if we're banking solely off horsepower numbers, the RZR XP Turbo is currently the reigning champion.
Pumping out a claimed 144 horsepower, the RZR XP Turbo EPS is currently the most powerful UTV available.
Both vehicles offer advanced clutching systems to get that horsepower to the ground. The Maverick X ds Turbo features a continuously variable transmission with a Zylon-reinforced belt for added strength and rigidity over a traditional belt, while the RZR features a redesigned clutch box to funnel more air towards a bigger clutch and larger belt. According to Polaris, the PVT clutch on the RZR XP Tubro is its strongest most durable clutching system to appear on a RZR yet.
Fuel delivery is made via electronic fuel injection on both models, though the Maverick X ds features Can-Am's patented Intelligent Throttle Control (ITC) technology. ITC is designed to detect inputs from unwanted bounces that might leave the driver's foot bouncing off the gas pedal and provide steady, even fuel delivery at all times.
Can-Am's Intelligent Throttle Control helps smooth out throttle input.
From a sheer size perspective, the RZR XP Turbo is a tad larger in virtually all aspects. At 1,495 pounds dry, the RZR XP Turbo is just over 100 pounds heavier than the Maverick X ds Turbo. Both vehicles measure the same 64 inches wide, but the RZR XP Turbo stretches two inches longer and provides a slightly longer wheelbase at 90 inches, compared to the 88 inches provided by the Mavericks X ds Turbo.
The RZR XP Turbo edges out the Maverick X ds Turbo by a mere 1/2 inch in ground clearance, most likely due to its larger Maxxis Big Horn tires. As is becoming almost a standard in the industry, both vehicles come factory equipped with Maxis Big Horn tires; the Maverick X ds Turbo with a 28" tall Bighorn 2.0 version and a 29" original Big Horn tire on the RZR XP Turbo.
Horsepower aside, suspension is the area where these two vehicles really shine and each one offers a few unique benefits over the other. On the RZR XP Turbo, Polaris incorporated the same FOX Internal Bypass shocks found on its FOX edition RZR released late last year. "The internal bypass technology uses five progressive zones to stiffen as the shock absorbs small to large hits," according to Polaris. Three additional zones of rebound dampening help manage top out and control the vehicle in rough terrain. Sixteen inches of front shock travel and 18 inches in the back is impressive, but we are a little disappointed to see only compression adjustment on the shocks. The internal bypass shocks are without question amazing technology, we'd just like to see a little more adjustment so the user can fine tune the ride exactly to their liking.
The Maverick X ds Turbo is set up a bit differently, making use of Can-Am's Torsional Trailing arm independent rear suspension. With 15 inches of travel up front and 16 inches in the rear, what it lacks in travel we feel it makes up for in adjustability, as the FOX Podium RC2 shocks offer both dual speed compression and rebound adjustment. It's an interesting phenomenon to witness OEMs change shock suppliers over the years, but it is evident that they are using advancements in technology as a key selling point to attract consumers.
All that added horsepower means on occasion you might need to slow it down in a hurry, which is why both machines offer robust brake packages. Polaris incorporated a new triple piston hydraulic caliper up front and uses the traditional dual piston hydraulic caliper in the rear. Thick 248mm rotors all the way around ensure the extra weight and horsepower can remain under control at all times. Four wheel hydraulic disc brakes can be found on the Maverick X ds Turbo as well, however, the Can-Am's brake package is not quite as robust with dual 220 mm ventilated rotors and twin piston calipers on the front and dual 214 mm ventilated rotors with single piston calipers on the rear of the vehicle.
These machines were purpose built for play and we can't imagine anyone even attempting to use one around the farm. But in the event you need to throw a cooler in for a day of duning, both have available cargo space in the rear, which is large enough to strap down a cooler with a 300-pound capacity for the RZR XP Turbo and a 200-pound capacity for the Maverick X ds Turbo.
Power steering is becoming less of an upgrade option and more of a standard feature and that's no exception on both of these vehicles. Can-Am's version of EPS, dynamic power steering (DPS), includes three stages of steering assistance. We find the option of adjusting the level of steering assistance to be a tip in the Maverick X ds Turbo's direction, because all situations do not call for power steering and sometimes driving without the assistance of power steering allows you to better feel the vehicle and the ground beneath.
Options are always good and that's a philosophy Can-Am seems to understand well as it offers three different versions of its turbo-powered Maverick, all at various price points and each with different features. Prices range from $20,399 for the base model Maverick Turbo up to $23,999 for the Maverick X rs Turbo and added features include upgraded color and trim options and even a Yoshimura exhaust package.
At this point Polaris has taken more of a one and done approach with the new RZR XP Turbo, offering one model available in three different color packages. New vehicles always carry with them a significant amount of hype so that may be why Polaris has yet to release another version of the RZR XP Turbo. Regardless, it doesn't appear to be slowing down the interest in the new vehicle.
If the devil is in the details for you, then a few other items worth mentioning are the fuel capacity (10 gallons on the Maverick X ds Turbo and 9.5 on the RZR XP Turbo) and elaborate instrumentation. The Polaris offers a digital display with the full range of indicators, including a speedometer, tachometer, odometer, trip meter, coolant temperature indicator, volt meter, hour meter, service indicator, clock, gear indicator, fuel gauge, hi-temp light, seatbelt reminder light, and DC Outlet. The Can-Am uses an analog speedometer and tachometer with a digital display for the odometer, trip & hour meters, fuel indicator, gear indicator, spurred mode, ECO mode, seat belt, 2WD/4WD indicator, diagnostics, clock, and auto shut off.
If night riding is your thing, four 60-watt projectors with tail and brake lights on the Maverick X ds Turbo will illuminate the night and front and rear LED's keep the RZR XP Turbo seeing clearly at all hours of the day.
While the Can-Am is slightly underpowered compared to the new RZR XP Turbo, all that extra power comes at a price. $2,000 may seem like a small amount to pay for more suspension travel and an extra 13 horsepower, but Can Am has made leaps and bounds in recent years to establish itself as a contender in the Sport UTV marketplace and you can be sure it won't be sitting by allowing Polaris to hang onto the horsepower title for long. Seth Fargher
Growing up in Oregon, most of Seth's involvement in the powersports world was limited to what he saw in magazines and videos. Following a brief stint in the corporate world, Seth took a flying leap (literally) and moved to California to pursue a career in freestyle motocross. Though short lived, the opportunity immersed him in the industry and is now a well-established off-road writer.
More by Seth Fargher
Published September 8th, 2015 2:19 PM
Top Brands
Popular Articles