12 Views
2018 Polaris RZR XP Turbo S vs. Can-Am Maverick X3 X RS Turbo R: By the Numbers
March 9th, 2018 11:12 AM
Share
We're committed to finding, researching, and recommending the best products. We earn commissions from purchases you make using links in our articles. Learn more here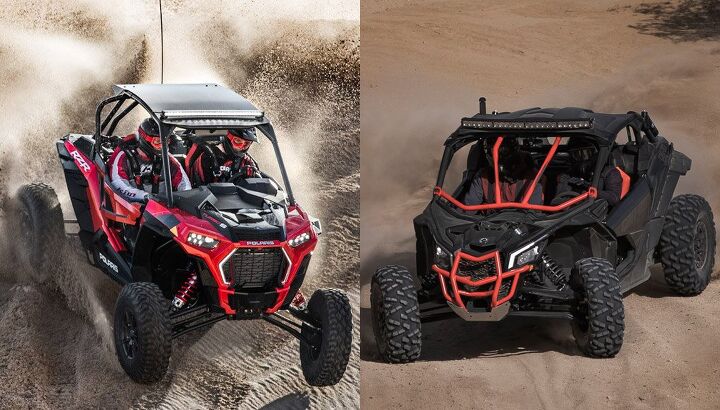 The new 2018 Polaris RZR XP Turbo S clearly has its sights set on the Can-Am Maverick X3 family, so we figured we'd see how they stack up…by the numbers.
And now, we know. Everyone has been wondering when Polaris was going to respond to Can-Am's amazing Maverick X3 machines. As we saw the folks at BRP refine and update the X3 models even further, we all wondered when Polaris would respond. The two brands have been locked in a performance war for several years. Of course, we've all be reaping the benefits with some of the most powerful and best handling machines ever produced. Not long ago, Can-Am pulled the covers off the latest X3 monster – the X RS Turbo R. This added new technologies to the already proven platform. And then Polaris dropped the bombshell with the new RZR XP Turbo S. Business is picking up, my friends. Let's take a closer look.
| | | |
| --- | --- | --- |
| | 2018 Polaris RZR XP Turbo S | 2018 Can-Am Maverick X3 X RS Turbo R |
| Price | $27,499 | $26,899 |
| Engine | 925cc ProStar Turbo H.O.; 4-Stroke DOHC Twin Cylinder Turbocharged | Rotax ACE 900cc Turbocharged Triple-cylinder engine, liquid cooled with integrated intercooler and Donaldson† high-performance air filter |
| Horsepower | 168 | 172 |
| Driveline/Differential | Isolated Xtreme Performance True On-Demand AWD/2WD | Selectable 2WD / 4WD with Visco-Lok X auto-locking front differential |
| Transmission | Automatic PVT P/R/N/L/H | Quick Response System X CVT with high airflow, L / H / N / R/ P |
| Wheelbase | 90.0 in | 102.0 in |
| Overall Dimensions (LxWxH) | 122 x 72 x 75 in | 132 x 72 x 67 in |
| Dry Weight | 1,718 lbs | 1,589 lbs |
| Front Tires | 32 x 10-15; ITP Coyote (8-Ply Rated) | Maxxis Bighorn 2.0 30 x 10 x 14 in |
| Rear Tires | 32 x 10-15; ITP Coyote (8-Ply Rated) | Maxxis Bighorn 2.0 30 x 10 x 14 in |
| Ground Clearance | 16.0 in | 15.0 in |
| Fuel Capacity | 9.5 gal | 10.5 gal |
| Front Suspension | High-Clearance Dual A-Arm with Stabilizer Bar and 24.8″ Usable Travel & 19″ Wheel Travel with 2.5″ FOX Podium Internal Bypass Shocks with Live Valve | Trophy truck inspired Double A-arm with sway bar 22 in. FOX 2.5 Podium RC2 Piggyback with bypass, dual speed compression and rebound adjustments |
| Rear Suspension | Trailing Arm with Stabilizer Bar and 24.8″ Usable Travel & 21″ Wheel Travel with 3.0″ FOX Podium Internal Bypass Shocks with Live Valve | 4-link Torsional Trailing-arm X (TTX) with sway bar 24 in. FOX 3.0 Podium RC2 remote reservoir with bypass, dual speed compression and rebound adjustments |
| Front/Rear Brakes | 4-Wheel Hydraulic Disc with Triple-Bore Front and Dual-Bore Rear Calipers | Hydraulic Discs with Triple Bore Front Calipers |
| Bed Capacity | 300 lbs | 300 lbs |
Baby Got Back
There are several thresholds of widths in the UTV world. There are the narrow 50-inch machines, the common 60-inch class and the 64-inch machines that have been the performance machines for a long time. When the X3 came out, a new normal hit us – 72 inches. Of course, when you're pushing the limits of horsepower, you want as much stability as you can muster. This meant it wasn't a surprise to anyone that the new Turbo S model from Polaris also measures out at 72 inches in width.
Am I the only one out there who thinks it's a little off that Polaris labeled the new wider performance machine the Turbo S? If you look at other RZRs with an "S" designation, they are narrower. This machine is definitely NOT narrower. Don't let it confuse you at all.
And the Kitchen Sink
Can-Am brought out Smart-Lok, a new fully lockable on-the-fly front dif with several automatic modes that are preset to specific conditions. The exclusive Smart-Lok technology was developed with TEAM Industries, a company that is well known in the off-road drivetrain world. It is a true full- lock on-the-fly front differential with electronically-controlled automatic modes, or with the press of a button, preset, intelligent calibrations for your type of riding. Smart Mode instantaneously engages the dif-lock with the right load at the moment you need it. This added to the X3's 172 horsepower ACE triple, Fox Shocks with 24 inches of travel and precision handling.
Polaris looked at this and said, "Oh yeah?" They started with a 168-horsepower Turbo 925cc ProStar twin. To that, they added a new Extreme Performance OnDemand all-wheel drive system that works with the all-new machine for optimal traction. They added Fox Podium shocks with their Dynamix Active Suspension System. The shocks have 19-inches of travel in the front and 21 inches in the rear. However, Polaris claims 24.8 inches of "usable travel" in front and rear. This might come from the massive 32-inch ITP Coyote tires and 16 inches of ground clearance.
The interior of the new RZR is all new as well. It is all designed around the driver, making optimal control easier and more intuitive. Not that RZRs were bad in the past, but Can-Am has made huge strides with its Ergo-Lok cockpits to make going fast over rough terrain easier on the driver. It makes sense that Polaris would match that. You'll also find sweet four-point seatbelts in the RZR to keep you safe. Polaris also threw in its amazing Ride Command system to give you even more control.
What's Next?
Now that Polaris has closed the gap in performance and handling with their premier performance machines, that begs the question, what's next? Will Can-Am respond? Does it need to? Will Textron jump into the fight with a variant of the XX? We all know Arctic Cat was working on that too, not long ago. How about Yamaha and the YXZ? Yamaha already owns the horsepower title on the snowmobile side, and that isn't a hard transition. Maybe it'll be something new we don't have any ideas on yet?
These are fun times to be a fan of performance side-by-sides. The only limitations are costs. The Can-Am X3 X RS Turbo R starts out at $27,499 for the Smart-Lok model. That's the exact same MSRP for the Polaris RZR XP Turbo S with all its goodies. Not cheap for either machine, but when you want to haul the mail across any terrain, and want the best, one of these two titans is the way to go. Which one do you want? Derrek Sigler
Derrek's love for all things ATV started when he was a mere 11 years old, growing up on his family farm. His mom gave him and his sister a choice - get a horse, or a three-wheeler. The sister wanted the horse, and Derrek wanted the ATV. Luckily he won out, and was soon burning up the trails on a Yamaha Tri-Moto 200. By the time he was 14, he had saved enough of his own money by working on the farm and in his folks restaurant to buy a new 4-wheeler. That happened the day he and his mom were driving past the dealership and saw 1987 Banshee. His mom had no idea what he was buying, and he never looked back. He's been riding ever since, and been writing professionally for many years. He has ridden all over North America and been behind the controls of just about every machine out there. And yes, he still has his 1987 Yamaha Banshee.
More by Derrek Sigler
Published March 9th, 2018 11:12 AM
Top Brands
Popular Articles