2 Views
2019 Polaris RZR XP 4 Turbo S vs. 2019 Can-Am Maverick X3 MAX X rs Turbo R: By the Numbers
September 14th, 2018 4:59 PM
Share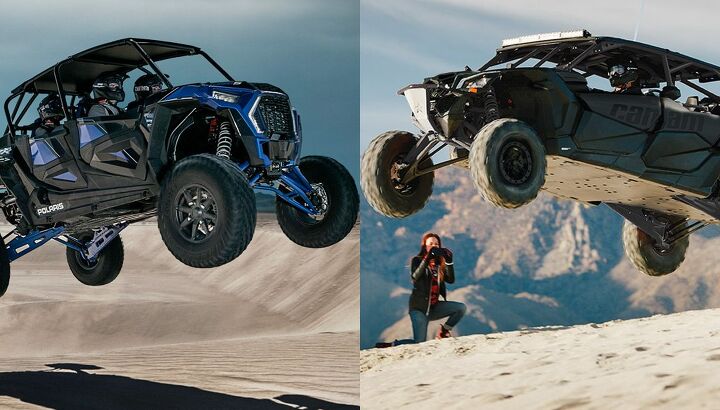 The 2019 Polaris RZR XP 4 Turbo S and Can-Am Maverick X3 MAX X rs Turbo R are the ultimate four-seat Sport side-by-sides.
When you absolutely, positively have to go as fast as possible across the nastiest terrain, and you want to take three friends with you for the ride of their lives, the search ends with the 2019 Polaris RZR XP 4 Turbo S and Can-Am Maverick X3 MAX X rs Turbo R.
When Can-Am released the Maverick X3 machines, to say that the industry took notice is an understatement. Polaris had the potent and amazing RZR Turbo models, but there was no direct competitor from the Minnesota company for the extreme 72-inch behemoth from the folks at BRP. When the RZR XP Turbo S came out not long ago, we finally had the answer from Polaris in the two-seat ring, but what about the four seaters? Can-Am's X3 MAX basically owned the extreme 4-seat segment, but that all changed recently with the arrival of the new 2019 Polaris RZR XP 4 Turbo S, the new extreme performance four-seat UTV from Polaris that will be giving the X3 a run for your money. Which one should you want? Let's take a look, by the numbers, to see how the stack up on paper.
HOOOORSE-POW-AH!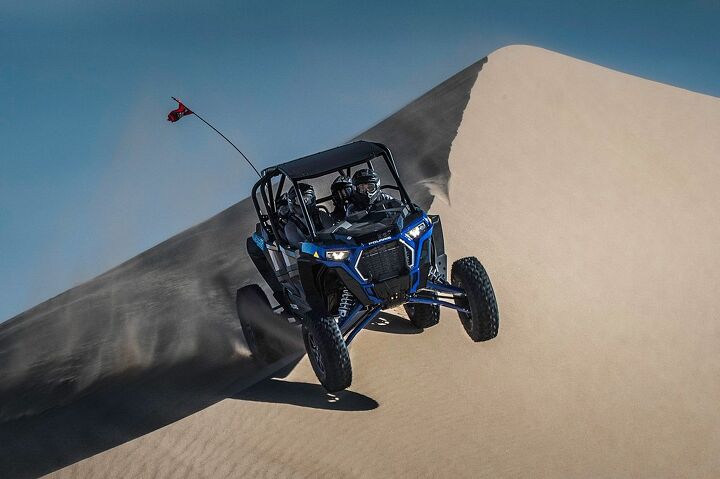 The new Polaris has its 925cc twin-cylinder ProStar Turbo High-Output DOHC engine. It is rated for 168 horsepower that runs out through the Polaris PVT belt transmission. The motor feeds the newer isolated Extreme Performance On-Demand All-Wheel Drive system that gives you true all-wheel drive performance while letting you take full advantage of the power output of the motor.
Can-Am feeds your need for speed with a 172 hp, Rotax ACE (Advanced Combustion Efficiency) 900cc turbocharged, three-cylinder engine that is liquid-cooled with an integrated intercooler and a Donaldson high-performance air filter system. It is fed by high-performance fuel injection and a drive-by-wire throttle assembly that lets you select different mapping for driving conditions and styles. Polaris has something similar in the Turbo S. The motor feeds an extreme quick-response CVT transmission. As for the differential, the Can-Am has a lockable front differential with their Smart-Lok technology. Smart-Lok is a true, four-mode traction system with 2WD, 4WD with front diff. lock, 4WD TRAIL ACTIV, and 4WD TRAIL.
Suspension Attention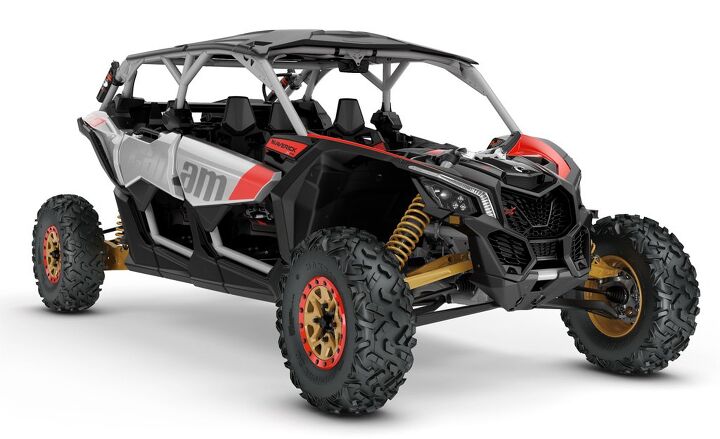 The Can-Am X3 has suspension inspired by trophy trucks. Dual A-arms with 22 inches of travel and Fox 2.5 Podium RC2 Piggyback shocks with bypass, dual speed compression and rebound adjustments handle the chores up front. Out back, a four-link Torsional Trailing-arm X (TTX) setup with a sway bar and 22-inch Fox 3.0 Podium RC2 shocks with remote reservoirs and bypass, dual speed compression and rebound adjustments keeps you floating across the terrain. Anyone who has ridden in an X3 MAX knows how awesome the suspension is.
The 2019 Polaris RZR XP 4 Turbo S has all the goodies that make Polaris so popular. It starts with Dynamix active suspension. This system electronically controls and adjusts the shock settings on the fly and instantaneously, adapting to the terrain and your driving style. High-clearance dual A-arms with 25 inches of travel from Fox 2.5 Podium Internal Bypass Shocks with the Dynamix Live Valve handles the front duties. The rear of the Turbo S has trailing arm suspension with high-clearance radius rods and a stabilizer bar. This combines for 25 inches of travel from Fox 3.0 Podium shocks with the Live Bypass system. The system can be controlled through the Polaris Ride Command system which is standard equipment on the RZR 4 Turbo S. Yeah, you get all that AND Ride Command!
But Wait, There's More!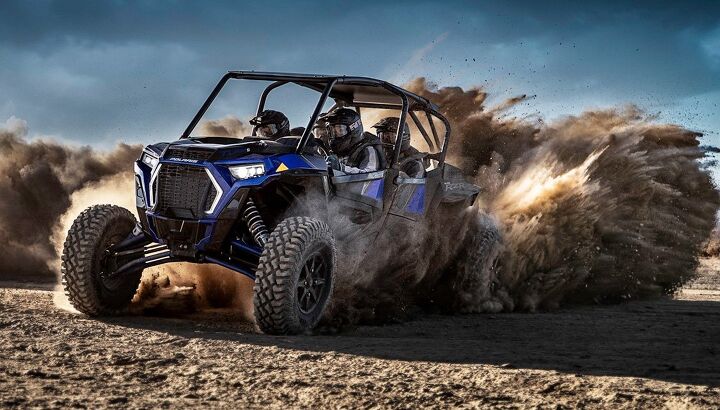 The Can-Am has 14 inches of ground clearance and full skid plates. The RZR also has full skid plates and offers up 16 inches of ground clearance. That extra two inches of clearance comes from the 32-inch ITP Coyote tires that are extremely durable thanks to 8-ply construction. The Can-Am rolls on 30-inch Maxxis Bighorn 2.0 radials that are legendary for toughness.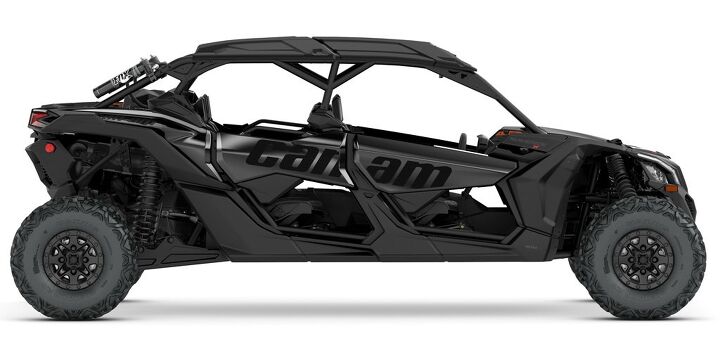 Honestly, these are two amazing 72-inch extreme performance machines that anyone would find thrilling. Each has elements that offer advantages, such as Can-Am's Smart-Lok and Polaris' Dynamix and Ride Command. The Can-Am Maverick X3 MAX X rs Turbo R starts out at $29,899. The Polaris RZR XP 4 Turbo S will hit you for $30,499.
Published September 14th, 2018 4:59 PM
Top Brands
Popular Articles