4 Views
2018 Can-Am Maverick X3 X RC Turbo R vs. Polaris RZR XP 1000 Trails and Rocks Edition: By the Numbers
January 22nd, 2018 2:02 AM
Share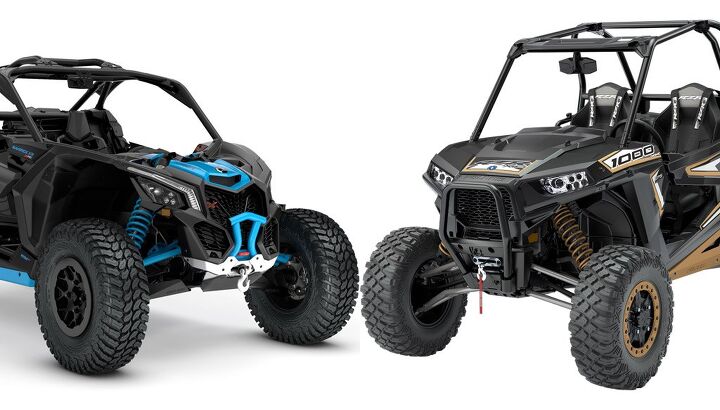 The 2018 Can-Am Maverick X3 X RC Turbo R and Polaris RZR XP 1000 Trails and Rocks Edition are a pair of rock crawling warriors. Let's see how they compare…by the numbers.
The high-performance UTV scene has a lot of heavy hitters that inspire a serious aftermarket lineup of specialized parts to suit specific needs. From this, we get some amazing custom builds for things like desert running and playing in the mud. One area that has inspired a lot of innovative builds in rock crawling. These builds and the strong market for them was enough to inspire two of the biggest names in the business to produce factory-edition rock-crawling beasts ready to take on the most technical and challenging rides.
| | | |
| --- | --- | --- |
| | 2018 Polaris RZR XP 1000 Rocks and Trails Edition | 2018 Can-Am Maverick X3 X RC Turbo R |
| Price | $22,499 | $28,999 |
| Engine | 999cc ProStar Turbo H.O.; 4-Stroke DOHC Twin Cylinder | Rotax ACE 900cc Turbocharged Triple-cylinder engine, liquid cooled with integrated intercooler and Donaldson† high-performance air filter |
| Horsepower | 110 | 172 |
| Driveline/Differential | Xtreme Performance True On-Demand Close Ratio AWD/2WD with Enhanced Low Gear Throttle Driveability | Selectable 2WD / 4WD with Visco-Lok‡ X auto-locking front differential |
| Transmission | Automatic PVT P-R/N/L/H (Gated Shifter) with Reduced L Gear | Quick Response System X (QRS-X) CVT with high airflow, L / H / N / R / P |
| Wheelbase | 90.0 in | 102.0 in |
| Overall Dimensions (LxWxH) | 120 x 64 x 74.25 in | 133 x 72 x 67 in |
| Dry Weight | 1,567 lbs | 1,751 lbs |
| Front Tires | 30 X 10 – 14; Pro Armor Crawler XG | 30 x 10 – 14; Maxxis Liberty |
| Rear Tires | 30 X 10 – 14; Pro Armor Crawler XG | 30 x 10 – 14; Maxxis Liberty |
| Ground Clearance | 14.0 in | 15.0 in |
| Fuel Capacity | 9.5 gal | 10.5 gal |
| Front Suspension | High Clearance Lower Control Arms, Dual A-Arm with Stabilizer Bar and 16 in (40.6 cm) Travel | Trophy truck inspired double arched A-arm with sway bar / 22-in. (55.9 cm) travel |
| Rear Suspension | High Clearance Radius Rods, Trailing Arm with Stabilizer Bar and 18 in (45.7 cm) Travel | 4-link Torsional Trailing-arm X (TTX) with sway bar and arched lower links, 24-in (61 cm) travel |
| Front/Rear Brakes | 4-Wheel Hydraulic Disc with Dual-Bore Front and Rear Calipers | 4-wheel ventilated disc brakes with hydraulic twin-piston calipers |
The Players
Polaris was the first when it released the RZR XP 1000 Trails and Rocks Edition machine. When it first debuted two years ago, it was listed as a rock crawler. Polaris added the trails part to the name because as people used the machine, it found its specialized characteristics worked exceptionally well for advanced trail riding, too.
Can-Am stunned the industry with the X3 machines, and recent developments have led to a new edition, the Can-Am Maverick X3 X RC Turbo R. This 172-horsepower monster is equipped with advanced suspension and since you're buying one, you might as well opt for the version available with the new Smart-Lok differential.
Going Head to Head
I'm not going to sit here and try to compare the engines right across the board. To see all the stats just look at the specs above. Yes, the Polaris runs a naturally-aspirated 110 hp Twin compared to Can-Am's 172 hp triple with a turbo. It's not even close. Let's instead use this pace to talk about the stuff that isn't in the specs.
New to On Demand
The RZR has some impressive stuff. For starters, how about a 55% lower low-range transmission for exceptional control in the tight stuff and an improved application of the engine's torque to the wheels? Good stuff. Then Polaris added its improved Xtreme all-wheel drive system, which is the first major change to the company's On-Demand system in years. It remaps the differentials for improved traction control.
Polaris also added special low-speed throttle mapping to the digital throttle system for precise control. Polaris beefed up the front half-shafts, rock sliders and additional skid plates, and 30-inch Pro Armor Crawler XG tires. To aid in vision for the driver and spotter, the front fender flares are angled to aid the sight lines and a rear-view mirror helps with backing up, a much-needed addition thanks to the inclusion of click-6 seatbelt harnesses.
Smart Lok'in and Poppin'
The Can-Am has its own list of specialized equipment that make it a traction-grabbing monster. The big news is Smart-Lok, the company's new fully lockable on-the-fly front differential with preset automatic modes set up for specific conditions. These modes electronically-controlled and fully automatic, or with the press of a button the system switches to intelligent calibrations for your type of riding. Using multiple inputs, the Smart Mode instantaneously engages the dif-lock with the right load precisely when you need it.
The X3 X RC Turbo R rolls on 14-inch beadlock rims with 30-inch Maxxis Bighorn 2.0 tires. A full roof and four-point safety harnesses to keep you comfortable and secure. Full, heavy-duty HMW skid plates protect the underbelly. Up front, there are Fox Podium 2.5 remote reservoir shocks riding on dual A-arms. Out back are new Fox Podium 3.0 remote reservoir shocks riding on a TTX four-link torsional trailing arm setup. All the shocks have 22-inches of travel and dual-speed compression and rebound adjustments. Sway bars keep things stable
If extreme terrain and rocks call to you, there are a couple of new options for you that will make you the master of the rocks. Is one better than the other? Honestly no, they're both a lot of fun. The engines are vastly different, and that can make an impact on your decision if horsepower is what you want. The Can-Am Maverick X3 X RC Turbo R starts at $28,999. The Polaris RZR XP1000 Trails and Rocks Ed. Comes in at $22,499. Pick your machine and ride!
Published January 22nd, 2018 2:02 AM
Top Brands
Popular Articles