1 View
2018 Can-Am Maverick X3 900 HO vs. Polaris RZR XP 1000: By the Numbers
December 7th, 2017 10:58 AM
Share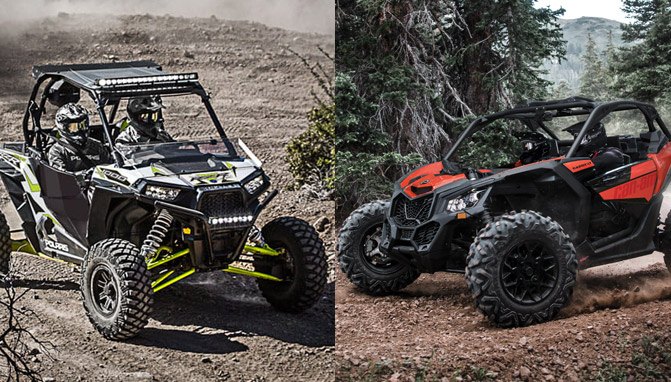 We wanted to see how the new 2018 Can-Am Maverick X3 900 stacks up against the Polaris RZR XP 1000.
It seems that about every week, one of the manufacturers reveals another new model. I'm not complaining, mind you. I love it, and I'm sure you do too. Can-Am has been on fire lately with a pile of new models, the most recent being the somewhat quiet addition of the new Can-Am Maverick X3 900 HO, a slightly more budget-friendly version of its top-shelf performance UTV. The whole purpose of these By the Numbers articles is to answer the common question people have – how does machine A compare to Machine B. In the case of the new X3 900, the closest machine from a competitor is the Polaris RZR XP 1000. Why not the RZR 900? Keep reading and you'll see.
| | | |
| --- | --- | --- |
| | 2018 Can-Am Maverick X3 900 HO | 2018 Polaris RZR XP 1000 |
| Price | $17,999 | $17,999 |
| Engine | 900cc Triple | 999cc Twin |
| Horsepower | 90 | 110 |
| Driveline/Differential | Selectable 2WD / 4WD with Visco-Lok X auto-locking front differential | High Performance True On-Demand AWD/2WD |
| Transmission | Quick Response System X(QRS-X) CVT with high airflow, L / H / N / R / P | Automatic PVT P/R/N/L/H |
| Wheelbase | 102 in | 90 in |
| Overall Dimensions (LxWxH) | 131 x 64 x 65 in | 119 x 64 x 73.75 in |
| Dry Weight | 1,470 lbs | 1,369 lbs |
| Front Tires | Maxxis Bighorn 2.0 27 x 9-14 in | 29 x 9-14; Maxxis Bighorn |
| Rear Tires | Maxxis Bighorn 2.0 27 x 11-14 in | 29 x 11-14; Maxxis Bighorn |
| Ground Clearance | 13.0 in | 13.5 in |
| Fuel Capacity | 10.5 gal | 9.5 gal |
| Front Suspension | Double A-arm with sway bar 18-in. (45.7 cm) travel | Dual A-Arm 16 in (40.6 cm) Travel |
| Rear Suspension | 4-link Torsional Trailing-arm X (TTX) with sway bar 18-in (45.7 cm) travel | Trailing Arm with Stabilizer Bar and 18 in (45.7 cm) Travel |
| Front/Rear Brakes | Four ventilated disc brakes with hydraulic twin-piston calipers | 4-Wheel Hydraulic Disc with Dual-Bore Front and Rear Calipers |
| Bed/Rack Capacity | 200 lbs | 300 lbs |
Power
So, the Can-Am Maverick X3 900 runs a three-cylinder engine, just like the rest of the X3s. In this case it is a 900cc specially tuned Rotax that pumps out 90 horsepower. The X3 900 HO is designed as a lower cost version of the X3, so those who want the suspension, handling and styling of the machine can save a few bucks. Being a triple, the engine should have a healthy roar and a broad power delivery.
Polaris runs a 999cc ProStar Twin in the RZR XP that pumps out 110 horses. By comparison, the RZR 900 runs on a 75-horsepower motor that just doesn't quite hang with the X3. The XP 1000 is pretty close to what you'd get in the Can-Am, power wise.
Both machines run on a CVT-type automatic transmission with Polaris running its standard PVT system and Can-Am outfitting the X3 with the QRS-X Quick Response System-X CVT that has increased airflow.
Suspension
The Can-Am X3 line quickly made heads turn with amazing suspension. We've all seen the video of the X3 pounding through some dessert whoops. For the 900 HO, Can-Am equipped it with 2.5-inch Fox Podium shocks with 18 inches of travel front and rear. The front shocks ride on dual A-arms, while the rear floats on torsional trailing arms with the TTA X designed set up for extreme performance. Front and rear sway bars were added to reduce body roll and improve cornering.
The RZR XP 1000 comes set up with 2-inch Walker Evans Racing 16-position adjustable needle shocks. There re 16 inches of travel in the front and 18 in the rear. The front rides on dual A-arms and the rear is set up on trailing arms. Both ends have stabilizer bars for handling.
And More…
Both machines run Maxxis Bighorn 2.0 tires, with the Can-Am running 27-inch rubber and the RZR rolling on 29s.
Both machines are 64 inches wide. The Can-Am Maverick X3 900 is longer at 131 inches compared to the Polaris RZR XP 1000's 119 inches. The RZR has the height advantage at 73.75 inches tall to the Can-Am's 65.
When it boils down to the ultimate decider for some – cost – it's a tie. Both machines have an MSRP of $17,999. Still can't decide? Get to your local dealer and see them for yourself.
Published December 4th, 2017 5:30 PM
Top Brands
Popular Articles