12 Views
2018 Can-Am Maverick Trail 1000 DPS vs. Polaris RZR 900 EPS: By the Numbers
October 10th, 2017 11:01 AM
Share
We're committed to finding, researching, and recommending the best products. We earn commissions from purchases you make using links in our articles. Learn more here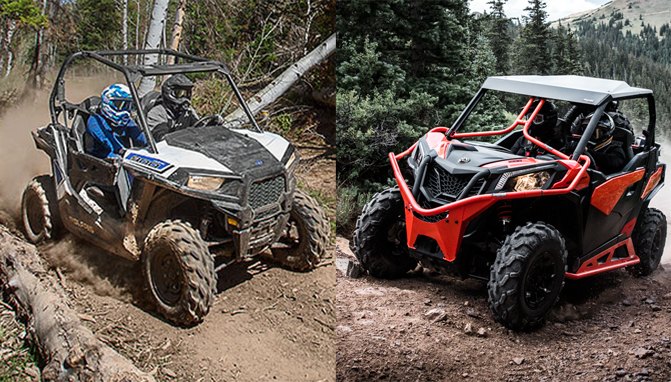 When BRP unveiled the 2018 Can-Am Maverick Trail 1000 DPS, it was built to go up against another 50-inch Sport Side-by-Side – the Polaris RZR 900 EPS.
Side-by-Sides have proven to be an amazing platform for exploring the wild, and doing so with a big smile on your face. It is made all the better by being able to share that fun with a passenger. As machines got bigger, the fun factor went higher and higher. There was a problem, however, that put a damper on things. Many ATV trails across North American were limited to machines that met the measurements of the standard ATV – 50 inches.
Most of the top performance Side-by-Sides started out around 60 inches and went up from there. Polaris, however developed its RZR lineup to include a 50-inch wide machine that was big on fun and narrow on width. Arctic Cat followed suit, and folks wondered if Can-Am would ever go that route, especially knowing how much performance they were packing into the Maverick X3 lineup. The wait is now over, as the 2018 Can-Am Maverick Trail 1000 DPS is here and ready to hit the trails. Let's see how it stacks up against the 2018 Polaris RZR 900 EPS…by the numbers.
| | | |
| --- | --- | --- |
| | 2018 Can-Am Maverick Traril 1000 DPS | 2018 Polaris RZR 900 EPS |
| Price | $14,799 | $14,799 |
| Engine | 976cc V-Twin | 875cc Twin |
| Horsepower | 75 | 75 |
| Driveline/Differential | True 4 modes traction system: 2×4 open rear dif., 2×4 locked rear dif., 4×4 open rear dif., 4×4 locked rear dif. Visco-Lok QE auto-locking front dif. | High Performance True On-Demand AWD/2WD |
| Transmission | Quick Response System T (QRS-T) CVT with high airflow ventilation and Electronic Drive Belt Protection Extra-L / H / N / R / P | Automatic PVT P / R / N / L / H |
| Wheelbase | 90.6 in | 79.0 in |
| Overall Dimensions (LxWxH) | 118 x 50 x 69 in | 105 x 50 x 69.5 in |
| Dry Weight | 1,364 lbs | 1,176 lbs |
| Front Tires | Carlisle ACT 26 x 8 x 12 in | 26 x 8-12; PXT |
| Rear Tires | Carlisle ACT 26 x 9 x 12 in. | 26 x 9-12; PXT |
| Ground Clearance | 10.0 in | 11.0 in |
| Fuel Capacity | 10.0 gal | 9.5 gal |
| Front Suspension | Double A-arm with sway bar / 10 in. (25.4 cm) travel | Dual A-Arm with Stabilizer Bar 10 in (25.4 cm) Travel |
| Rear Suspension | TTA-T with sway bar / 10.5 in. (26.7 cm) travel | Dual A-Arm with Stabilizer Bar 10 in (25.4 cm) Travel |
| Front/Rear Brakes | Four 220 mm ventilated disc brakes with hydraulic twin-piston calipers | Four-Wheel Hydraulic Disc with Dual-Bore Front and Rear Calipers |
| Bed Capacity | 300 lbs | 300 lbs |
Let the Ponies Run Wild
Can-Am has two engine platforms for the Maverick Trail. The 800 Rotax Twin pumps out 51 horsepower and the bigger 1000-class 976cc Rotax V-Twin produces 75 ponies. It comes with electronic fuel injection and a CVT transmission. The differentials are front and rear locking with the Visco-QE auto-locking front diff. In other words, Can-Am doesn't want you to get stuck with the new Trail. You can get it without power steering if you want. It also comes with electronic hill decent control engine braking.
Polaris runs its 875cc ProStar twin cylinder engine platform that also runs on electronic fuel injection. This motor pumps out a similar 75 horsepower. It runs through Polaris' On Demand all-wheel drive system. This system has been widely used on this and other RZR models for some time and works flawlessly. It comes standard with Polaris' engine braking system, making it a great overall trail machine too.
Going Boingers
After the success of the Can-Am Maverick X3, you'd be right to expect amazing suspension on the Trail. Can-Am Maverick Trail runs 10 inches of travel at each corner with dual A-arms and a stabilizer bar up front and their tried and true torsional trailing arm system on the rear, also with a sway bar. Sway bars are vital to 50-inch machines to counteract body roll from the wheelbase.
The Polaris RZR 900 also runs 10 inches of travel at the corners. It too has dual A-arms on the front with a sway bar and the same can be said for the rear set up. This makes the RZR as well as the Maverick handle the tight trails with ease
What else do you want to know?
The Can-Am Maverick Trail has full half doors, compared to the RZR's ¼ door. It also has a 2-inch receiver with 1,500 lbs of towing capacity. The RZR has Polaris' 1-1/4 inch receiver that can also tow 1,500 pounds. Both machines are rated for 300 pounds of cargo capacity in the bed. They both run 26-inch tires on 12-inch wheels. Finally, both the Can-Am Maverick Trail 1000 DPS and Polaris RZR 900 EPS share the same $14,799 MSRP. Derrek Sigler
Derrek's love for all things ATV started when he was a mere 11 years old, growing up on his family farm. His mom gave him and his sister a choice - get a horse, or a three-wheeler. The sister wanted the horse, and Derrek wanted the ATV. Luckily he won out, and was soon burning up the trails on a Yamaha Tri-Moto 200. By the time he was 14, he had saved enough of his own money by working on the farm and in his folks restaurant to buy a new 4-wheeler. That happened the day he and his mom were driving past the dealership and saw 1987 Banshee. His mom had no idea what he was buying, and he never looked back. He's been riding ever since, and been writing professionally for many years. He has ridden all over North America and been behind the controls of just about every machine out there. And yes, he still has his 1987 Yamaha Banshee.
More by Derrek Sigler
Published September 29th, 2017 4:39 PM
Top Brands
Popular Articles