19 Views
2019 Can-Am Maverick Sport DPS 1000R vs. Polaris RZR S 1000: By the Numbers
April 6th, 2018 3:27 PM
Share
We're committed to finding, researching, and recommending the best products. We earn commissions from purchases you make using links in our articles. Learn more here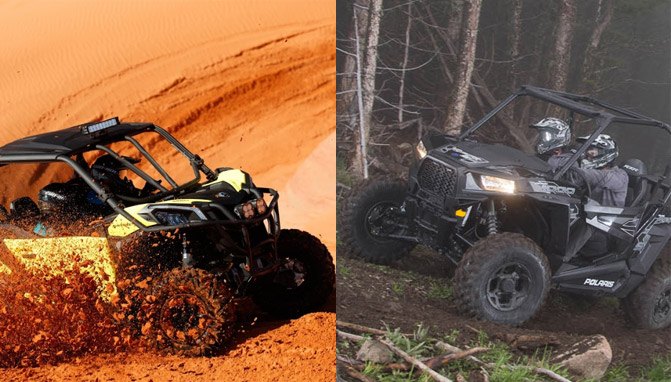 Both the 2019 Can-Am Sport DPS 1000R and Polaris RZR S 1000 are versatile 60-inch sport machines boasting 100-horsepower engines and a trail-friendly stance. Let's see how they compare head-to-head by the numbers.
Of the width thresholds that seem to be the norm of the UTV world, it is perhaps the 60-inch wide market that is the most versatile. At 60 inches, the machine will fit on most trail systems and still be a stable-enough platform to handle higher speeds and more aggressive driving. Polaris has had great success in the category with the 60-inch wide RZR S, offered both as a 900 and a 1000. Both of those machines have excellent handling and suspension to go with ample amounts of power. Can-Am, hot off the success of the amazing Maverick Trail, recently launched the new 2019 Can-Am Maverick Sport, the latest 60-inch performance machine to hit the market. Let's get ready to rumble!
| | | |
| --- | --- | --- |
| | Can-Am Maverick Sport DPS 1000R | Polairs RZR S 1000 |
| Price | $17,999 | $17,999 |
| Engine | 976cc V-Twin | 999cc Twin |
| Horsepower | 100 | 100 |
| Driveline/Differential | Selectable 2WD / 4WD with Visco-Lok QE auto-locking front differential | High Performance True On-Demand AWD/2WD |
| Transmission | Quick Response System (QRS) CVT with high airflow ventilation and Electronic Drive Belt Protection Extra-L / H / N / R / P | Automatic PVT P/R/N/L/H |
| Wheelbase | 90.6 in | 79 in |
| Overall Dimensions (LxWxH) | 119 x 60 x 71.1 in | 106 x 60 x 71.5 in |
| Dry Weight | 1,392 lbs | 1,235 lbs |
| Front Tires | Maxxis Bighorn 2.0 27 x 9-12 in | GBC Dirt Commander 27 x 9-12 |
| Rear Tires | Maxxis Bighorn 2.0 27 x 11-12 in | GBC Dirt Commander 27 x 11-12 |
| Ground Clearance | 12.0 in | 12.5 in |
| Fuel Capacity | 10.0 gal | 9.5 gal |
| Front Suspension | Double A-arm with sway bar / 11.5 in. (29.2 cm) travel | Dual A-Arm with Stabilizer Bar 12.25 in (31.1 cm) Travel |
| Rear Suspension | TTA with sway bar / 12 in. (30.5 cm) travel | Dual A-Arm with Stabilizer Bar 13.2 in (33.5 cm) Travel |
| Front/Rear Brakes | Four 220 mm ventilated disc brakes with hydraulic twin-piston calipers | 4-Wheel Hydraulic Disc with Dual-Bore Front and Rear Calipers |
| Bed/Rack Capacity | 300 lbs | 300 lbs |
100 Ponies All In A Row
Both the Polaris RZR S 1000 and the Can-Am Maverick Sport 1000R claim to produce 100 horsepower. The RZR pulls its power from a 999cc ProStar inline DOHC twin engine that is fed via electronic fuel injection. Like many of the ProStar motors from Polaris, this is an engine we all know quite well. It is tuned to fit this platform, and it does quite well. There's enough power to have a lot of fun, but not so much as to overpower the chassis.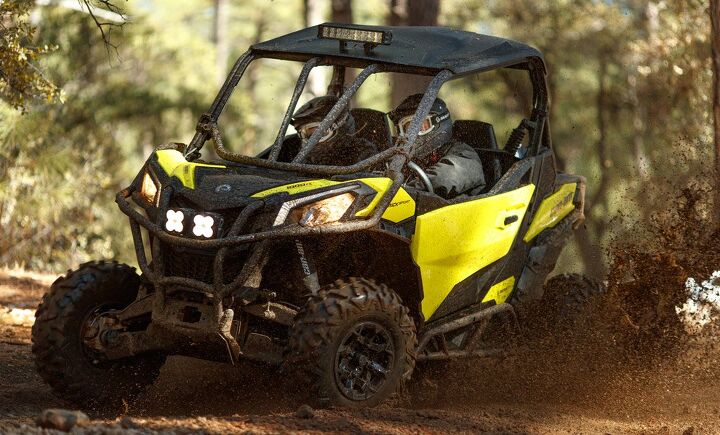 Can-Am uses one base engine for both the Maverick Sport 1000 and 1000R. The difference in tuning. The engine is a 976cc Rotax V-Twin, and like Polaris, this is an engine we know from other machines in the lineup. The base 1000 produces 75 horses, but the 1000R is tuned differently with a bigger intake and exhaust, as well as a different CVT system, all borrowed from the X3 lineup. This pumps up the ponies to a crowd-pleasing 100.
Classy Chassis
Polaris took what it learned from the RZR S 900 and put it to work when it designed the S 1000. It's 106-inches long and weighs in at 1,235 pounds dry. It has independent dual A-arm suspension at all four corners with 2-inch Walker Evans needle shocks. The front has 12.25 inches of travel and the rear has 13.2 inches. Stabilizer bars help keep you planted when rolling through the corners. Handling is pretty good, too. Having hammered one through the hills of Eastern Tennessee at Brimstone, I can say with certainty that the RZR S is a pretty darn good handling machine.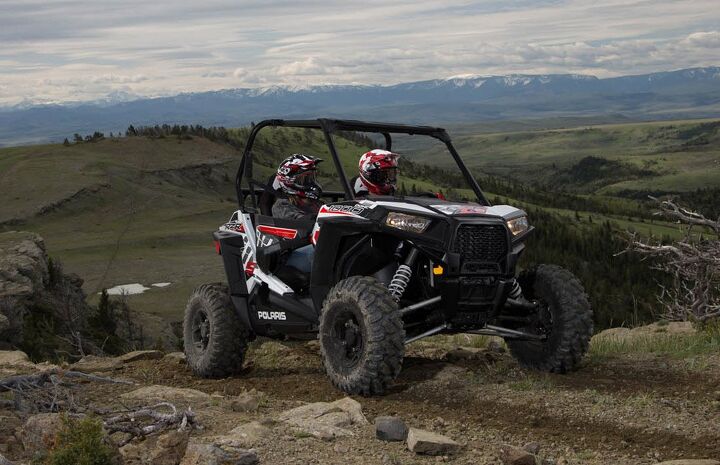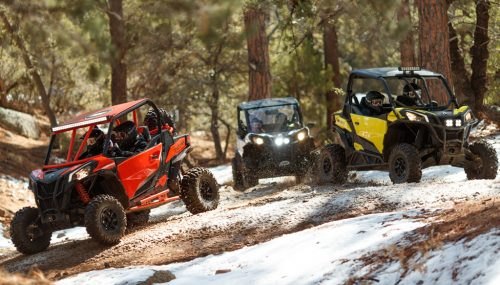 2019 Can-Am Maverick Sport Unveiled
Can-Am's newest, the Maverick Sport takes cues from the awesome Maverick Trail, a machine I felt is one of the most innovative new machines to come along in a while. It continues Can-Am's plan to introduce a new Side-by-Side model every six months and borrows technology it learned through the development process for the amazing Maverick X3 line. The Sport is 119 inches long and weighs 1,392 pounds dry. Up front dual A-arms with a sway bar hold Fox Podium 2.0 shocks and offer 11.5 inches of travel. Out back, Can-Am's stellar TTA trailing arm setup holds the same Fox shocks, but with 12 inches of travel. Like the Maverick Trail, the Sport positions the shocks at the outermost corners of the machine. This design gives the chassis more stability and improves handling. As of this writing, we haven't driven the Sport yet, but if it's anything like the Trail, the 2019 Can-Am Maverick Sport will be one of the best handling 60-inch machines on the market today.
Have A Seat
The cockpits are very much what you would expect from either brand. The RZR S has ample room and the same standard RZR seats. The controls are laid out well and the RZR is comfortable to drive for extended periods. You'll also find the standard RZR ¼ door, which is ok as long as you don't expect much in the way of protection out of it.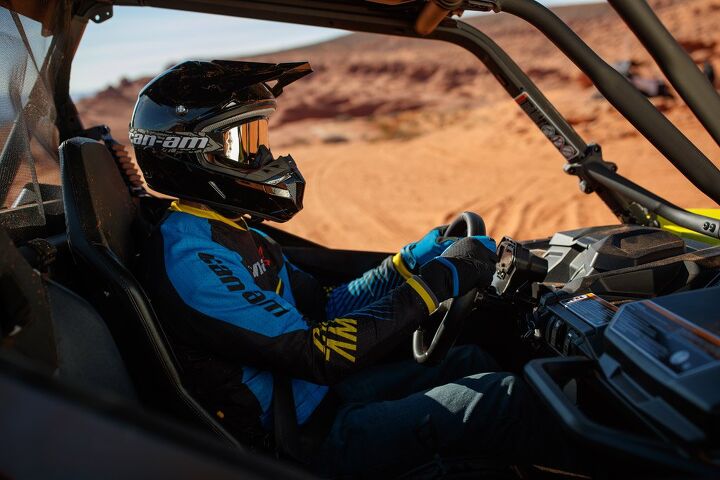 Can-Am uses its Ergo-Lok cabin design, much like the Maverick Trail. It puts you in a slightly odd-looking angle, with lower seating, but once you actually get in it, you realize it works very well for positioning you to operate the machine effectively. The seating is very comfortable and the controls are positioned around the driver, making everything feel natural. The 2019 Can-Am Maverick Sport also sports full half doors, giving you ample protection from trail debris and mud.
Learn more about these machines by going to your local dealer, or by looking here on ATV.com. See you on the trails! Derrek Sigler
Derrek's love for all things ATV started when he was a mere 11 years old, growing up on his family farm. His mom gave him and his sister a choice - get a horse, or a three-wheeler. The sister wanted the horse, and Derrek wanted the ATV. Luckily he won out, and was soon burning up the trails on a Yamaha Tri-Moto 200. By the time he was 14, he had saved enough of his own money by working on the farm and in his folks restaurant to buy a new 4-wheeler. That happened the day he and his mom were driving past the dealership and saw 1987 Banshee. His mom had no idea what he was buying, and he never looked back. He's been riding ever since, and been writing professionally for many years. He has ridden all over North America and been behind the controls of just about every machine out there. And yes, he still has his 1987 Yamaha Banshee.
More by Derrek Sigler
Published April 6th, 2018 3:27 PM
Top Brands
Popular Articles