143 Views
Polaris RZR Trail S 1000 Ultimate Vs. Can-Am Maverick Sport X XC 1000R...By the Numbers
January 19th, 2021 11:22 AM
Share
We're committed to finding, researching, and recommending the best products. We earn commissions from purchases you make using links in our articles. Learn more here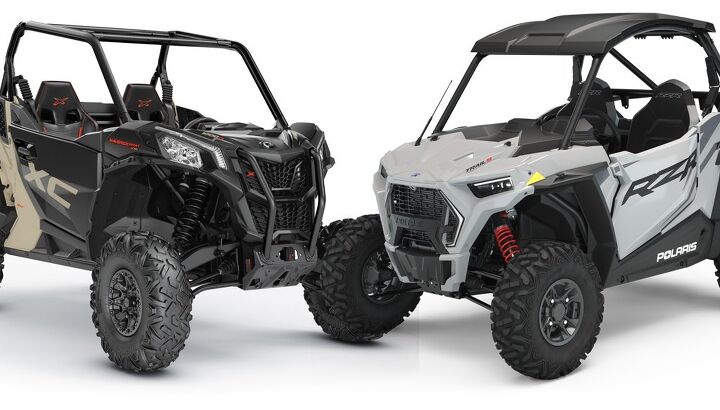 These naturally aspirated, 100-horsepower Sport UTVs share a lot in common
The 2021 Polaris RZR Trail S Ultimate and Can-Am Maverick Sport XC 1000R rely on mid-size Sport UTV platforms and come loaded with features. Let's see how they compare…by the numbers.
The quick-but-not-obscene segment of the side-by-side market is thick with options, many of them packing 1000cc-class engines and specialized option packages meant to outfit them specifically for duty in the deep mud or stony rocks. Two of the most popular examples of this breed are from the big guns of Polaris and Can-Am.
For the 2021 model year, Polaris has heavily revised its Trail S line of RZR, bestowing it with several items formerly reserved for the big-daddy RZR Turbo and Pro models. At Can-Am, the Maverick Sport continues to fill a sporty gap in the product lineup with its aggressive styling and maze of options.
Here, we are comparing the two we feel compete the most directly in this class – the Can-Am Maverick Sport X XC 1000R and the Polaris RZR Trail S 1000 Ultimate.
Powertrains
The Can-Am Maverick Sport X XC 1000R (2020 model pictured) is outfitted with a 100-horsepower Rotax 976cc V-Twin.
Look for a 100-horsepower 976cc Rotax engine in the Can-Am profiled here, a liquid-cooled V-Twin that'll be familiar to fans of the brand. Its transmission is of the CVT variety. There is a front locker on this trim, part of the Smart-Lok feature which seems pointless until you try it out in tough conditions. There is electronic downhill descent control and power steering.
The snazziest of this year's RZR Trail S models also makes 100 horsepower, proving that development rarely happens in a vacuum. This liquid-cooled 4-stroke Twin is branded as a ProStar and has a few cubes on its competitor, measuring 999cc. The transmission is similar in operation to the Can-Am, and the mill has an engine braking system.
Suspension
Walker Evans needle shocks with 16-position adjustable clickers help cushion the ride in the RZR Trail S 1000 Ultimate.
Peer under the front and rear of the Maverick Sport X XC 1000R and you'll find arched A-arms providing 14.75 inches of travel. Fox 2.5 Podium Piggyback shocks with QS3 compression adjustment have different settings, ones which may be selected by way of a dial atop the shock at each corner. Be sure to tap all four. Beefy 29-inch Maxxis Bighorns are on 14-inch wheels, helping create 14 inches of ground clearance.
Dual A-arms with stabilizer bars show up front and rear on the Polaris RZR Trail S Ultimate, appended with 2-inch Walker Evans needle shocks with 16-position adjustable clickers. There is 12.2 inches of travel in the front and an inch more out back. Tires are 27-inch Trailmaster all-terrains developed in conjunction with the boffins at 4WP. They're wrapped around 12-inch wheels and provide 12.5 inches of clearance.
Size & Weight
This particular Can-Am checks in at 122 inches long, 64 inches wide, and just over 74 inches in height. It rides on a 90.6-inch wheelbase and weighs a toddler over 1400 lbs. A ROPS-approved profiled cage keeps all hands safe if things get out of hand.
Overall vehicle size of the Polaris RZR Trail S Ultimate is 111 inches long, 60 inches wide, and 69.3 inches tall. This makes it more compact than its rival in this post, which can be good for maneuverability but bad for interior room. Polaris says it has bowed out the doors this year for more elbow room, so don't write off this thing simply because it is four inches narrower than the other guys. Estimated dry weight is 1360 lbs.
Payload & Towing
If you're interested in towing with these machines, know that the Can-Am Maverick Sport X XC 1000R can haul 1500 lbs (more than its own weight) and bear 300 lbs of cargo in its box. It is also worth noting that Can-Am does storage better than just about anybody, with this rig providing a total of 5.3 gallons of in-cabin space in which to put stuff.
Interestingly, both cargo box and towing capacity of the Polaris RZR Trail S Ultimate are identical to the Can-Am – 300lbs and 1500lbs, respectively. The brand has kitted this particular RZR for its Lock & Ride storage units, a system of accessories your friendly dealer would be more than happy to sell. Fuel capacity is half a gallon less than the Maverick.
Styling & Features
Looking a whole lot better in person than in pictures, the Can-Am Maverick Sport X XC has a set of angry eyebrows over its headlights and a front bumper that looks like fangs (surely an intentional decision on the part of Can-Am stylists). There is adjustable tilt steering, a 2-inch hitch receiver, a power outlet, and well-placed cup holders. Its basic digital gauge set gets the job done.
Taking a page from its big brother, the Turbo S, this new Polaris RZR Trail S cribs several design cues including the fantastic front accent lighting which serve no purpose than to look absolutely baller. Inside, you'll find the brand's excellent RideCommand system, a 7-inch touchscreen display that's glove-friendly and will show many different configurations of vehicle info plus GPS and audio detail. Speaking of, the Ultimate trim includes Rockford Fosgate Stage 1 audio. A poly roof and backup camera are on board, too.
Pricing
Can-Am has priced the Maverick Sport X XC 1000R at $20,299. This includes all the goodies described above. If you're willing to give up a couple inches of ground clearance and accept a different style of Fox shocks, you can get a Maverick Sport DPS for $17,499 and still enjoy the same amount of horsepower.
In 2021, the Polaris RZR Trail S 1000 Ultimate checks in at a price of $18,999. There's a lot of value here, especially considering the inclusion of RideCommand and a Rockford Fosgate boombox. Trading down to the Trail S 1000 Premium – the only other RZR Trail with the 100hp engine – lowers the price by $1700 and bins the RideCommand, audio system, and poly roof. Published January 19th, 2021 11:19 AM
Top Brands
Popular Articles