10 Views
Can-Am Maverick Sport 1000 DPS vs. Polaris RZR S 900 EPS: By the Numbers
September 7th, 2018 5:46 PM
Share
We're committed to finding, researching, and recommending the best products. We earn commissions from purchases you make using links in our articles. Learn more here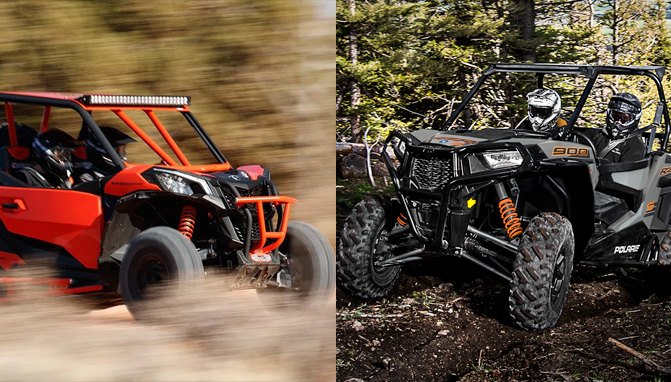 The Can-Am Maverick Sport 1000 DPS and Polaris RZR S 900 EPS share an awful lot in common. Let's see how they compare…by the numbers.
There are several machines that fit the 60-inch benchmark for UTVs. Some push the boundary by going an inch or two over, some just a hair under. What is it about the size that makes it popular? Stability and versatility are key. While too big for the narrower 50-inch trails, 60-inch wide machines can be used on thousands of miles of other trails across North America. It's a popular width for utility and trail machines, but there are a few offerings in the sport and performance category that blend the nimble handling and higher horsepower speedsters crave.
When it comes to higher performance, the constant at the top of the list for many of us has been the Polaris RZR S lineup. There are several machines in the S line, but the longest running model is the 900. The potent 900 has remained a favorite for many years, undergoing a complete revamp a few years back with a new motor and frame. Is it enough to hold the top spot? Along comes the all-new Can-Am Maverick Sport 1000 DPS, a machine that also runs a 60-inch wide chassis and a similar horsepower number. Does it have enough to dethrone the king?
Engines
Can-Am uses the same base engine in both its 1000 and 1000R Maverick Sport models. The Can-Am Maverick Sport 1000 DPS uses a 75-horsepower, 976cc Rotax V-twin engine that is fed via electronic fuel injection and an iTC intelligent throttle control drive-by-wire system that lets you select the power delivery curve mapping that best fits your conditions and driving style. This engine runs out through a Quick Response System CVT transmission that has an extra-low low range and active decent control. It is a well-rounded and fun-to-drive motor, capable of bringing smiles to just about any face.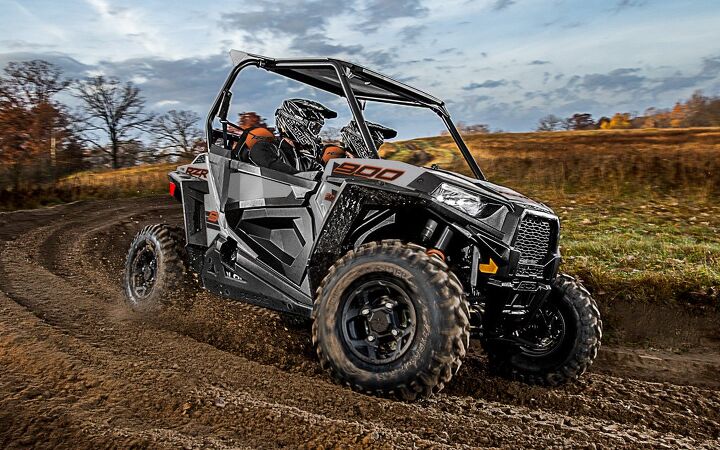 Polaris runs an 875cc ProStar twin cylinder engine that also produces 75 horsepower. The Polaris 900 engines have legendary reliability, probably having the best reputation of any in the brand. The ProStar motor is fed through electronic fuel injection and running out through a Polaris CVT transmission. Polaris started using drive-by-wire throttle a couple of years ago and it works very well to adjust the mapping of the throttle delivery. Engine braking is standard with the RZR S, making it a very capable trail machine.
Classy Chassis
With the power output being so close, there has to be some separation between these two machines. Trust me – there is plenty, starting with wheelbase. The RZR S has a wheelbase of 79 inches. This lets the RZR be a nimble machine when things tighten up. The Maverick Sport has a longer 90.6-inch wheelbase. This makes the Sport very stable and forgiving at speed.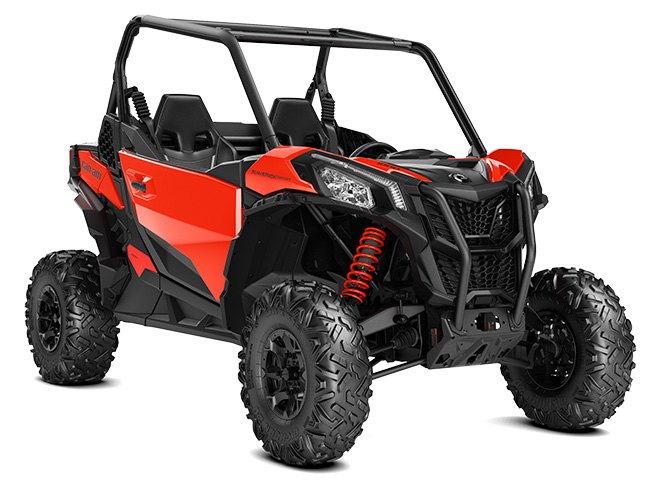 Shocks are similar with the Can-Am Maverick Sport 1000 DPS sporting Fox Podium 2.0 shocks all around and the RZR S EPS running Walker Evans Racing 2.0 Needle shocks. Travel wise, the Can-Am has 11.5 inches up front, and 12 inches out back. The Polaris has 12.25 up front and 13.2 in the rear. Each machine uses sway bars to keep things planted and reduce body roll. Having spent considerable amounts of time in both machines, I can say that the suspension systems of each machine work very well, and are quite different. The RZR feels pretty solid and keeps you planted well, and with a few adjustments really lets you hammer the whoops. Fun stuff. The Maverick is the most forgiving sport machine I've driven yet. The suspension soaks up the nastiest terrain and helps you correct when you make a mistake – which I may, or may not have done. I admit to nothing.
Pick One?
I'm not going to do that. That's up to you. Both are pretty amazing machines and extremely capable. The Can-Am Maverick Sport DPS is available in Sunburst Yellow or Can-Am Red, and carries an MSRP of $16,499. The Polaris RZR S 900 EPS comes in black or Ghost Grey and starts out with an MSRP of, surprise-surprise – $16,499. Get down to your local Polaris and/or Can-Am dealership and check on of these machines out for yourself! Derrek Sigler
Derrek's love for all things ATV started when he was a mere 11 years old, growing up on his family farm. His mom gave him and his sister a choice - get a horse, or a three-wheeler. The sister wanted the horse, and Derrek wanted the ATV. Luckily he won out, and was soon burning up the trails on a Yamaha Tri-Moto 200. By the time he was 14, he had saved enough of his own money by working on the farm and in his folks restaurant to buy a new 4-wheeler. That happened the day he and his mom were driving past the dealership and saw 1987 Banshee. His mom had no idea what he was buying, and he never looked back. He's been riding ever since, and been writing professionally for many years. He has ridden all over North America and been behind the controls of just about every machine out there. And yes, he still has his 1987 Yamaha Banshee.
More by Derrek Sigler
Published September 7th, 2018 5:46 PM
Top Brands
Popular Articles