120 Views
2020 Can-Am Maverick Trail 1000 DPS Vs. Polaris RZR 900 Premium
March 15th, 2021 12:45 PM
Share
We're committed to finding, researching, and recommending the best products. We earn commissions from purchases you make using links in our articles. Learn more here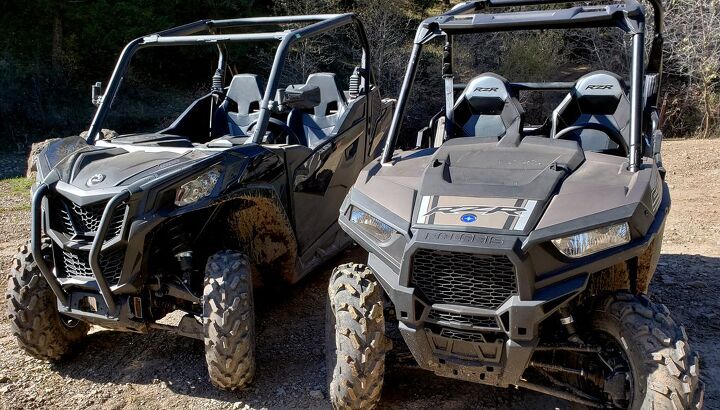 We test out and compare these 50-inch trail-friendly Sport UTVs
For this autumn season, we had on our hands on a 2020 Polaris RZR 900 Premium with electronic power steering (EPS) and a 2020 Can-Am Maverick 1000 with Dynamic Power Steering (DPS). These two units are Polaris' and Can-Am's most-popular trail-specific 900-1000cc UTVs. Trail-specific being a max width of 50 inches, which is the legal limit for many U.S. Forest Service trails.
Why do you want a trail-rated UTV? Most U.S. Forest Service trails are cut and laid down for dirt bikes (motorcycles) and ATVs – there is a plethora of miles available for 50-inch trail riding. As you ponder which of these two trail-rated UTV you should purchase for 2020, any choice is a good choice. These two highly-desirable UTVs will open up a hidden backcountry few experience. Meaning, you can see so much country in one day your mind can barely absorb it all.
At the end of this article is a data table showing some measurements we recorded for your decision-making benefit.
There are only two sport-rated large displacement trail-rated UTVs on the market, the Maverick Trail 1000 and the Polaris RZR Trail 900. These fulfill a niche and deliver outstanding backcountry riding-value.
This comparison includes impressions from three experienced UTV owners. Two have appeared in our online pages before – Kevin Allred (this author's brother) and Roger Raymond. The newcomer to the test crew is Todd Stowell from Rigby, Idaho. Below are summations captured from their in-depth reports.
Todd Stowell
Experience: 30-plus years as an off-road motorized recreation-adventurer
2020 Can-Am Maverick Trail 1000 DPS Review
For the Maverick, the first thing I noticed was its responsive DPS, which delivers good feedback. The Maverick hugs turns and swings through them with little effort. On washboard-type roads, the Maverick is tight; it feels as if it has a more rigid frame (than its competitor) which keeps it on trail, thus almost eliminating out-of-control sliding. The 2020 Can-Am Maverick Trail 1000 is quiet and does not rattle.
When driving the Polaris, its EPS gives ease-of-control. The 2020 Polaris RZR 900 on washboard trails seems to have a slight rear wheel hop and slides a bit, especially in a sharp turn. This I believe is mostly due to its 11-inch shorter wheelbase than the 2020 Can-Am Maverick Trail 1000. With its longer wheelbase, the Maverick manages bumps and washboards better at higher speeds than the RZR.
Yet, from our turn radius test, there was a significant difference between the Polaris and Can-Am with the Polaris able to turn sharper, credit the RZR's shorter wheelbase and tight front wheel camber. When it came to navigate around taut hair pin turns, it didn't take but the first turns to realize the Maverick's wider turn radius was a disadvantage – backing up and renegotiating turns.
In an inside-diameter turning radius test, the Maverick Trail 1000 with its 118-inch long wheelbase, had an inside diameter reach of 20.66 feet.
The Maverick's cabin is a bit tight in hip room, but makes up for it in leg room. From measuring cab dimensions, there is a six-inch difference in leg-room length between the RZR and Maverick, favoring the Maverick, yet the Polaris RZR 900 has more hip-to-door room.
The RZR's Recaro-style seats hold its occupants in place when diving into a tight turn at a fast clip, where the Maverick's occupants moved from side-to-side a little more. The Maverick's cushions could use more padding. On another topic, the Maverick's doors are taller than the RZR's thus and the Maverick's occupants sit deeper in the cab. To that end, the field-of-view from the Maverick's cab isn't as wide as the RZR's field-of-view. From an occupant's vision-point, the RZR seats its occupants higher, which increases the view out over the hood. The Maverick's full doors are a big plus as these give a safe and secure feeling.
Cab temperature-differences are noticeable. When seated in the RZR's passenger side, engine heat crept into the cab, as well as heat from the radiator. It's assumed on hot summer days this could create uncomfortable rides.
The RZR's fit-and-finish has greatly improved. The doors are tight with no rattles. The machine as a whole seems much tighter than its predecessors.
Fit and finish on the Can-Am is superior. The Maverick's doors fit nice and tight; I do like that they open from behind which made it easy to enter and exit the cab.
Early in the day, when we loaded our lunch bags, it was very cool to find a large glove box on the Maverick; we were able to place two lunch bags and a bag of chips inside the box with the accompanying factory tool bag. The RZR has enough room for a 20-ounce soda and a small bag of chips.
When it comes to curb appeal, I feel the RZR has it, however it needs a refresh. The Maverick, in my opinion, looks much like its Japanese competitors – from the front headlight perspective. Though I know my colleagues from this test see this differently.
From the perspective of changing out a drive belt, it appears both would be fairly easy, as well as servicing the air filter.
The Maverick Tail 1000's air filter access is simple work with.
For Polaris RZR 900 Premium improvements, it needs full doors (editor's note, the 2020 RZR 900 FOX Edition, has full doors) and a front bumper, as the Maverick has. Polaris, in my opinion, needs to fix the engine heat issue in the cab, give a more usable glove box, and tad bit more leg room.
As for the Maverick, perhaps find a way to cinch in its turn radius (change camber angle?), add more seat padding, and drop the top fender lines to increase visibility. I do like the longer wheelbase of the Maverick, though.
As far as overall power, both the RZR and Maverick are closely matched. In a 100-yard drag, the two machines were neck-in-neck, yet ever so slowly, the RZR pulled ahead the Maverick, but not by far.
Though its motor is smaller than the Maverick's V-twin 1000, the 900 RZR Trail is a sassy and nimble vehicle. Its superb power-to-weight and short chassis, makes it a boondocking dirt toy.
Roger Raymond
Experience: Mechanical engineer with specialty training in vehicle suspensions and transmissions. 30 years motorsports experience.
2020 Polaris RZR 900 Premium Review
The 2020 Can-Am Maverick Trail 1000 DPS is a comfortable trail-rated side-by-side. Its roll cage is strategically manufactured with channels to receive sealed panels on all sides; this cage is significantly better than its competition. It has factory-installed full doors, which help keeps its occupants clean and in the winter, considerably warmer than those vehicles without full doors; these are a very big deal to me.
The Maverick Trail has a two-inch receiver hitch, which is appealing. The factory front bumper is a plus. Its ground clearance is better than its competition by one-inch from our tests, which helps it clear rocks, stumps, and other obstacles.
Before returning the 2020 Maverick Trail 1000 to Can-Am, Kevin Allred hooked on to his log splitter, threw in the rear box his chainsaw and went to work. Credit Can-Am for placing a two-inch receiver hitch on the Trail 1000.
The Maverick Trail 1000's power is adequate for most applications. As far as getting its power to the ground, this might seem insignificant that its transmission shifter has specific slots to identify low, high, neutral and reverse, bit this is a welcome feature.
The stylish headlights are functional and are a noticeable contributor to its stellar curb appeal, but they do reduce the driver's vision in technical terrain. The 11-inch longer wheelbase is one of the most notable differences. It increases stability at higher speeds, but the three-foot wider turn radius makes tight trails a bit challenging; by far the biggest weakness the Maverick Trail has is its tunring radius. The steering ratio was a slower than I prefer – 1.25 turns to full lock. These details were noticeable on tight switchbacks common to 50-inch trails. Overall, the Maverick is a well-built. trail-worthy machine.
I was pleasantly surprised with the overall performance the Polaris RZR 900 Premium delivers.
Though the RZR's motor displacement is 100cc smaller than the Maverick's, the RZR's performance is equal in power or slightly stronger than the 1000 Maverick (Power-to-weight?). The RZR's suspension-tuning-and-balance is nearly perfect where it soaks up rocks and woops with no complaints, and still manages to have minimal body roll in the corners. Its tight Ackerman steering geometry gives the tightest turning radius in this class. It made the Polaris RZR 900 feel like a go cart on rails. The steering rate and feedback was fantastic. Another characteristic that is impressive, is its long A-arms, which made it feel like it had better wheel articulation and travel than the Maverick.
On this sharp turn around a thick pine tree, the RZR 900 Trail motored around it with nary a faint. With its short wheelbase, aggressive tire angle — when the wheels are turned — make the RZR 900 Trail highly nimble.
The RZR 900's fenders are lower than the Maverick's, allowing the driver to better see technical terrain. The mild exhaust note was great for those that like to chat while driving. The quiet engine in conjunction with the reduction in vibration and rattles (a nice improvement) made it a real treat to drive.
The RZR's inside-cabin is a few inches wider than the Maverick; the space is noticeable on the door's side (hip to door), but felt a bit tighter between the driver and passenger than the Maverick. Yet, the RZR 900 is comfortable as possible given the space constraints. The RZR's passenger foot room is slightly crowded. The RZR's door levers are fantastic in location and function. I believe the RZR's overall fit and finish needs improvement. And lastly, the Polaris RZR 900 Premium would benefit from a good quality two-inch receiver hitch and a front bumper.
Kevin Allred
Experience: Seven years as a test driver for ATV.com
The Polaris RZR 900 Premium and the Can-Am Maverick Trail DPS are two 50-inch trail vehicles that are similar in many aspects while being different in others.
As I worked through our long evaluation day in these trail-rated sport side-by-side vehicles, the pluses, minuses and the compromises, fueled my many thoughts. Both are capable for their intended use.
When railing down a trail, the long-and-lean Maverick 1000 Trail gives a secure feeling, such that I had to remind myself it's not a wide vehicle; yes it feels that planted. I appreciate the ample leg room, comfy seats and full-enclosed doors.
Furthermore, the Maverick's large storage compartment, front bumper, two-inch receiver hitch, and dynamic power steering, are all perfect. Overall, the Maverick's motor and clutch responses, and clutch calibration for the elevation we were at (5,500 feet) were spot on. To this list, the sweet rumble of the V-Twin powerplant is addictive.
As we drove deeper into the woodlands, where the trails became tight and narrow, the Maverick's nice legroom, created by the longer wheelbase, became a compromise as it could not swing around the tight corners without backing up once or twice, where the Polaris RZR 900 RZR Premium wheeled right around. Polaris is no stranger to the 50-inch market – Polaris invented it – and has had it for a long time. Yes the RZR's shorter wheelbase reduces leg room, but when it comes to wheeling it around tight switch back corners, with steering wheel rotations, around the RZR 900 will go.
One single note, off topic from the aforementioned, the visibility over the hood favors the RZR Trail.
From this angle, the differences in door height and closure (versus partially open), and hood slope, is apparent. These are but two of the choices a potential buyer must make.
For the Polaris RZR 900 Premium, at first impression its suspension left me feeling not as confident in "ride confidence" as the Maverick gave. However, as the day moved from sunup to sundown, confidence in RZR's front and rear A-arm suspension, grew; I began to have the assurance the RZR Trail's suspension is capable of taking on the rocks and rocks.
The overall fit and finish on the RZR is excellent, and its seats are tight around the occupants' torso. Being a do-it-yourself service guy, both vehicles have easy service points as for air cleaner, oil change, and clutch service. I appreciate much the grease zerks on the Maverick's rear suspension.
Lastly, both vehicles are great for 50-inch trail use. As I said earlier, each has their pluses and minuses, the larger of these lying in vehicle length. The call is yours.
Maverick Trail 1000 DPS
RZR Trail 900 Premium
Vehicle Length
118 inches
107 inches
Turning radius, inside diameter
20.66 feet
17.66 feet
Seat bottom length
14.5 inches
18 inches
Seat bottom widt
10 to 12 inches tapered
10 to 16.5 inches tapered
Seat back height
20.50 inches with 9-inch high headrest, total 29.50 inches
30 inches
Seat back width
16.5 inches
16 inches
Leg room width
16.5 inches
16 inches
Leg room length
22 inches
16.5 inches
Ground clearance*
10 inches
11 inches
We do not know the exact place where the manufacturers measure for ground clearance; under the front suspension, mid-length at the skid plate, or at the rear near the receiver hitch. From our test, with a tape measure exactly at mid ship (L & W), at the skid plate, the RZR measured 10 inches ground clearance, whereas the Maverick measured 11 inches. Given that, the Maverick's receiver hitch is lower than the RZR's by 1.25 inches. We are not disputing the OEMs, but our simple method showed a one-inch gain and drop from each respective ground clearance the OEMs reported. Published November 15th, 2019 11:55 AM
Top Brands
Popular Articles