131 Views
2020 Polaris RZR 900 Premium Review
February 19th, 2021 4:47 PM
Share
We're committed to finding, researching, and recommending the best products. We earn commissions from purchases you make using links in our articles. Learn more here
Fast Facts
MSRP: $15,199
L x W x H: 107" x 50" x 69.5"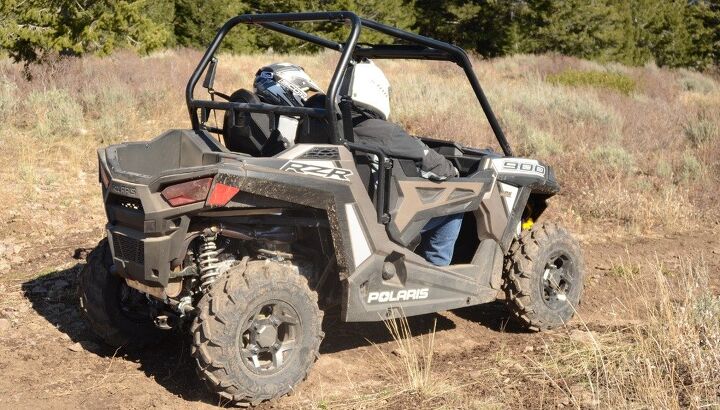 Ultra-nimble RZR is wicked fun to drive
The 2020 Polaris RZR 900 Premium is the latest 50-inch UTV from the company that first brought them to market more than a decade ago.
In fact, the original Polaris RZR is considered by many to be the machine that started the Sport UTV industry. That 50-inch width was an important benchmark, because many off-road trails have width restrictions. The 50-inch RZR has been a key part of Polaris' lineup since its debut in the 2008 model year and several manufacturers have followed the brand's lead with compact Sport UTVs of their own.
This year, we spent five weeks driving a 2020 Polaris RZR 900 Premium with EPS (Electronic Power Steering) to experience the narrow 50-inch trails originally laid down for ATVs.
It is a happy day when a toy, such as the Polaris RZR 900, can sit snugly inside a pickup box. The RZR with its 50-inch width and 107-inch wheelbase is very portable.
Polaris RZR 900 Premium Specs: The Mechanical
The RZR 900 is powered by a twin-cylinder liquid cooled four stroke motor with liquid cooling and electronic fuel injection. Displacement from the double overhead cam motor is 875cc, with a horsepower rating of 75. The RZR's drive system is Polaris' True On-Demand AWD and 2WD system. The transmission's selection is P/ R / N / L / H. Standard on the RZR 900 is an Engine Braking System (EBS) that slows the RZR on underpowered descents; this to prevent freewheeling down a steep grade. This works well for we had several descents that ended with hairpin turns.
Under the cab at each corner are German-built ZF Sachs coilover shocks. The front and rear suspension, according to Polaris' literature, are identical, dual A-arm designs with stabilizer bar. Wheel travel is 10 inches and ground clearance is 11 inches.
The RZR 900's PXT tire and ZF Sach shocks, mated to an A-arm front and rear suspension, keep the machine aggressively in control. Though we would like to see a front bumper.
The 2020 Polaris RZR 900 Premium's front and rear brake system is a four-wheel hydraulic disc system with dual-bore calipers. From our experience, these are provide excellent stopping power.
The tires on the RZR are 26-inch PXTs wrapped around cast aluminum wheels. These are good tires with deep lugs. We ran these at 10 psi for our needs.
As for dimensions, the 2020 Polaris RZR 900 Premium measures 107 inches long by 50 inches wide and it has an estimated dry weight of 1176 pounds. The Premium RZR 900's fuel capacity is 9.5 gallons, which from our experience is a day's-long fuel load.
After a hard day's ride on the trails with mud and rock, we found a wire octopus under the chassis (left side, rear, ahead the clutch cover, and under the fresh air intake tube) as we pressure-washed the RZR. We are guessing that when the wires were routed through the chassis that somebody forgot to ensure the wires from motor to cab were fully encased in protective tubing.
We don't know what to conclude about this wiring, but it appears wrong, as if the tube was cut short. The worry here is, will trail debris cut a wire?
The Wheelhouse
The 2020 Polaris RZR 900 Premium's doors are known as "straight 1/4 doors." Meaning, the doors run the length of the opening, but are only one-quarter the opening's height, starting from the top. Polaris has used these quarter doors for several years and for every RZR we tested before this one, the doors would rattle all day on the trail. We are pleased to report that the one-quarter doors on 900 Trail Premium did not rattle at all. It appears Polaris engineered-out the rattle and these doors are snug to the chassis.
However, the debate is: should the doors on this Premium-model RZR Trail 900 side-by-side be full doors, like those on the RZR's main competitor, the Maverick Trail 1000, or not? For us, we say "Yes." When wading through shallow streams or muddy bogs, the front tires flip mud and water into the cab when the vehicle makes a turn. Not ideal.
Though a nighttime shot, this picture clearly shows the RZR's one-quarter doors. We believe, and have experienced, the doors on this RZR do not favor mud and water conditions.
The steering wheel offers tilt adjustment and the driver's seat moves forward and back, so you can find a comfortable driving position. Foot room for both is somewhat cramped, but that is the nature of compact Sport UTV.
The instrument pod, affixed to the dashboard near the center, is an analog gauge that relays vehicle speed and engine vitals. It is simple, but very informative.
Like any side-by-side, placed directly ahead the passenger at chest height, is a horizontal grab bar. From our perspective, no matter the vehicle, holding on the grab bar is natural and comfortable, and a good beginning to feeling safe and secure when you aren't the one behind the wheel.
Bolstered bucket seats are study to prevent the driver and passenger from rocking back and forth. The seat's back is high enough to protect the neck, head and back. However, we'd like it if the seat bottom was three inches longer. After a long day's ride, legs become tired due to minimal thigh support.
What We Learned
The RZR 900 Slips through, up and over a U.S. Forest Service entrance gate to ensure it is legal. The RZR trail meets requirements to travel in the U.S. Forest on designated trails; which is it main purpose.
The 2020 Polaris RZR 900 Premium is a fast and nimble 50-inch Side-by-Side. Who would have thought that the 900 – 875cc exactly – could be so honking fast on tight and twisty trails? It is nimble. We also learned the shocks, the ZF Sachs, keep the RZR tracking squarely on the trail while minimizing vehicle roll and sway; compliment the front and rear A-arm suspensions. Normally, we adjust shocks to our needs and demands, but for this RZR and Sachs shocks, we kept the factory setting as it was. These shocks are that good.
We also learned the RZR 900 has good visibility, especially over the hood and down the right and left front fender/wheel wells. When banking around a rock or tree, or cresting a hill, the RZR's narrow and low profile is a plus to help the driver navigate narrow terrain, especially when the passenger gives out directions around an obstacle.
As mentioned above, the quarter-doors are OK, but not a favorite for us. Yes, these are sufficient for daily use, but for those who are daily grinders in the Spring and Autumn, mud and water will pelt the driver and passenger.
With its 107-inch wheelbase, the RZR 900 can straighten out curves and assure its occupants it has the mannerisms to stay within trail boundaries.
The motor is quiet. We ride with helmets, which deadens much of the motor and drivetrain noise, but this machine is not going to bother the neighbors like some others. The federal government has sound emission requirements, and to that end, the RZR 900's motor meets these requirements and more.
Within in the cab, little things like cup holders and a passenger-side storage compartment is nice, but we would like to see Polaris find a way to grow the in-cab storage box's dimensions; it is a tad small. Larger boxes have spoiled us.
Conclusion
Would we take a 2020 Polaris RZR 900 Premium and keep it for ourselves for feeding and watering? Oh heck yes. It is so nimble on the trails, where when slicing around a tree or rock, or around a sticky tight right, one feels more masterful than what they are. With its short wheelbase and tight turning radius, there is no need to make two- and three-point turns.
We did find, though, as tight as it is around sharp bends, the short wheelbase would cause the little RZR to porpoise a bit, unlike its longer-wheelbase competitor. This is the trade off.
As we state about all our test units, when picking one of these up for your own, add a roof, mirrors, full doors, front windshield and back window and storage box. Also, consider some front and side body armor. Without side body tubes, rocks and trees will lay gashes into the side body plastic. Oh, consider a front brush guard.
The bottom line is the 2020 Polaris RZR 900 Premium is one sweet, wicked, fun and nimble 50-inch Sport UTV. It has ample power for backcounty tight and narrow trail exploring. And its faster than you'd think for an 875cc engine.
We are committed to finding, researching, and recommending the best products. We earn commissions from purchases you make using the retail links in our product reviews. Learn more about how this works. Published November 8th, 2019 4:20 PM
Top Brands
Popular Articles