291 Views
Best UTV Spreader Options
June 13th, 2023 4:23 PM
Share
We're committed to finding, researching, and recommending the best products. We earn commissions from purchases you make using links in our articles. Learn more here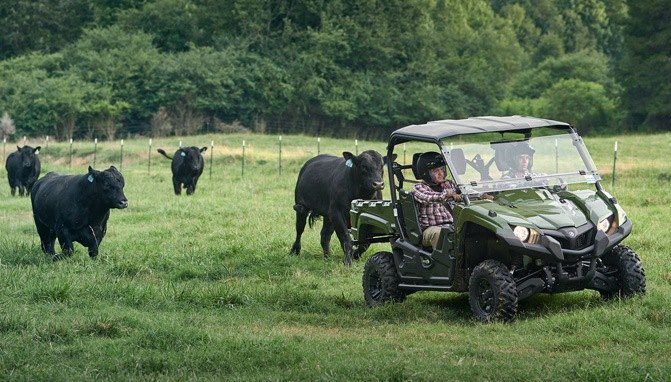 Spreading your seed just got a lot easier
Adding a UTV spreader to the back of your rig is a sure-fire way to take a lot of hassle out of lawn care – or any task that requires the broadcast of material, really. This type of machine generally includes some sort of hopper that can be filled with a pellet- or seed-type product, with a distribution system underneath it that spreads out material as you drive along. Spreader – geddit?
You'll see in our list that there are several different types of spreaders, such as ones which are towed behind the UTV like a trailer and ones that are attached onto the rig's bumper or hitch. They all come with some sort of control system to regulate and measure the level of product being dispensed, though there are many different capacities and sizes.
1. Editors Choice: Agri-Fab 100 lb. Tow Spiker/Seeder/Spreader
This spreader certainly isn't the cheapest one on our list, but it makes up for that deficiency by offering more functionality than anything else presented in this post. Its low-profile design permits the addition of rotating spikes, allowing it to double as an aerator in addition to being a UTV seed spreader. In fact, this tow-behind can do both at once, meaning users can aerate and drop grass seed on a single pass. This saves a massive amount of time and potentially provides a better surface for which the seed to germinate. The hopper is poly, but the spike discs are steel. Its working width of nearly 3 feet means you'll be done the lawn in no time.
2. Chapin 150 lb Tow Behind Spreader with Auto-Stop
Designed to hitch into the towing provisions on your UTV, this unit has a 150 lb capacity making it the ideal choice for those looking to avoid having to head back to the garage for frequent refills. This UTV receiver hitch spreader has an auto-stop dual impeller that ceases spreading when the rig is not in motion; it accomplishes this by connecting the spinner to the rotating mass of its axles. When they stop moving, so does the impeller. Made right here in the USA, it has an easy-to-set gate adjustment with eleven incremental settings for accurate applications.
3. ForEverlast Galvanized Steel UTV Spreader and Feeder
Promoted as a wildlife feeder, this tailgate spreader can be conveniently attached in multiple configurations to your truck or recreational vehicle. Able to hold up to 50 or 100 pounds depending on your selection, it makes spreading that product for deer and other animals and effortless and simple task. It is constructed of solid black coated galvanized steel to resist corrosion and is also available in a 100-pound model for those times when you've a lot of deer to attract. Unlike a tow behind spreader whose impeller is often turned by a gearset attached to the trailer axle, this tailgate-mounted unit requires a 12V source to power the spreader motor that is controlled by the operator via a wired hand control with a single button for easy operation.
4. FIMCO UTV Dry Material Spreader
Another 12V operated spreader, this one has a variable speed control that permits fine-tuning of the product broadcast. The seller says this unit is best suited for spreading fertilizer, though it must be noted this thing doesn't come with any nose plugs. Fortunately, they go on to say it's good for spreading seed, bait, pellets, and other dry granulars. Its stainless-steel radial fan is spot welded for precise material distribution, and the variable speed controller monitors width of material spread from 5 ft to 45 ft. A 2-polymer hopper measuring a generous 2.2 cubic feet holds up to 145 lbs of material, while an adjustable slide gate controls the rate of material dropped on the ground.
5. Buyers Products UTV All Purpose Spreader
This American-made all-purpose product is a good choice if looking for a UTV salt spreader to help keep the driveway or parking lot in check during winter months. It attaches with a 2-inch receiver hitch and has a spread width of up to 30 feet, meaning two passes out the driveway and you're done. The durable poly hopper holds up to 15 gallons of product, and it features a sealed 12V motor with an adjustable shut off gate. The whole thing weighs about 60 pounds, so it's not light, but reviews are good and real-world customers praise its durability. The reviewer who posted a picture of them using a front-mount hitch for this spreader is a freakin' genius, by the way.
Do I need a spreader for my UTV?
Well it all depends. If you have a large lot of land, a UTV spreader can be useful in a number of ways. Spreading seed and fertilizer are quickly dispersed on large property that can save hours of time and back breaking labor. If you live in cold climate you can spread salt or sand to provide traction on icy surfaces. So ultimately the question isn't do you need a spreader but do you want a spreader to just make life simpler for yourself.
Can I use the same UTV spreader for salt and seed?
Generally, yes - though it usually isn't mentioned in any sort of official documentation. Also, have you ever heard the phrase 'salting the earth' in reference to ruining something totally and completely? It's an apt description because it's true. In other words, be sure to thoroughly clean your UTV spreader before making the switch from salt to seed lest you accidentally mix the two; contaminated seed isn't likely to grow very well.
For those spreaders that require a 12v power supply, how hard is it to wire into the system?
If you have basic mechanical ability, you should be able to pull this off yourself. Some UTVs have a 12v supply in the cab specifically for items like spreaders in the way of a cigarette lighter. If your UTV doesn't you can get creative by finding a 12v power supply to tap into or run power directly from your battery with a fuse in the event of an electrical short.
How much can a UTV spreader hold?
Most good ones will haul over 100 pounds, with the biggest spreader on today's list checking in at a mighty 185 pounds. In many instances, a tow behind variant will have a bigger capacity since it is simply being hauled behind the UTV and not perched on its back bumper or hitch like an errant buzzard. Also, be aware that different products have different weights, so a hopper full of gravel is going to weigh a lot more than a hopper full of seed.
Recent Updates
6/13/2023: updated product links and added to FAQ
4/19/2022: updated product links, added elusive wildlife seeder, added faq (how to power your spreader) Published June 13th, 2023 4:23 PM
Top Brands
Popular Articles