96 Views
2015 Arctic Cat Wildcat X Limited Review
March 15th, 2021 1:06 PM
Share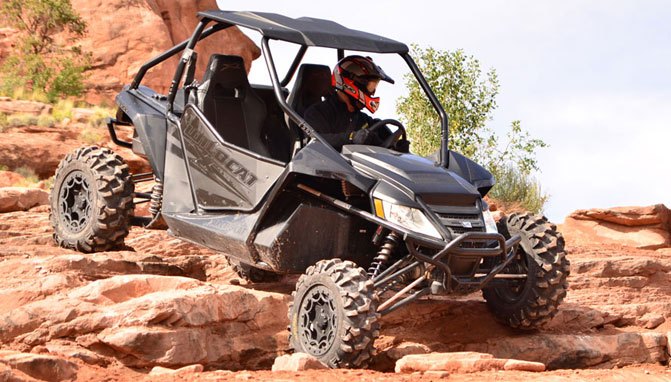 A rock crawling phenom
Arctic Cat was kind enough to loan us a new Wildcat X Limited so we could get the most out of our experience at the Discount Tire Rally on the Rocks in Moab, Utah this past May. This Sport Side-by-Side proved a capable rock crawler and happily climbed up and over anything we asked it to.
The Wildcat X Limited is the top of Arctic Cat's Sport Side-by-Side family, sitting above the standard Wildcat and Wildcat X. The X Limited has features electronic power steering (EPS) and ITP Blackwater Evolution tires with aluminum beadlock wheels. Front end travel is 17 inches, while rear travel is 18 inches. Ground clearance is a generous 13 inches.
2015 Rally on the Rocks Report Rock slap and mogul bump is absorbed by Elka Stage 5 shocks with high- and low-speed compression damping and rebound adjustments. The rear suspension is a five-point link trailing arm design, which reduces camber and axle plunge. This means the rear suspension works hard to keep the tires flat and contacting dirt, sand or rocky surfaces.
The X Limited chassis is made from high-strength low-alloy steel, which makes up Wildcat's exoskeleton, which is a full-perimeter frame. Weight distribution is 40/60 – 40% over the front wheels with 60% at the back wheels.
Arctic Cat's Wildcat X Limited prepares for whatever Moab will throw at it.
Two- and four-wheel drive electronic differentia lock comes standard, which is very useful when rock crawling. When fully engaged in 4WD, all four wheels engage to bite. EPS is speed sensitive, which adjusts steering wheel input based on vehicle speed and terrain.
Powering the Wildcat X Limited is Cat's proven 951cc, H2 powerplant. Its sea-level horsepower rating is 92. Mated to the four-valve per cylinder head, two-cylinder four stroke motor is a pair of Team Industries clutches; the Team Rapid Response Clutch. Intake for the twin cylinder electronic fuel injected (EFI) motor is via a 50mm throttle body. Other features include digital/analog gauge, bucket seats, infinitely adjustable tilt steering, front and rear heavy-duty bumpers, full molded roof, and full aluminum doors.
The testing ground for this review is Cliff Hanger, an 8+ trail (8 out of 10) at Moab. This is a very challenging trail, especially for a UTV rock crawling beginner, as was our test rider, Danny Stowell.
Driver Danny Stowell makes eye contact with a spotter, helped guide the way across Cliff Hanger.
Once we arrived at the Cliff Hanger trail head, Team Discount Tire assisted us in lowering the tire pressure in all four tires. In true Discount Tire fashion, one individual checked pressure on the left side with another on the right. They then traded places and independently verified tire pressure, which was set to between 7.5 PSI to 8 PSI.
Team members walked along the side of each car, when in technical areas, as the spotter helped the driver. We took the first drop a bit fast – a quick scolding came from the spotter educating us on what could happen if speed is too high. Of course, four-wheel drive was activated as we started on the trail.
The active four-wheel drive system complements the Low and High select settings. When in differential lock, the Wildcat did not run down a steep slope, but lumbered along under full driver control. We slipped fast down the first ascent, but after that, we gave in to the Wildcat's differential lock to help maintain control.
Spotters helped us find the best lines to get over some nasty obstacles.
If the Wildcat was high-centered, we were asked to back up and again try climbing the rock. Spotters directed us where to place the Wildcat's front tires to gain the best advantage.
ITP's Blackwater Evolution Tires and aluminum beadlock wheels gripped the slick rock surface very well. With the Wildcat X Limited set in Low and the differential lock engaged, we were able to ease up and over sharp-edge rocks and big fat rollers.
SCOOP: 2016 Polaris RZR XP Turbo EPS First Ride Review Not long into this trail ride we were hanging on the side of a cliff with several hundred, if not a thousand-foot drop off; the Wildcat X Limited did an incredible job. Some technical rock climbs were three- to eight-foot walls on an incline. Fortunately, the Wildcat handled these like a pro, making us (and guest test rider Danny Stowell in particular) look like much better rock crawlers than we are.
After his experience on Cliff Hanger in the Wildcat X Limited, Stowell noted the low center of gravity made him feel secure, while the 60-inch stance and long suspension travel added to that security.
Thoughts from Danny Stowell
The Blackwater Evolution tires allowed the Wildcat to climb rocks with ease and with lowered tire pressure, the ITP tires wrapped around the rocks for more grip. The tire's sidewalls also provided grip when using a rock wall to climb.
The drivetrain worked well with a small amount of learning curve. The 951cc liquid cooled V-Twin engine delivered answers to all my questions.
In High, the Wildcat handled paved and improved gravel roads with smooth shifting throughout the full function of the CVT, manufactured by Team Industries.
With tire pressure set to between 7.5 and 8.0 psi, the ITP Blackwater Evolution tires pulled the Wildcat up and over many obstacles. The skidplate also helped the Wildcat to glide across rock surfaces.
Low gear was right for descents and climbs. Flipping the switch to differential lock took some getting used to. I wore Mechanix-style gloves and flipping the toggle diff lock switch was a bit cumbersome. I found flipping this switch was easier if I applied slight pressure to the bottom of the switch while pulling the lock button down, and then pushing the top of the switch in. Other Wildcat owners who were on the trail commented they had the same problem.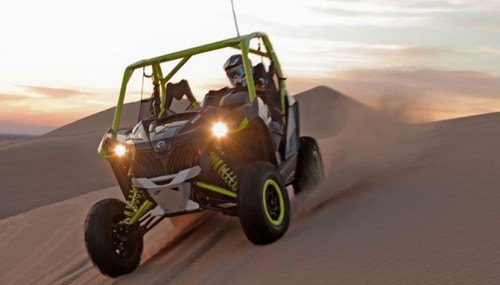 2015 Can-Am Maverick X ds Turbo Review + Video With the Wildcat X Limited being fully loaded, power steering came standard. I can't imagine driving Cliff Hanger without EPS. The brakes worked well for the terrain we were on. No complaints in any of these areas.
Seating and cockpit space were comfortable for me (I'm just short of six-feet tall). With the low center of gravity, seat height is low; I personally liked this as it gave that feeling of stability. Stock seats were comfy with only a two-point seat belt.
The doors swung out suicide style. Door latches were difficult to operate; these latches function backwards from what one would think – this may be a safety design from Arctic Cat. The doors swing down and out, which work well, but they did seem to drop hard if one was to let go of the door after opening. I feel this may cause damage to the hinges or door over time.
Each corner of the Wildcat's suspension has the ability to sink or rise as needed to keep the chassis fairly flat.
Storage space is an issue for any off-road vehicle. The Wildcat does have an automotive-style glove box in front of the passenger seat; a couple water bottles or a sack lunch could fit in there. But I found no other storage area to stash a light jacket or a camera bag. If I were to own a Wildcat, I would install an aftermarket storage box in the rear box.
Fuel capacity of 8.8 gallons was not an issue for us this day. I believe unless you are running wide open throttle all day, this amount should be plenty.
The roll cage with the standard canopy kept what little rain fell off of us. Front and rear bumpers were affective in the taller climbs and drops against the rocks. The stock skid plate held up to the abuse with no issues.
Conclusion
It seems the Arctic Cat Wildcat X Limited is overlooked by many; it should not be. The true differential lock, Team Industries' clutches, and grunt-filled motor deliver perfect control for slow and steady rock crawling. We've spent ample time in RZRs and Mavericks and just about everything else and after this long day on a most difficult trail, we feel the Wildcat X Limited is as good a stock rock crawler as you can purchase.
Published August 17th, 2015 2:54 PM
Top Brands
Popular Articles