1 View
Arctic Cat Unveils 2014 Wildcat X Limited
June 17th, 2015 5:01 PM
Share
Elka Stage 5 shocks and beadlock wheels highlight new Wildcat
We've never seen a vehicle evolve as quickly as the Arctic Cat Wildcat. It doesn't look like that's going to change any time soon as the Minnesota manufacturer has unveiled a new cat to its stable – the Wildcat X Limited.
Setting these new cats apart from the rest of the Wildcat family are Elka Stage 5 shocks, full-aluminum doors, molded roof, aluminum beadlock wheels and 27-inch ITP Black Water Evolution tires.
The trick Elka Stage 5 shocks feature dual speed compression adjustment and rebound adjustment with preload adjustable and dual rate springs.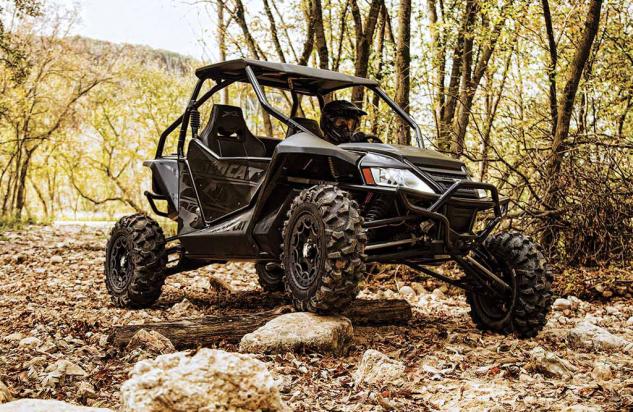 New for 2014 is the Arctic Cat Wildcat X.
"Precise tuning makes these shocks smoother and more responsive, and they are built tough, rugged and race-ready," Arctic Cat says in a release.
COMPARISON: 2014 Polaris RZR XP 1000
The new Wildcat X Limited will retail for $20,399.
Like non-Limited Wildcat X models, this machine feature a race-tuned 951cc H2 V-Twin 4-stroke fuel-injected engine that puts out 90+ horsepower. Putting the power to the ground is the job of the TEAM Rapid Response clutches and electronic selectable 2WD/4WD and front differential lock.
The new Elka shocks control an industry-leading 17 inches of travel up front and 18 inches in the rear, along with 13 inches of ground clearance. Unique to the Wildcat family is a five-point, multi-link training-arm rear suspension that is designed to keep the rear tires plated while the suspension moves through its travel.
Aluminum doors, molded roof, beadlock wheels and ITP Black Water Evolution tires are all part of the new Wildcat X Limited package.
Arctic Cat has outfitted the Wildcat X Limited with a new brake pedal that features a new lever ratio for more aggressive feel of the four-wheel hydraulic brakes and new dual piston calipers for additional braking power.
COMPARISON: 2014 Can-Am Maverick MAX X rs
Variable Assist Electronic Power Steering is designed to keep steering light and precise. It initiates at engine idle for reduced steering effort when in 4WD, especially when the differential lock is engaged.
The Elka Stage 5 shocks control 17 inches of travel up front and 18 inches of travel in the rear.
Other comfort-and-control features include high back bucket seats with upper body supports and three-point seat belts, LED headlights and taillights, 300-pound payload rear compartment large enough to carry a cooler and a Jerry can of gas, machined cast aluminum wheels, automotive-style paint and tilt steering. The X models also offer color-matched bucket seats; underseat storage; glovebox; aluminum front and rear bumpers and bed-mounted tie-down hooks.
Published November 14th, 2013 12:43 PM