1 View
2017 Arctic Cat Wildcat X Limited vs. Yamaha YXZ1000R SS SE: By the Numbers
April 4th, 2017 11:44 AM
Share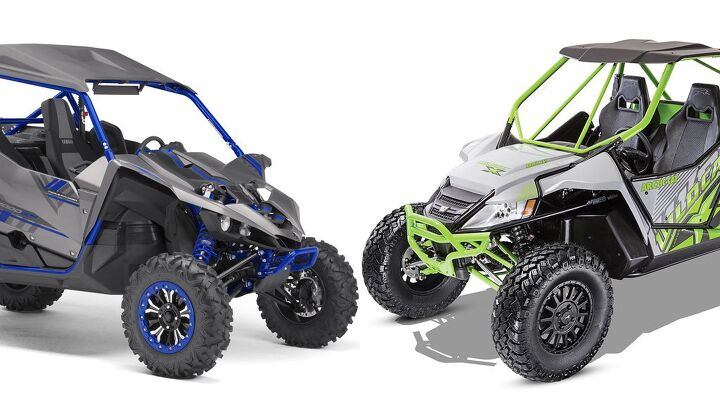 Sport UTVs that take wildly different approaches
Like all of you, we're all waiting to hear more details on the hot new Arctic Cat Wildcat XX. Sneaking in under the radar, though, is the new Wildcat X Limited, that has all-new suspension designed by Robbie Gordon that should make it an awesome off-road monster. And in the other corner, let's take a look at the new Yamaha YXZ1000R SS SE. A machine that is already turning heads with manual shifting, the YXZ gets sport paddle shifters.
There are some basic similarities between these two powerhouses, both being 1,000-class Aport UTVs that don't have turbo chargers. And there is a connection between Arctic Cat and Yamaha, being that they develop their performance snowmobiles jointly, and the new XX is running a Yamaha powerplant. But that's about it. Where they go from there is in wildly different directions.
| | | |
| --- | --- | --- |
| | 2017 Arctic Cat Wildcat X Limited | 2017 Yamaha YXZ1000R SS SE |
| Price | $19,499 | $23,999 |
| Engine | 951, V-Twin, SOHC, High Output 4-Stroke | 998cc liquid-cooled DOHC inline three-cylinder; 12 valves |
| Horsepower | 90+ | 112 |
| Driveline/Differential | 2/4 WD + Electronic Front Differential Lock | On-Command; 3-way locking differential; selectable 2WD and 4WD with diff lock; shaft drive |
| Transmission | Rapid Response Clutch, Hi/Lo Range, Reverse and Park | Yamaha Sport Shift, paddle shift with auto clutch; 5-speed sequential with reverse |
| Wheelbase | 95.0 in | 90.5 in |
| Overall Dimensions (LxWxH) | 128″ x 64″ x 66.8″ | 122.8″ x 64″ x 72.2″ |
| Weight | 1,380 lbs (dry) | 1,554 lbs (wet) |
| Front Tires | ITP Ultracross 27x10R15 | 27 x 9.00R-14 Maxxis MU09 |
| Rear Tires | ITP Ultracross 27x10R15 | 27 x 11.00R-14 Maxxis MU10 |
| Ground Clearance | 12.0 in | 12.9 in |
| Fuel Capacity | 8.8 gal | 9.0 gal |
| Front Suspension/Travel | Double A-Arm / 17″ | Independent double wishbone w/anti-sway bar / 16.2″ |
| Rear Suspension/Travel | RG PRO / 15.5″ | Independent double wishbone w/anti-sway bar / 17″ |
| Brakes | Hydraulic Disc with Dual Piston Caliper / Hydraulic Disc | Dual Hydrualic Discs Front and Rear |
| Rack/Bed Capacity | 300 lbs | 300 lbs |
| Power Steering | Standard | Standard |
Engines
The Arctic Cat runs on a 951cc, SOHC, High Output 4-Stroke V-Twin engine. It has a bore and stroke of 92mm by 71.6mm. Getting that power to the wheels is a CVT transmission with Arctic Cat's excellent Rapid Response clutch. For shifting options, you will find high/low range, reverse and park.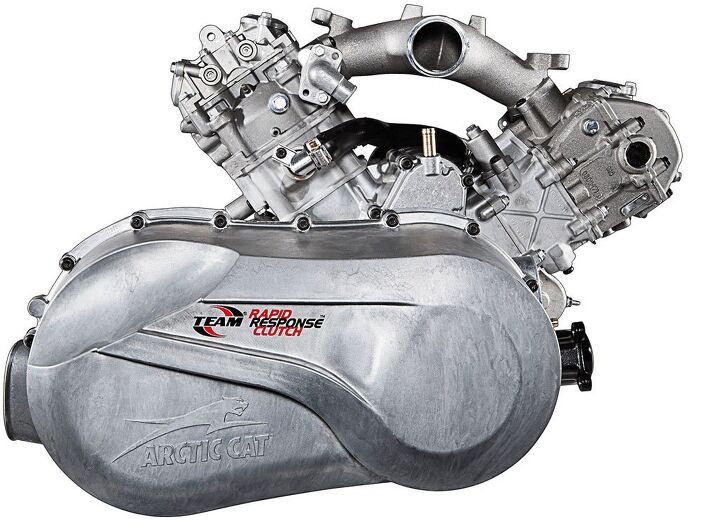 Yamaha's powerplant is a 998cc liquid-cooled, DOHC inline three-cylinder with 12 valves. Its bore and stroke is 80.0mm by 66.2mm. The transmission on the YXZ is completely different with a Yamaha Sport Shift paddle shifter with an auto clutch. It makes the Yammie a five-speed sequential with reverse gear. When Yamaha released the YXZ, it raised eyebrows with a manual clutch and the sequential shifter. Now with the addition of the sport-shift paddle shifters and the automatic clutch, Yamaha offers even more versatility to drivers.
Suspension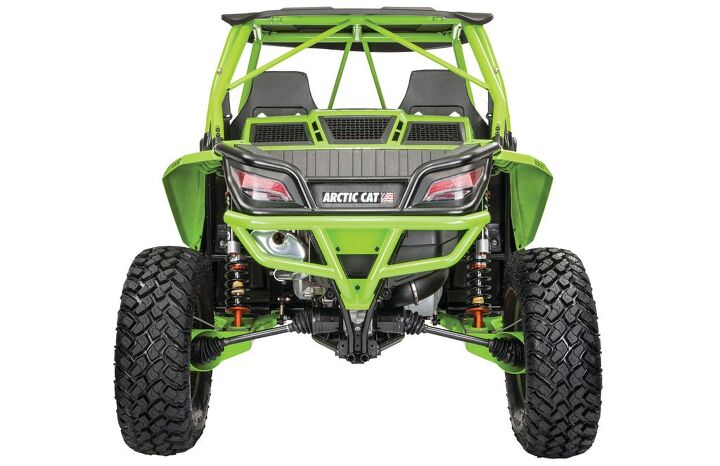 Arctic Cat has long been known for machines with some pretty amazing suspension. Anyone who's ever driven a Wildcat can attest, they have got the design down. So when we heard that AC was changing it, well, it has to be good. The RG PRO rear suspension has a "wishbone" style trailing arm that is designed for true tracking throughout the entire 15.5 inches of wheel travel. That travel is now coming via awesome dual-rate King Racing shocks that have rebound and compression adjustments. Up front, the Wildcat runs King Racing shocks with 17 inches of travel on dual A-arms. The 'Cat gives you a full 12 inches of ground clearance to boot.
The Yamaha YXZ doesn't disappoint on the suspender side either with independent double wishbones w/anti-sway bars both front and rear. For shocks, the SS SE runs on fully adjustable FOX 2.5 Podium X2 Shocks with 16.2 inches of travel in front and 17 inches out back. The Podiums are a massive 2.5 inches wide and, of course, look pretty sweet with the mounting setup Yamaha employs. Standing tall, the YXZ has a full 12.9 inches of ground clearance.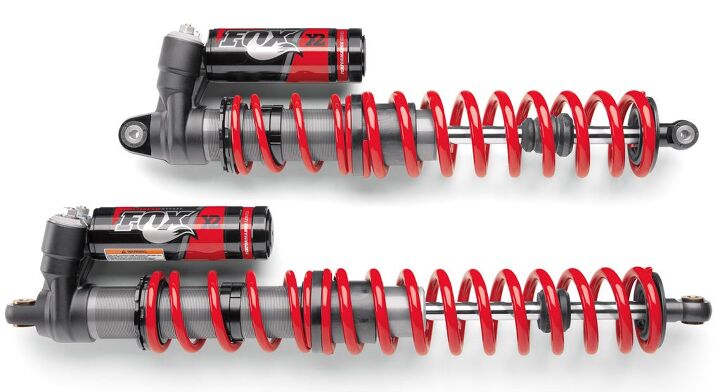 Dimensions
The Arctic Cat measures out at 128 inches long by 64 inches wide. It is 66.8 inches tall with an overall wheelbase of 95 inches. It has a dry weight of 1,380 lbs. It rolls on 27-inch ITP Ultracross tires on 15-inch KMC cast aluminum wheels.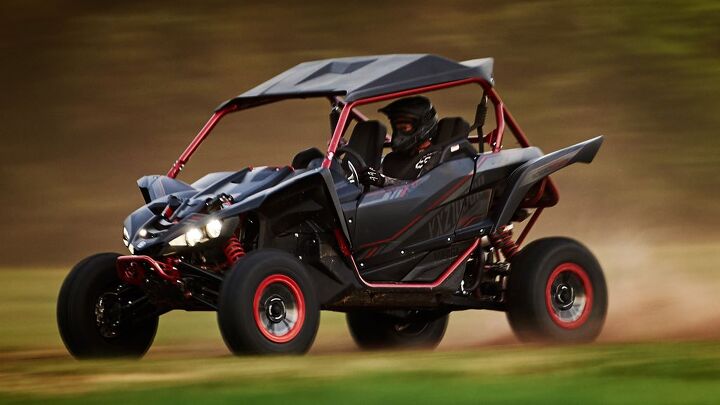 Published March 17th, 2017 9:19 AM
Top Brands
Popular Articles