1 View
Dealer Expo Spotlight: Laeger's High Roller Front End
February 14th, 2010 5:07 PM
Share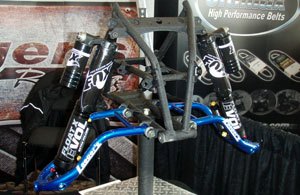 Laeger's Racing was showing off a brand new front end at the Dealer Expo that could make a big impact for cross country racers in the near future.
The High Roller front end, according to Laeger's, features the most ground clearance available on the market. Designed specifically for cross country racing, the High Roller front end is camber and caster adjustable.
For more information, visit http://www.laegerracing.com.
Published February 14th, 2010 5:07 PM