29 Views
Best Polaris Ranger Windshield For Every Need
March 29th, 2021 12:59 PM
Share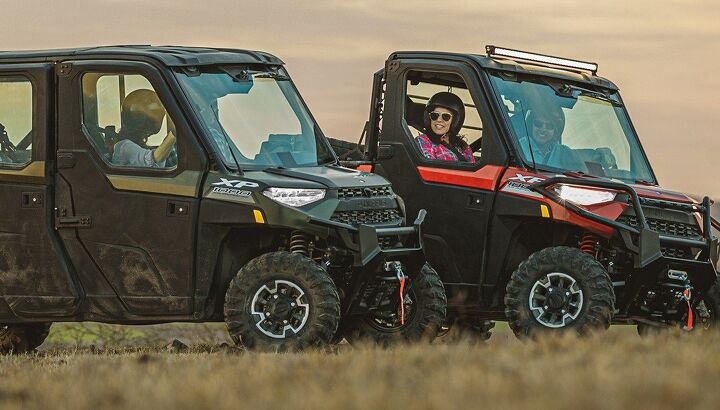 Add some protection and comfort to your Ranger with a new windshield
Whether you're a Polaris Ranger owner looking for protection from the elements or trail debris, you need to check out our staff's favorite options for the best Polaris Ranger windshield.
The Polaris Ranger, in all the many models available past and present, might just be the most popular UTV around. Ask any dealership what the hot seller is in machines and while there are always flashy new machines coming out, the Ranger will likely outsell every one of them. One of the most popular accessories for the Ranger is a windshield, and there are quite a few options out there. So how can you tell which one is the best for you? We've spent countless ours in the seat of many Rangers, giving us the opportunity to see which Ranger windshield is the best. Here are our picks for the best Polaris Ranger windshield options for every budget.
1. Staff Favorite: SuperATV Heavy Duty Scratch Resistant Full Windshield
As a leader in UTV products, SuperATV is known for manufacturing some of the best products in the business and their Heavy Duty Scratch Resistant Full Windshield is a staff favorite Polaris Ranger windshield. This Polaris windshield is guaranteed to fit, matching every contour of the cab, and mounting is so easy, SuperATV claims it can be done in five minutes or less. Made from hard coated, scratch resistant polycarbonate, this Polaris windshield is extremely durable and resistant to scratches and impacts. If you need a windshield for your Ranger and want to save some money over glass, this is a great option.
Having a Polaris Ranger windshield installed can be really helpful at blocking the wind from hitting you in the face, but what if you'd like to get a little more air coming in on a hot day? For select Ranger models, Kolpin makes one of the best Ranger windshields on the market. It's like having three windshields in one. Quite simply, it is a half windshield, with an upper part that tilts outward. This gives you the option of having it open to allow air into the cab, or ride with it closed to keep air and dust out. It is made of durable, scratch resistant Lexan polycarbonate and comes with sturdy, stainless steel mounting hardware making it an extremely versatile Polaris UTV windshield.
3. Kislery 1/4 Inch Scratch Resistant Front Full Windshield
If you're looking for a Polaris Ranger windshield, the obvious choice is to go with a factory part for the best fit and finish but many times a less expensive aftermarket option can do just as well. Such is the case with the Kislery scratch resistant full front Ranger windshield. This Polaris UTV windshield is made to fit the Polaris Ranger Midsize 500, 570, 570 Crew, EV (years 2015-2020), and ETX (years 2017-20), and is made from ¼-inch scratch resistant PMMA that is stronger than glass offering protection against chemical and ultraviolet exposure. With the simple to install hardware, this Ranger windshield offers great protection for you and your passengers at an affordable price.
4. Seizmik Versa-Vent Windshield
While the main purpose of installing a Polaris Ranger windshield is to block wind from your cab area, it's not always a bad thing to have some air circulation when you're riding, especially on a warm day. Enter the Seizmik Versa-Vent windshield. This unique Ranger windshield features vents strategically placed for both drivers and passengers to independently control the amount and direction of airflow into the cab area, including a special defog mode. The Seizmik Versa-Vent uses easy to turn knob on their mounting hardware making installation of their Polaris UTV windshields a breeze to keep your cab enclosure comfortable and safe from the elements. Seizmik makes the Versa-Vent windshield to fit a variety of Polaris Ranger models.
5. SuperATV Heavy Duty Dark Tint Half Windshield
Some terrains and drivers don't always require a full Polaris Ranger windshield to seal off the front of the cab. If you live in a warmer climate, having a full Polaris windshield can make your cab excessively warms and uncomfortable. This is where the SuperATV Heavy Duty Dark Tint half windshield can be the perfect accessory for your Polaris Ranger. The HD half windshield from SuperATV still provides driver and passengers a level of protection from trail debris yet allows a comfortable amount of air flow making it a favorite Polaris UTV windshield for many owners. Available for a wide variety of Polaris Rangers, super simple to install and built by a reliable brand, it's a perfect accessory for many Ranger owners.
6. SAUTVS Rear Windshield Panel
We will dig into why we like to have a rear panel to go a along with a front windshield below, but it's definitely something we'd recommend. This rear panel from SAUTVS is made of 1/5" polycarbonate and features a 360-degree gasket seal that is designed to fit perfectly with the factory ROPS. Installation is a snap and all the necessary mounting hardware is included.
Recent Updates
March 24, 2021: Added a rear panel to the list and updated links to in stock items.
We are committed to finding, researching, and recommending the best products. We earn commissions from purchases you make using the retail links in our product reviews. Learn more about how this works.
What are the differences in Polaris Ranger Windshields?
There are three basic kinds of windshields for the Ranger or any other UTV. Glass windshields are made from the same treated glass you have in your truck, meaning they are hard, durable and resist shattering from an impact. They can be setup with a wiper kit, but can also chip like your truck windshield. They also cost much more. Hard-coated Polycarbonate windshields are lighter and less expensive than glass. They'll keep their clear appearance longer than other non-glass options, but can and will get the clouded appearance over time due to use and UV damage. Straight up Polycarbonate or plastic windshields are the least expensive option but as one dealer put it, anyone who buys one usually ends up replacing it within a year or two. They can scratch easier and cloud up faster as well.
Do I need a rear windshield, or back panel?
Whether or not you add a back panel to your Polaris Ranger when you install a windshield is up to you. Know going in, however, that if you don't add one, you're going to eat a lot of dust and/or snow. The front windshield will create a Venturi effect that will pull air and whatever is in that air from behind the machine as you ride along. If you want our opinion, we'd never install a Polaris Ranger windshield without also installing a back panel. Eating our own dust isn't fun.
Published February 19th, 2021 2:03 PM
Top Brands
Popular Articles