533 Views
Maxxis Carnivore Tires – Everything You Need To Know
March 8th, 2021 7:19 PM
Share
We're committed to finding, researching, and recommending the best products. We earn commissions from purchases you make using links in our articles. Learn more here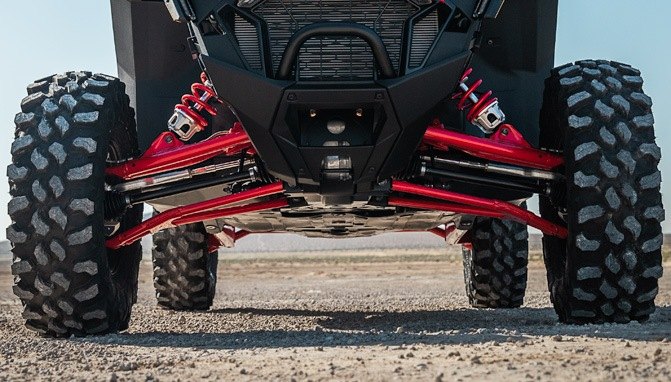 We look at the features, sizes, user reviews and alternatives for this versatile tire
With so many UTV and ATV tire options out there, finding the right set for your ride can be a bit of a chore. We aim to help you narrow things down with our "Everything You Need To Know" series on tire buying. In this article we will look at the Maxxis Carnivore and talk about features, available sizes, possible alternatives, and look at how real Maxxis Carnivore owners think about their purchase.
Table of Contents
1. Maxxis Carnivore Features and Specs
Maxxis designed the Carnivore for both Sport and Utility UTVs, as well as more powerful Utility ATVs. Inspired by light truck tires, the Maxxis Carnivore features 8-ply rated radial construction on the carcass and a specialized rubber compound designed to provide "excellent traction on rocks, roots and desert terrains."
You should consider this an all-purpose tire, as its 28/32" lugs can help propel you through some light mud and even snow if the situation calls for it, though they certainly aren't tailor made for the really deep stuff. As well, the lugs provide a wide contact and flat contact patch and wrap around the outside of the tire, which should aid in cornering performance.
Maxxis also boasts the Carnivore tires provides "superb tread wear," so you should get years of use out of them before the lugs wear down so much that traction is compromised.
And because these are based off of truck tires, there are no front and rear-specific options. You can easily run the same size tire on all four corners, which means you really only have to keep one spare around and can rotate front and rear tires regularly for even wear.
Available Tire Sizes
As of this writing, the Maxxis Carnivore is available in five different sizes: three designed for 14-inch wheels and two for 15-inch wheels. Available heights are 28, 29, 30 and 32 inches. Check out the chart below for more information.
| | | | | | | |
| --- | --- | --- | --- | --- | --- | --- |
| Size | Ply Rating | Overall Diameter | Width | Tire Pressure/Load | Wheel Size | Tread Depth |
| 28X10.00R14 | 8 | 28.7" | 9.4" | 480 psi | 14X7.0" | 28/32" |
| 29X9.50R15 | 8 | 29.7" | 9.4"" | 495 psi | 15X7.0" | 28/32" |
| 30X10.00R14 | 8 | 30.5" | 9.7" | 550 psi | 14X7.0" | 28/32" |
| 32X10.00R14 | 8 | 32" | 10" | 615 psi | 14X7.0" | 28/32" |
| 32X10.00R15 | 8 | 32.3" | 10.3" | 617 psi | 15X7.0" | 28/32" |
Maxxis Carnivore Weight
With its beefier 8-ply construction, the Carnivore is not the lightest tire in the Maxxis family. However, considering the added durability, the Maxxis Carnivore weight numbers are not all that far off from its 6-ply sibling the Maxxis Bighorn. Probably the most popular size is the Maxxis Carnivore 30x10x14, which tips the scales at 33.8 lbs - about 3.5 pounds more than the Bighorn and Bighorn 2.0 in the same size. Here's a list of every Maxxis Carnivore weight for all five sizes.
2. Alternative #1 - Maxxis Bighorn
If the Maxxis Carnivore isn't exactly what you are looking for, there are a number of alternatives available. One such option is still in the Maxxis family with the Bighorn Radial. Though not quite as large in diameter as the Carnivore, the Maxxis Bighorn is offered in 14 different sizes to fit 12, 14 and 15-inch wheels. The Bighorn is also a bit lighter thanks to its 6-ply construction, but it is also a tire designed to perform in a wide variety of terrain and is one of the most well-regarded tires is the industry.
3. Alternative #2 - ITP Blackwater Evolution
Another viable option is the ITP Blackwater Evolution. Like Maxxis Carnivore, it boasts 8-ply radial construction and comes in 17 different sizes for 12, 14, 15 and 17-inch wheels. It better matches the Carnivore with 28, 30 and 32-inch diameter options. The ITP Blackwater profile is a little more rounded than the Carnivore's truck-like flat contact patch, but it is still designed for excellent durability and traction in all sorts of conditions with its slightly taller 31/32? tread depth. Weight on the Evolution is also a bonus, as the 30x10R-15 weighs 32.8 lbs – one pound less than the Maxxis Carnivore 30×10-14.
4. Alternative #3 - STI X Comp ATR Radial
If you're looking for heavy duty tires, you can't overlook the STI X Comp ATR Radial. This DOT compliant all-terrain tire is a 10-ply radial that can withstand some of the harshest abuse you can put it through. It's wide footprint and aggressive lug pattern provide excellent traction in every on and off-road terrain you may come across. While they weigh substantially more than the Carnivore (heaviest Carnivore @ 36.85- pounds and lightest X Comp @ 40.6-pounds), the durability of the 10-ply carcass can potentially outweigh the difference.
5. Maxxis Carnivore User Reviews
The best way to see how a tire truly performs is to see what actual owners have to say about them. We did some online sleuthing and found a number of owner reviews on the Carnivore that had some similar themes.
First, more than one Maxxis Carnivore review we read said the tires were lighter than expected for an 8-ply design. One owner noted that they were only three pounds heavier than his stock tires with much better traction.
The majority of reviewers noted that the traction was impressive in everything from desert to rocks to snow. And though it doesn't help with performance, several reviewers made note of how nice looking the tires are.
As for how well the Maxxis Carnivores hold up, we saw a bit of a mixed bag of reactions. The general consensus was that the tread wear was exceptional - even after hundreds of miles of use. And some appreciated how the treads don't pick up small rocks like some other tires.
On the other hand, quite a few reviewers pointed out that the sidewalls are not as durable as they'd hoped. Some noted that the sidewalls flexed more than expected, and a few said they dealt with sidewall punctures, with one having a stick go right through the side of the tire.
Here are just a few reviews in customers own words:
5 out of 5 stars: Maybe the best tire for the money
These tires are great in hard pack dirt, mud, rocks dry or wet conditions. They are a great all around tire, maybe not better than a dedicated mud tire like the outlaw II in mud only but you get my point. They are also dot approved for highway use for those that are curious. I've read somewhere they are not but mine are stamped or molded "D.O.T. Standard approved".
5 out of 5 stars: Very best I have owned
The best utv tire I have had yet.
Traction Absolutely awesome.
Recent Updates
March 5, 2021: New alternative product and customer reviews
We are committed to finding, researching, and recommending the best products. We earn commissions from purchases you make using the retail links in our product reviews. Learn more about how this works. Published March 4th, 2021 1:40 PM
Top Brands
Popular Articles