1 View
Best 25x10x12 ATV Tires You Can Buy
April 19th, 2021 6:09 PM
Share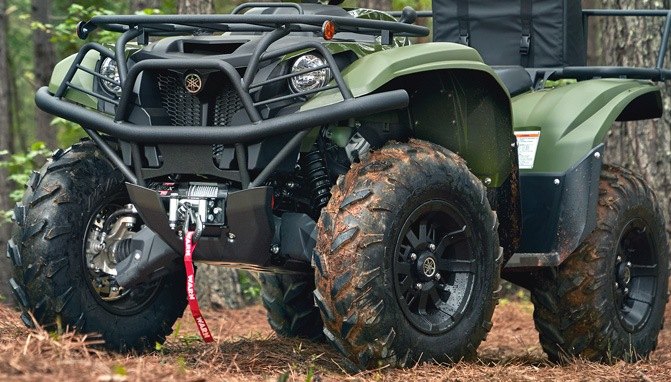 Choose from some of the industry's best tires in this popular size
Are you hunting around for the best 25x10x12 ATV tires for your four-wheeler? Allow us to help.
Here at ATV.com, we know that tires are about the most important wear item on your ATV, being the only part of your ride that actually makes contact with the ground. Having the right tires to suit the terrain can be the difference between making it successfully through the trail, and having to winch, dig, or tow your machine out of a tough spot.
But what sort of tread design is best, and in which circumstances? Which is better: bias-ply, or radial construction? How do you know you're buying ATV tires from a reputable manufacturer, or a subpar brand with unreliable build quality?
That's where we come in. Here, we've put together a list of the best 25x10x12 ATV tires available today, from a range of manufacturers, covering an array of different styles. Stick to the ATV tires on this list and you can rest assured you're getting some of the best, most highly recommended rubber on the market.
Table of Contents
1. Editor's Choice: Maxxis BigHorn Radial ATV Tire
Another legend in the off-road community, these 25x10x12 ATV tires from Maxxis's BigHorn Radial line are the last word in dirt, rock, and desert traction. Their radial construction means enhanced comfort and smoothness even over rough terrain, and the big, staggered tread blocks make for plentiful hard biting edges for digging through dirt and sand, and even finding traction on tricky rock faces. They're not the cheapest ATV tires out there, but they are proven performers.
2. Best 25x10x12 UTV Tires: Tusk Terrabite
Another excellent choice for intermediate and hardpack surfaces, the Tusk Terrabite is available as a "truck-style" all-terrain tire for UTVs, with an aggressive tread featuring plenty of staggered biting edges, and a durable 8-ply construction. "Heavy Duty" is no misnomer here. The tread blocks are closely spaced for a smooth ride, but with a tread depth of 3/4", a set of these 25x10x12 UTV tires will chew right through most trails they're liable to come across.
The Kenda Bear Claw is one of the most well-known and widely-chosen mud-terrain ATV tires around, delivering legendary mud traction and self-cleaning, along with good snow performance and groundbreaking tear- and snag-resistant technology. The deep, aggressive lugs and angled knobs are dimpled to increase the number of biting edges for superb traction, and a built-in rim guard helps ensure that your wheels are protected from off-road hazards.
Splitting the difference between an all-terrain and a trail tire, ITP's Mud Lite AT is immensely popular, with the aggressive, mud-slinging tread design the Mud Lite series is known for, but a moderate 3/4" tread depth and an extended-wear rubber compound developed to provide years of service. Like the name suggests, these tires were engineered with a light weight in mind: a set of these is among the lightest 25x10x12 ATV tires you can get in the mud-terrain category. That means improved braking, steering, and acceleration, whether you're playing in the mud or cruising down the trail.
A lightweight, bias-ply mud-terrain tire with a smooth ride character, the Maxxis 'Zilla is an excellent all-rounder, adept at slinging mud and self-cleaning, while perfectly at ease over intermediate trails with its near-continuous center tread. Its 6-ply rating lends the Maxxis MU02 'Zilla a good balance between light weight, with good acceleration and braking characteristics, and long-lasting, rugged durability. The center tread lends to the Maxxis 'Zilla's sure-footed, predictable high-speed performance.
6. Carlisle All Trail All-Terrain ATV Tire
Carlisle is a trusted, established name in the world of quality ATV tires, even serving as the official factory tire supplier for many ATVs, not to mention UTVs, lawn mowers, trailers, and the like. The company's All Trail model is a solid all-terrain performer, designed to thrive over hardpack and offer responsive, predictable handling even on dry pavement. It won't sling mud or scoop through sand like some terrain-specific tires, but it's an exceptional choice for some lighter off-road use thanks to its durability and longevity.
GBC's best-selling line of ATV tires ever, the Dirt Devil is an aggressive all-terrain tire that might be mistaken for a mud-terrain at first glance, thanks to its aggressive V-shaped tread pattern. It was designed to offer maximum versatility, handling itself in dirt, gravel, light mud, and hardpack, with dimpled lugs that deliver more biting edges per square inch than the competition. All of that, along with a reformulated compound including more natural rubber, and a 6-ply bias construction, makes the GBC Dirt Devil a well-rounded and capable all-terrain tire.
What is size difference between 23x10x12 and 25x10x12 ATV tires?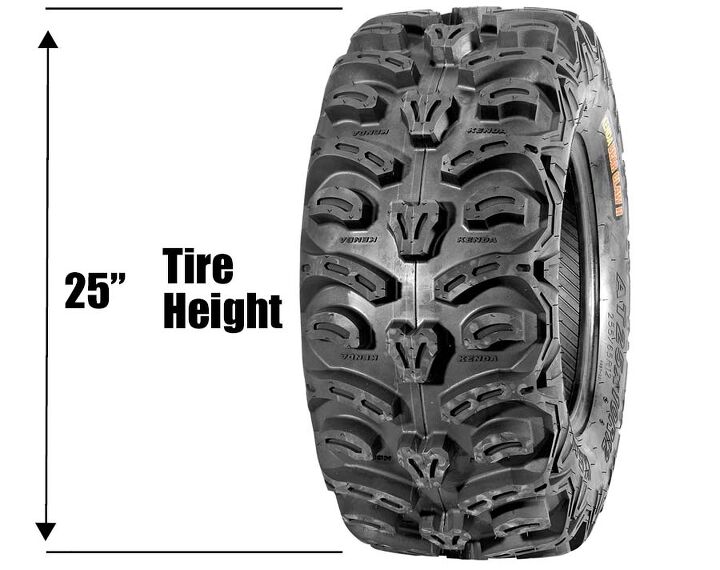 In a nutshell, the difference between 23x10x12 tires and 25x10x12 tires is two inches of tire height. You can reference the image above, but that first number represents the tire diameter. The second number (10 in this case) is the width of the tire and the third number (12 in this case) represents the diameter (or height) of the wheel.
Recent Updates
April 19, 2021: Updated link to the Kenda Bear Claw recommendation and added some information on tire size.
We are committed to finding, researching, and recommending the best products. We earn commissions from purchases you make using the retail links in our product reviews. Learn more about how this works.
Published August 13th, 2020 12:09 PM
Top Brands
Popular Articles