34 Views
2017 Polaris Ranger XP 1000 vs. Can-Am Defender 1000 vs. Honda Pioneer 1000
March 15th, 2021 12:25 PM
Share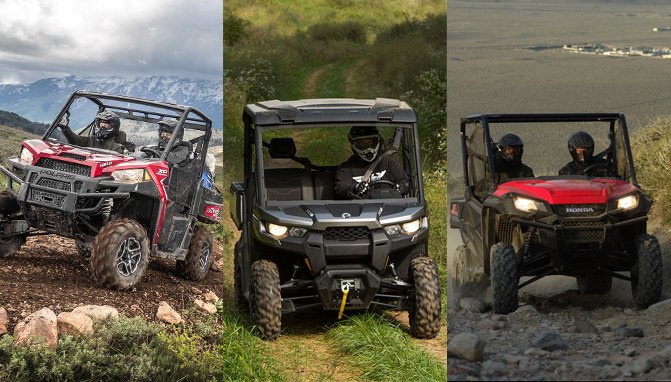 How do the three big bore Utility UTVs compare on paper?
It's funny to look back in time and remember how excited we were when Polaris released the RZR XP1000, the first factory big bore performance UTV on the market. Fast forward a few years and big bore machines are commonplace in the sport segment and, more recently, have begun gaining popularity in the utility market place.
Following the recent release of the 2017 Polaris model lineup, we are excited to see the popular Ranger model finally get the 1000cc upgrade. That makes three big bore utility class contenders, each with some of their own unique features and a few shared characteristics between them.
Each of the models we'll cover come in a variety of trim levels with a full range of options. For consistency sake, we'll be comparing the base model of each machine, but will note special features like EPS that are available on upgraded versions.
| | | | |
| --- | --- | --- | --- |
| | Polaris Ranger XP 1000 | Can-Am Defender HD10 | Honda Pioneer 1000 |
| Price | $13,999 | $13,799 | $13,999 |
| Engine | 999cc Fuel Injected Twin | 875cc Fuel Injected Twin | 999cc Fuel Injected Twin |
| Horsepower | 80 | 72 | 72 |
| Power Steering | Available on EPS Model | Available on DPS model | Available on EPS Model |
| Engine Braking | No | Yes | Yes |
| Wheelbase | 81 in | 83 in | 80.2 in |
| Overall Dimensions (LxWxH) | 116.5 x 60 x 76 in | 120 x 62 x 76 in | 116.8 x 62.9 x 76.4 in |
| Weight | 1,336 lbs (dry) | 1,414 lbs (dry) | 1,709 (includes all fluids & fuel) |
| Tires Front/Rear | 26×9-12 / 26×11-12 | 26×8-12 / 26×10-12 | 27×9-14 / 27×11-14 |
| Ground Clearance | 12.0 | 11.0 in | 12.4 in |
| Fuel Capacity | 10.0 gal | 10.6 gal | 7.9 gal |
| Suspension Travel Front/Rear | 10"/10" | 10"/10" | 10.5"/10" |
| Shocks/Suspension | Gas charged / Dual A-Arm with IRS | Gas charged / Dual A-Arm front with TTA-HD IRS | Gas charged / Dual A-Arm with IRS |
| Lighting | 55W low/ 60W high, LED Tail | 140-W lighting output from four 35-W reflectors ensuring a wide visiblity and LED tail lights | n/a |
| Towing Capacity | 2,000 lbs | 2,000 lbs | 2,000 lbs |
| Bed Capacity | 1,000 lbs | 1,000 lbs | 1,000 lbs |
| Payload Capacity | 1,275 lbs | 1,500 lbs | n/a |
| Bed Dimensions L x W x H | 36.5 x 54 x 11.5 in | 38 x 54.5 x 12 in | 36.1 x 55.2 x 10.8 in |
We'll start with performance. Since the name of the utility game is work, all out horsepower may not be that important to some people, but if you're planning on loading, towing or hauling, that extra juice will certainly make the job easier. The Ranger XP 1000 with its 999cc Pro Star engine puts out a class leading 80 horsepower while the Can-Am Defender and Honda Pioneer 1000 tie at 72. The Defender is available with two engine configurations, a more tame, 50 horsepower HD8 and the more powerful 976cc HD10 which is what we're emphasizing in this comparison.
All three models feature electronic fuel injection, but power steering is an upgrade you'll have to pay extra for. Price is definitely an area where OEMs are paying close attention these days as consumers seem to be willing to forgo particular niceties in order to save few bucks.
Polaris became the latest manufacturer to offer a 1000-class Utility UTV with the new Ranger XP 1000.
Interestingly, all three of these vehicles are priced within $200 of each other with the Ranger 1000 and Honda Pioneer 1000 selling for $13,999 and the Can-Am Defender going for $13,799. The good thing about that is you can choose the vehicle you really want without having to sacrifice key features for the sake of your budget.
Polaris Introduces New Ranger XP 1000 and Crew XP 1000 From a work capacity standpoint, each vehicle is capable of carrying 1000 lbs in its bed and can tow up to 2,000 pounds. The Defender has the largest cargo bed (38 x 54.5 x 12 inches), followed by the Ranger (36.5 x 54 x 11.5 inches) and then the Pioneer (36.1 x 55.2 x 10.8 inches). All three models share the same 10 inches of suspension travel all the way around with the exception of the Pioneer that offers an extra half inch up front. Dual A-arm front suspension with independent rear suspension (IRS) is synonymous across all three as well, though the Defender uses Can-Am's patented Torsional Trailing Arm version of IRS.
The main differences between the three models come by way of power delivery. For starters, the Ranger 1000 offers a selectable three-mode throttle control to allow the user a more precise experience depending upon the situation. The Defender maximizes Can-Am's Intelligent Throttle Control (ITC), which provides smooth and steady power delivery, eliminating chatter that can come with driving over uneven terrain.
The Can-Am Defender HD10, like the other two models, can carry up to 1,000 pounds in the cargo bed.
When it comes to getting that power to the ground, the Pioneer is in a class of its own. To begin with, its six-speed dual clutch transmission (DCT) is the first of its kind on a UTV and its direct drive completely eliminates the need for a belt. If you're willing to pony up for the EPS model, steering column-mounted paddles shifters provide a "spirited, full performance driving experience" whether you're in full auto or manual mode.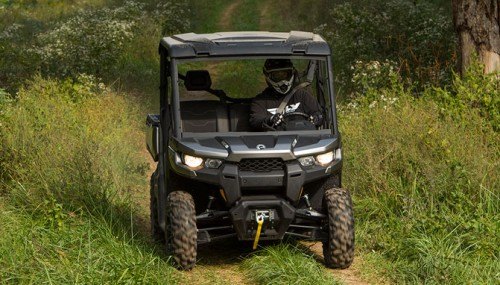 2016 Can-Am Defender HD8 XT DPS Review + Video The Ranger model also provides unique power delivery via its Pro-Lock automatic drive system. This on-demand drive system automatically engages all four wheels when it senses maximum traction is needed and then resorts back to 2WD when the extra pull is no longer necessary. Similarly, Can-Am's Pro Torq transmission also provides precise engagement when the situation calls for it by combining its Quick Response System (QRS) with larger CVT ratios and a work-specific low gear. The Visco-Lok front differential combined with a lockable rear differential provides four modes of traction control for variances in terrain. All of that means you have the torque and power you want when it matters most.
Both the Ranger and the Defender use 26-inch tires, though the Ranger offers an extra inch of ground clearance over the Defender at 12 inches to the Defender's 11. The Pioneer provides the most ground clearance of the bunch at 12.4 inches, largely in part to its taller 27-inch tires. The Ranger and Defender are nearly a dead match in fuel capacity (10 gallons or more), however, the Pioneer is over two gallons less at 7.9 gallons. That may not be an issue for some, but if you're a rancher or hunter who regularly finds himself off the beaten path, the extra fuel capacity may come in handy.
The Honda Pioneer 1000 has the smallest fuel tank at 7.9 gallons.
All three machines include multifunctional digital displays with the full gamut of instrumentation; drive indicator, speed, fuel level, tachometer, water temperature, service indicator, odometer and tripmeter, to name a few. Hydraulic disc brakes on all three models will keep you under control and both the Defender and Pioneer are equipped with engine braking for added assistance when descending a hill.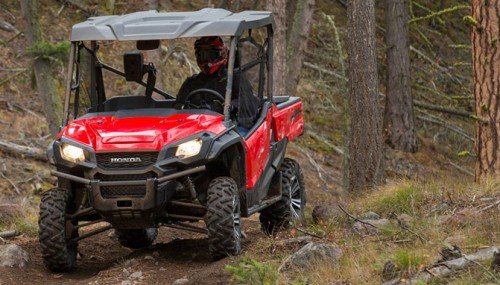 2016 Honda Pioneer 1000 EPS Review Because the price is so comparable on all three models, it really allows the user to focus on the given features to decide which vehicle is right for them. As mentioned, we have compared the base model for all three vehicles, but power steering is available on the EPS version of each model. All three vehicles will carry a driver and two passengers, but if you're looking to haul a crew, the Defender Max and Ranger crew offer seating for six, while the Pioneer 1000-5 can seat five total occupants – though that comes at the expense of cargo bed space.
Various color and trim levels are available for each model, which emphasizes the fact that OEMs are determined to give users more options to better suit their specific needs.
Published August 30th, 2016 3:41 PM
Top Brands
Popular Articles