22 Views
2020 Honda Pioneer 1000 Deluxe vs. Can-Am Defender DPS HD10: By the Numbers
March 23rd, 2020 3:00 PM
Share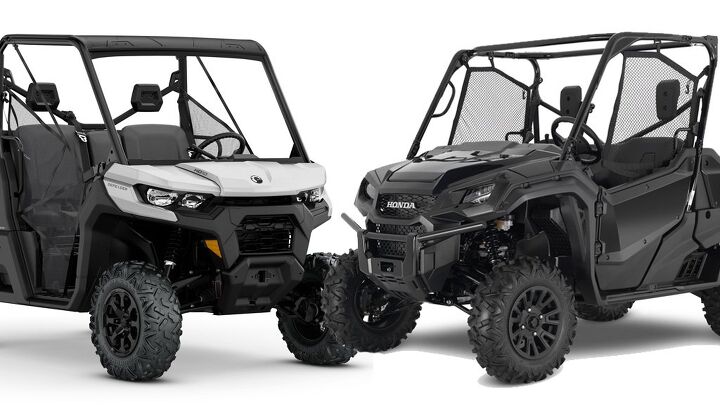 Which heavyweight Utility UTV has more to offer?
The 2020 Honda Pioneer 1000 Deluxe and Can-Am Defender DPS HD10 are Utiity UTVs with similar price tags. Let's see how they compare…by the numbers.
Believe it or not – and your speed freak author finds it difficult to do so – there are some side-by-side customers who prefer a little more utility than sport in their rigs. I know, I know; we can't believe it, either. Who doesn't want to rip across sand dunes or through a deep mud pit?
People who need their machines to get work, that's who. The existence of those deep-pocketed shoppers helps explain why manufacturer continue to pour several acres of cubic dollars into the development and upgrade of these machines. After all, utility workhorses are the genesis of this segment; the turbocharged fun machines came along several years later.
Still, today's utility-focused side-by-sides are a far cry from the OG dorky-looking tools that were useful but had all the styling appeal of a carrot peeler. Both the 2020 Honda Pioneer 1000 Deluxe and Can-Am Defender DPS HD10 have all the power and utility to get the job done and happen to have a little curb appeal. How do these two UTVs stack up on paper? Let's find out.
Powertrains
The 2020 Honda Pioneer 1000 Deluxe is the brand's flagship single-row Utility UTV and it plays in the 1000cc utility class. It is powered by a liquid-cooled 999cc four-stroke, which is a parallel twin with four valves per cylinder. In typical Honda fashion, the cheap-n-cheerful technology was left on the cutting room floor, especially in terms of the Pioneer's transmission. Unlike most in this segment, the Honda features a six-speed DCT automatic, giving it something in common with road-going vehicles. Power is somewhere in the neighborhood of 72 horses.
At Can-Am, the Defender DPS HD10 gives up a few cubic centimeters to Honda, checking in at 976cc. However, this liquid-cooled V-Twin makes about 10 more horsepower than the Pioneer. This grunt is put to the dirt by way of a familiar Pro-Torq drive belt system with an auto-locking front diff. Standard on the HD10 are handy features like electronic hill descent control, a nifty piece of kit that goes to work helping the driver control the rig's rate of descent down a steep grade. Given the payloads some owners ask their Defenders to bear, this feature is arguably just as useful here as it is on a F-150 Raptor.
Suspension
Double wishbones were a big deal when they showed up on the Civic all those years ago and they make a similar splash here on the 2020 Honda Pioneer 1000 Deluxe. A total of 10.6 inches of suspension travel awaits and each of the four disc brakes measures 210mm in diameter. Wheels on the 1000 Deluxe are of the 12-inch variety, supporting tires that are 9- and 11-inches wide front and rear, respectively. Ground clearance is ever so close to that of the Can-Am, at 12.7 inches.
Specific to the Can-Am Defender HD10 (compared to the HD8 and HD6 trims) is a two inch bump in width, partially explained by different A-arms which are arched for better clearance of pesky trail obstacles. Thanks to this, ground clearance jumps to 13 inches. Both the front and rear suspension have 11 inches of travel with twin tube gas charged shocks. Brakes are 220mm ventilated discs all around sitting behind Maxxis Bighorn tires measuring 9 inches wide up front and 11 inches wide out back on 14-inch wheels.
Size & Weight
Honda has chosen to size its bench seat Pioneer 1000 a mite smaller than the Defender, though one will likely only notice the difference in length. The 1000 Deluxe measures 116.8 inches long and 63 inches wide, riding on a 80.2-inch wheelbase. Height checks in at 76.1 inches. Total weight? A not-unreasonable 1567 lbs (add 4 lbs to that total if you live in Cali).
Spanning 121 inches from stem to stern, the Can-Am Defender DPS HD10 has an 83-inch wheelbase and 64 inches of total width. Its height is an even 78.0 inches. Despite its extra length and height, the Can-Am is a few pounds lighter than the Honda shown here, weighing an almost too specific 1536.6 lbs (in actuality that number stands from this Canadian company setting the rig's dry weight at 697 kg).
Towing & Payload
A grand total of 1000 lbs can be hove aboard the cargo bed of the 2020 Honda Pioneer 1000 Deluxe, equivalent to both the rest of the Pioneer range and the typical weight of a burger from the Heart Attack Grill in Vegas. Towing capacity is rated at 2000 lbs. In a fit of rules and regulations, the cargo bed is only rated for 600 lbs in California.
Comparing these two machines directly, the Can-Am Defender DPS HD10 can also bear 1000 lbs in the cargo bed (600lbs in the golden state), but makes special note that its tailgate is capable of supporting 250 lbs. This is good news for anyone regularly loading aboard items that need to be slid and shimmied into the Defender's cargo box – or for those of you who like to fold down the tailgate and sit down on it. Can-Am trumps Honda in the towing department, rating this machine at 2500 lbs of hauling capacity. Total payload, always an important metric on should follow to avoid calamity, is 1500 lbs. Simple math teaches us that if you and your buddy weigh 200 lbs each, and the trailer has a tongue weight of 200 lbs, a generous total of 900 lbs can still be placed aboard this defender's cargo box.
Styling
The 2020 Honda Pioneer 1000 Deluxe is available in four different colors, a show of largesse that Honda doesn't even bestow on some of its road cars (*ahem base Civic sedan ahem*). Black, red, and white are all on tap, plus a natty Honda Phantom Camo that actually pairs pretty well with the Pioneer's black accents. Headlights are angrily canted inboard, giving its face the appearance of an annoyed headmaster, which is to say stern but not terrifying.
Can-Am loves to translate its corporate styling decisions across an entire line of product – witness the Rev chassis styling being applied to all its snowmobiles back in the early 2000s. For no apparent reason, your author is a sucker for quad-headlamp setups, explaining his propensity for buying modern Dodge Challengers and terrible early-70s GMC pickups. The Defender pulls sort of the same trick with its front peepers, adding in a set of amber reflectors that look for all the world like fangs and a suspiciously prominent power bulge in its composite hood. Only green and silver paint is offered on this model.
Pricing
As for MSRP, the 2020 Honda Pioneer 1000 Deluxe is listed at $16,799, but if you want the camo paint mentioned earlier that is a $800 upgrade. If you are willing to forgo some niceties like LED headlights and alloy wheels, the base Pioneer 1000 retails for $15,799.
Can-Am has priced the HD10 version of its Defender DPS at $16,199 in Green or $16,899 dressed in silver. If you want the bigger HD10 engine, that is the most affordable price tag you'll see on the Defender. You can up a base Defender HD8 with the smaller engine and no power steering for as little as $12,199.
Published March 23rd, 2020 3:00 PM
Top Brands
Popular Articles